The ace on the field
March 1, 2023 by Dorian Zavala, Arizona State University
---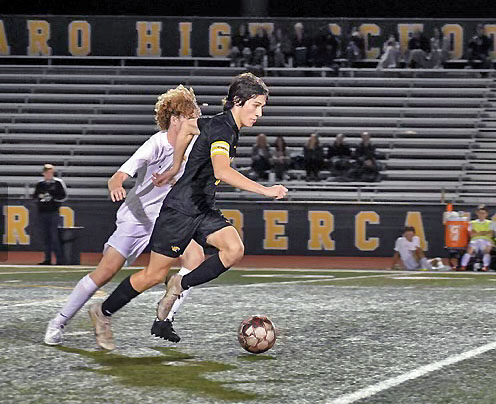 Dorian Zavala is an ASU Cronkite School of Journalism student assigned to cover Saguaro High School for AZPreps365.com.
Most high school athletes play with the dream of making it to the professional ranks. Others play with the hope of landing a scholarship to help pay for college.
Saguaro High School senior Jack Dunlop is playing for both. When Jack talks about his love for the game, his voice fills with enthusiasm as he speaks of the possibilities that await him due to his hard work to give himself this opportunity.
"I've been working hard, long nights doing homework and working on class projects but getting good grades, putting in the work on the field is part of my plan to get into college," said Jack.
Most high school students struggle to balance their studies and extracurricular activities. But for Jack, it's as simple as brushing his teeth. In his four years at Saguaro High School, Dunlop accumulated a 4.8 GPA.
Jack says his current GPA is 4.875, but if he can keep his straight As, he will finish his tenure at Saguaro with a 4.9 GPA. With all his workload, he knows it will only get more challenging as he moves on to college.
"This year is a lot less stressful than last year but it's still more stressful than most seniors schedules," said Jack.
Jack is currently taking AP Literature, AP Bio, AP Macro-Economics and AP Statistics. But his competitive spirit drives him to be the best at everything he does.
Having watched his son excel academically, Jack's father, Darcy Dunlop, is awestruck by his accomplishments.
"He's done things and accomplished things I could never imagine doing," said Darcy. "I'm so impressed on how he has his priorities straight because having that mindset helped him get into college."
School isn't the only thing that Jack has seemingly mastered. His play on the field is also attention-grabbing. All his teammates say he is the most competitive on the field. During practice, he is usually the verbal leader, ensuring his teammates know where he is on the field.
But his competitiveness wasn't only noticed by his teammates. He also caught the attention of the Mulberry College soccer team in Vermont.
"I was talking to the coach and he has an opening on the team and he wants me to go show my stuff so I plan on doing that in the next couple of months," said Jack.
Growing up, Jack was taught to be competitive and driven. The second born of three boys, he was always competing against his older brother.
As most people with older brothers understand, you're always going to be battling with your older sibling in one way or another. Whether it's for a toy, while playing video games, or to see who drinks their juice the fastest, competition between siblings is a constant thing.
"Growing up we didn't always get along he was older but now as we're both older and mature he is my best friend," said Jack. "We were always competing over everything we did even over the dumbest things … but I feel it's those moments that made me the relentless competitor I am right now."
Jack recalled how he got the scar on his eyebrow while getting out of the car from school. As he told the story, his voice filled with laughter as he remembered how everything went down.
As children, he and his brother loved to step on sprinkler heads after they were shut off. So, one afternoon, while arriving home from school, Jack and his brother rushed out of the car and raced each other to the lone sprinkler head sticking out after the system was watering the grass.
"We saw one sticking out, and right after we got out of the car we rushed to step on it and I remember beating him to it and then getting a two-hand shove from behind right into the brick planters," said Jack.
Home was one of many places where he always wanted to be the best. Jack has been playing club soccer since a little kid. But he wasn't as a striker as he is now. So instead, Dunlop started as a goalie for his club team.
"I loved playing goalie and I thought I was pretty good at it but the reason why I was goalie was because I was a fan of Manuel Neuer … his jersey was the first soccer jersey I had," said Jack.
Jack has been playing soccer since he was four but started playing club soccer as an 11-year-old. Jack was a great goalie, but an unfortunate injury set him back and almost drove him to stop playing soccer altogether.
During the season in eighth grade, Jack fractured his femur during the last game of the year and had to give up his spot on the team. Darcy says his son had to work hard and fight back to get on the field.
Jack had to drop a couple of divisions and work his way back up to the elite level of club soccer he was at before the injury.
"For a little bit after the injury happened, I wanted to quit soccer because I remember it was state cup final and I was on the trainers table as I saw my team lose … I felt I let them down," said Jack.
But if there is one thing that defines Jack is that he never backs down from a challenge. His competitiveness isn't the only quality that stands out about the young man. Coach Nagui Sabbagh lights up when speaking about Jack and his impact on the team.
"These guys look to him to lead, he's a leader on and off the field," said Sabbagh.
Sabbagh describes Dunlop as an amazing, smart, and talented individual who cares about his teammates and those around him. Many of his teammates describe him as fun and easygoing, but someone you can always count on.
"He's very caring … he's one of our most caring kids as far as having empathy for others," said Darcy. "Jack has worked with special needs kids and is always looking to help others."
Jack has his whole future ahead of him as a young man, and the move to Vermont excites him for what's next for him. Even though he fell short of his goal of bringing a championship to Saguaro he truly enjoyed his time at Saguaro but more importantly, he values the lessons he learned at Saguaro and his growth as a man.
"I loved my time here with my friends but more importantly I really value the lessons I learned from my teachers and coaches because those lessons is what have made me into the person I am today," said Jack.