Experience and classiness gives Highland's tennis team first win of season
March 2, 2023 by Chase Beardsley, Arizona State University
---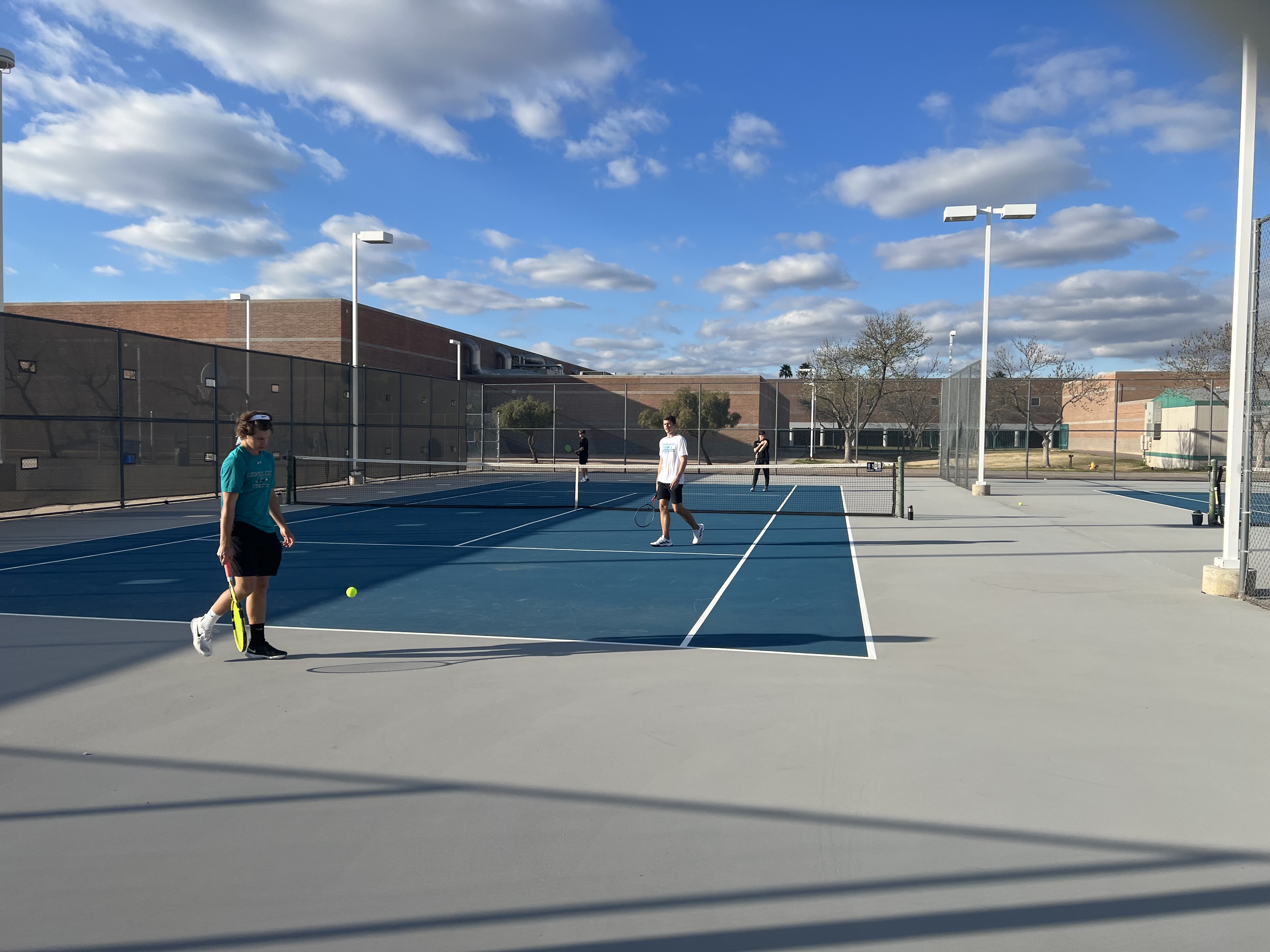 Chase Beardsley is an ASU Cronkite School of Journalism student assigned to cover Highland High School for AZPreps365.com
Experience is a massive key to winning and the Highland Hawks varsity tennis team showed the Cibola Raiders just that with a 9-0 victory.
It became pretty clear early on in singles that Highland was the more experienced team. They meant business after two straight losses to begin the season. The group, although calm and relaxed, was focused. Even though they were blowing Cibola out in most matches, the team was respectful and collected.
"The thing that I liked today was that we played a team that had less experience than we did," head coach Evan Ray said. "I've talked a lot with the boys about showing respect, and, and winning when we win, or when we lose, showing respect and grace and kindness to our opponents, and losing with class and winning with classes when I tell them a lot. And today, I saw them win. And they did a good job, treating the boys not acting like they were better than them, and showing good sportsmanship."
The team has been working hard on playing consistent tennis that is smart and gets them points. It showed in the game as there was a multitude of 6-0 single wins and quite a bit of commanding double wins as well.
"It was a very fun match. I'll be honest," said junior Chase Naumann. "I was able to hit last shots where I want them I was able to even hit a tweener that made me a little bit happy and my pride spiked up then."
Naumann had a 6-1 and a 6-0 singles match. He and sophomore Nathan Bayola took down Cibola 8-1 in doubles.
Senior Josh Cook was another player who had some great matches today. He like Naumann had two matches that ended with scores of 6-1 and 6-0. He and senior Clay Cook teamed up to get a doubles win with a score of 8-0.
"We've had the last two matches really hard against top-five schools in the state and we get to see more top-five schools in the state before we get into region play," Josh said. "And so it's good to actually go win because it resets all the losing and losing a lot is really bad for morale and momentum."
Junior Jacob Giltinan and sophomore Zachary Giltinan also played a doubles match and won 8-0.
Highland didn't let Cibola get a single win in any of their matches. There was only one game where Cibola had a score higher than two.
"I think it's gonna be a little bit it's a little refresher and make helps us going after up against two of the some of the best teams in the state those that's a pretty tough challenge at the very beginning," Naumann said. "And this kind of just helps us regain our mentality of winning and having that confidence that we should have."
Highland's victory was much needed as they'll be facing off against some big teams in the coming weeks. This includes Mountain Ridge and Hamilton. Both are currently tied for second in the standings. Highland plays Mountain Ridge in their next game at Mountain Ridge.
Highland's win now puts them ranked seventh in the standings with a varsity record of 1-2. Even with the below .500 record, Ray is excited for the rest of the season and is proud of how his team has been playing even with the tough losses.
"Sometimes you have a great team that you go up against and it's gonna be tough to have a win against a team like Desert Mountain and Chaparral with these strong players but I sure loved how our varsity has played the last three matches and JV is now unbeaten so it's kind of exciting," Ray said.