Late game push allows Peoria to claim gold ball
March 3, 2023 by Jose Garcia, AZPreps365
---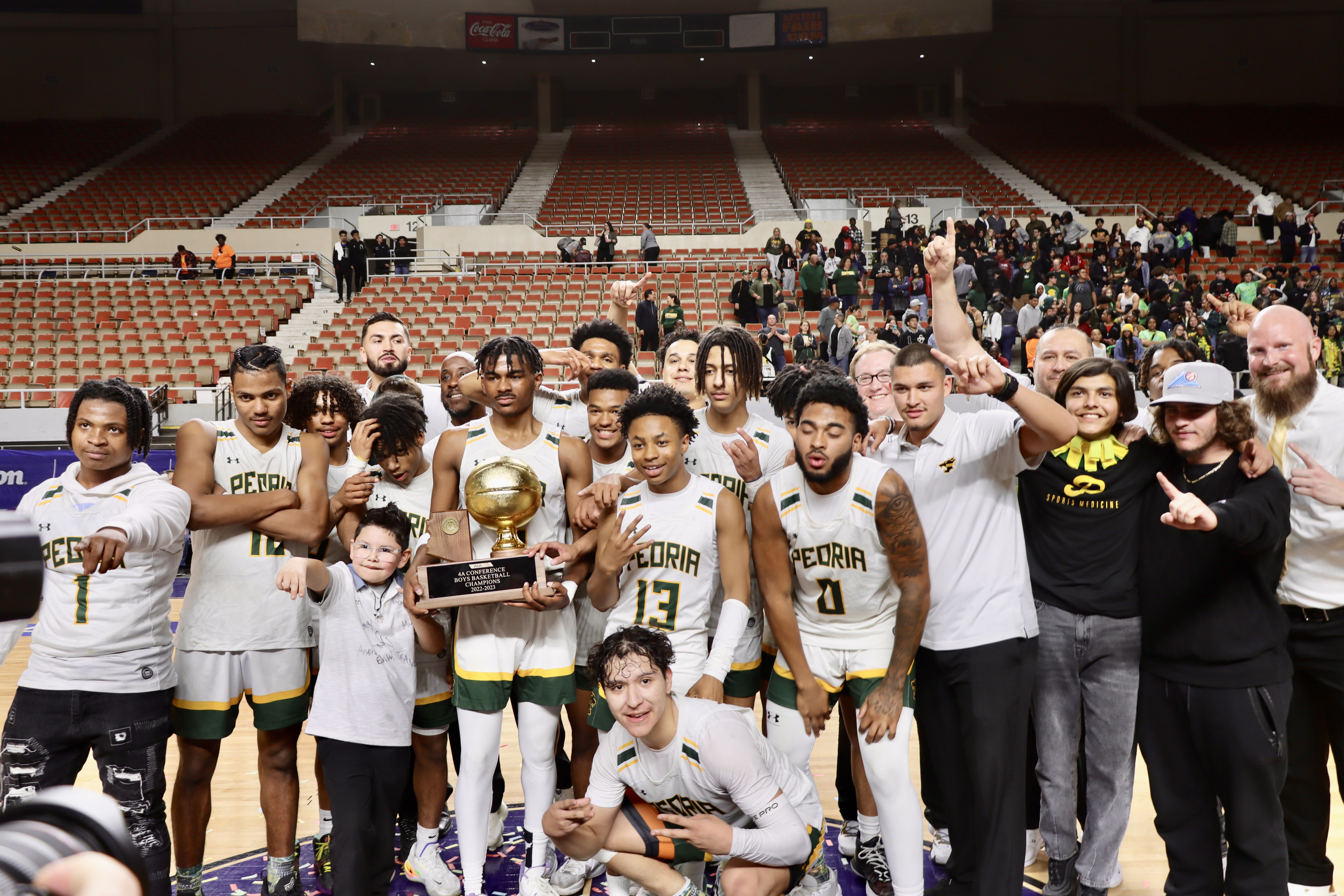 Unlike 2020, Peoria didn't let this final slip from its grasp.
When it mattered most, down the stretch, the Panthers executed against a program it respects immensely, Deer Valley. Thursday's 4A championship at Arizona Veterans Memorial Coliseum seemed more like a battle between siblings than region rivals.
The brotherhood was evident from the start, as both teams huddled at midcourt before the game. Before the final seconds ticked off in Peoria's 65-57 victory, some players and the head coaches exchanged hugs.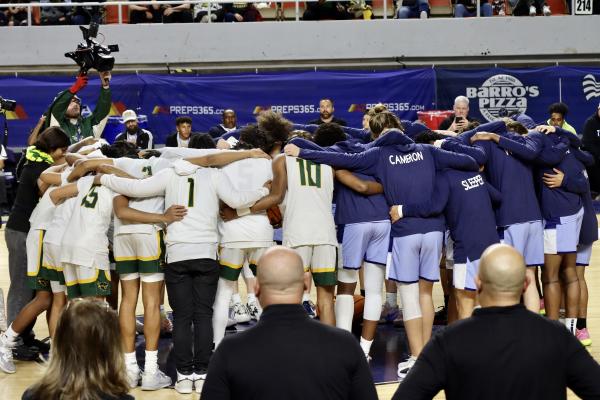 In a sign of respect for each other's program, Peoria (in white) and Deer Valley huddled before Friday's 4A state champioship game at Arizona Veterans Memorial Coliseum. (Jose Garcia/azpreps365)
"It's bittersweet to beat them (Deer Valley)," Peoria coach Dr. Patrick Battillo said.
Defeating Deer Valley was tough, but to do it three times in one season was taxing for Peoria.
The Panthers didn't start to pull away from Deer Valley until the 6:20 remained in their final meeting of the year. Deer Valley won the first half, when it led by as much as seven points.
But the final minutes belonged to Peoria.
"Defense. Defense. Defense, man," Peoria's sharpshooter Andrew Camacho said. "We were stressing that. The reason we were down in the first half is because we weren't playing defense."
Camacho remembers the last game his program played at VMC, a painful 54-48 overtime loss to Salpointe in the 2020 4A final.
On Thursday, in the first half, the senior struggled offensively. But teammate Caden Bass (19 points, 10 for 19 from the field) helped keep Peoria in the game until Camacho and Peoria regrouped in the second half, hitting 14 of their 24 shots.
From the 6:20 mark until the end, Peoria took charge, even with the dynamic Calvin Windley in foul trouble. When Windley re-entered the game, Peoria went to work.
With 5:40 left, Windley scored a basket to give Peoria a lead, 51-50, it wouldn't relinquish the rest of the way. Peoria also kept doing something it excels at, pushing the ball.
At halftime, Dr. Battillo said he told Camacho (team-high 22 points) not to force things, and he didn't when he found an open Elijah Ward near the basket to put Peoria up 53-50. Ward also took a charge late in the game.
"Ward was phenomenal in the second half, boxing out sometimes alone," Dr. Battillo said. "Getting those second and third chances, that was the difference in the second half."
Deer Valley went without scoring from 6:20 until 1:58 was left. Jaydon Cameron (14 points) and Eric Perkins (13 points) led the way for a Deer Valley team that saw its bench outscore Peoria's 18-6.
"I'm super proud of them," said Deer Valley's well-respected leader, coach Jed Dunn, about his team. "We lost to a really good team. Coach Patrick does a really great job. I hurt for (my team)."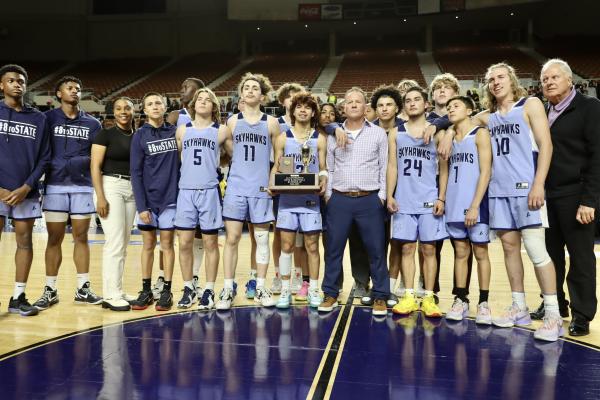 Deer Valley made its fourth state championship appearance Thursday. (Jose Garcia/azpreps365)
Since the 2018-19 season, Deer Valley (22-8) and Peoria (28-4) have played each other twice during the regular season, but Thursday was the first time they met in the playoffs.
The mutual respect they share for each other initiated when Dr. Battillo took over Peoria during the 2020 midseason. Peoria's coach is also an alum of the school and is known to Valley basketball fans as Mr. ORNG, the super fan of the Phoenix Suns.
You can also now call him a champion.
"We (Deer Valley and Peoria) do it the right way," Dr. Battillo said. "It's always a great fight when we meet."
Indeed.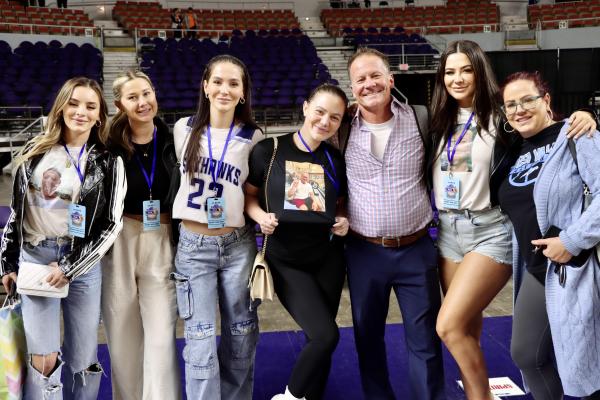 Deer Valley coach Jed Dunn's family is always by his side through the ups and downs of coaching. (Jose Garcia/azpreps365)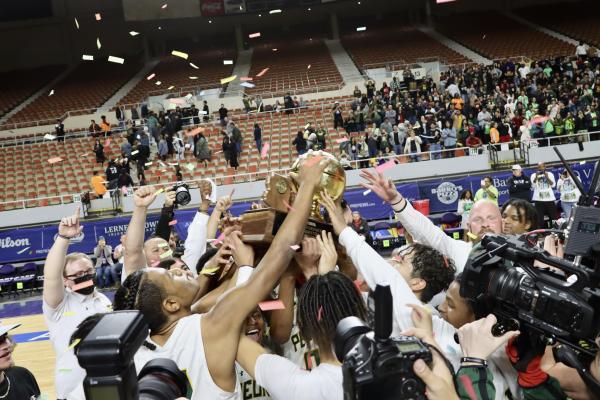 Peoria celebrates after receiving the program's first gold ball since 2012. (Jose Garcia/azpreps365)