Highland nips Brophy in 2 OT
March 4, 2023 by Les Willsey, AZPreps365
---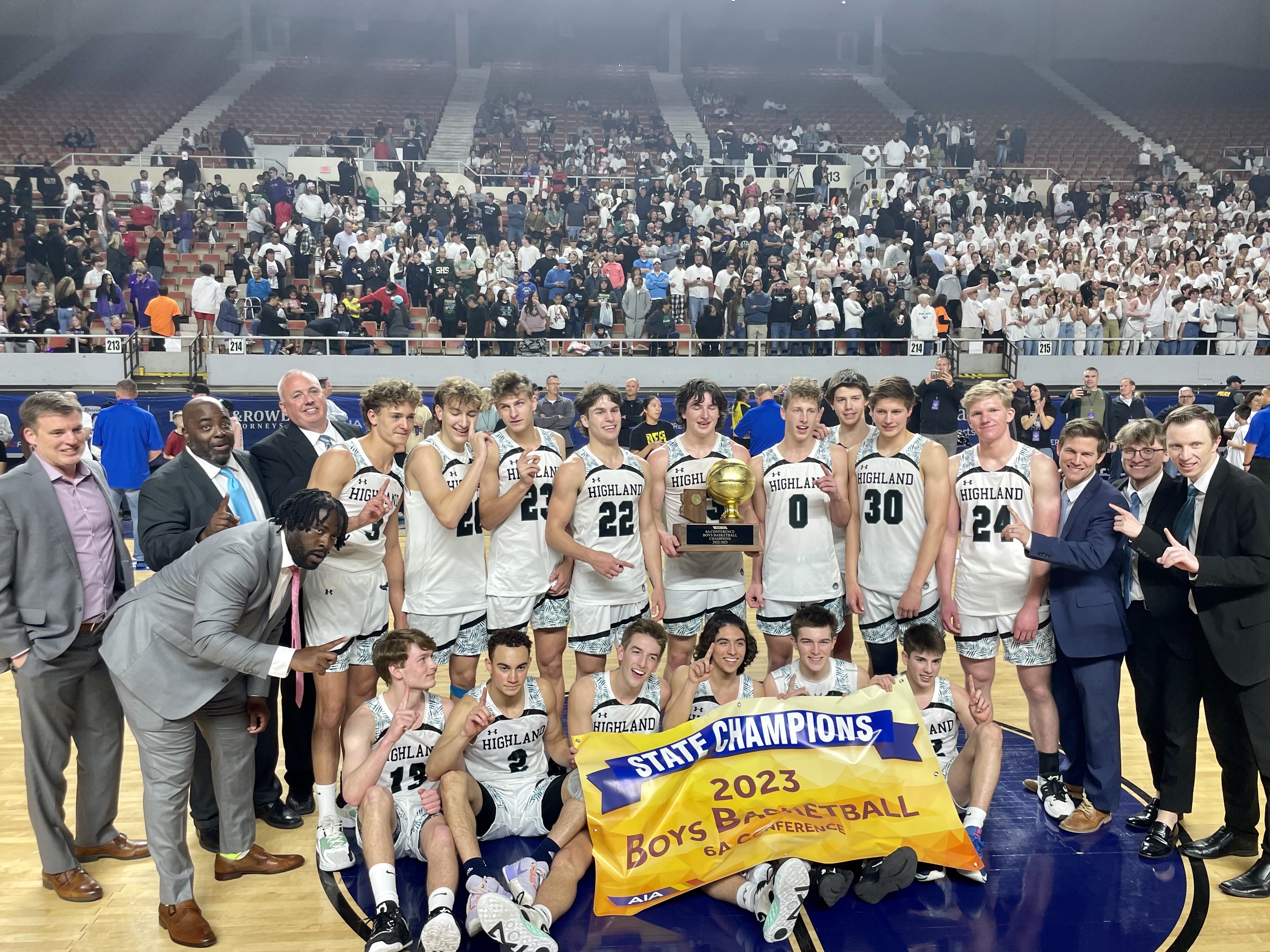 Highland High and Brophy Prep each possessed three basketball runner-up trophies in their school histories, but no championship trophy. When they matched up Saturday afternoon in the 2022-2023 6A title game, the gold-ball trophy would land with one of them.
Both wanted it badly. They even played a pair of overtimes to stretch the suspense before Highland prevailed, 63-61, at Arizona Veterans Memorial Coliseum.
Highland senior Hayden Winegar created the memory of a lifetime by sinking a three-point shot with 1.3 seconds left in the second overtime for the win. Winegar finished with six points - both treys.
"It was a big shot," Highland coach Todd Fazio, who now has two coaching titles with his first at Desert Mountain in 2007, said. "Hayden is our unsung guy. He does so many little things. It's really cool he had this moment."
The game was tied at 52 after regulation and at 56 after the first overtime. Brophy opened the second overtime making four of five free throws (two each by Braeden Speed and Conner Ivy and one by Daylen Sharper). Those were sandwiched around a three-point play by Highland's Brock Knollmiller to trim Brophy's lead to 61-59. After the teams swapped turnovers Knollmiller made one of two free throws making it 61-60 Brophy with 49 seconds left.
Brophy turned the ball over on its next possession. Highland took possession and worked the clock on a final possession likely looking to Noah Peterson (game-high 27 points, 12 rebounds) or Knollmiller (22 points) for a shot. Knollmiller ended up with the ball on the baseline a few feet from the basket as time was running out. He has tightly guarded, but managed to whip a pass to Winegar left of the key just beyond the arc. Winegar's shot was all net. Brophymanged to get off a desperation shot by Sharper from 35 feet that caromed off the rim as time expired.
Speed, a junior, paced Brophy in scoring - one of three of coach Matt Hooten's Broncos to tally in double figures. Speed finished with 22 points, followed by sophomore Ayden Madi (15) and freshman Sharper (14).
Highland finished its season with a shiny 29-3 record and 6A Central Region title with a 10-0 region mark. Brophy closed out its season 24-9. The Broncos finished runner-up behind Open Division finalist Perry in the Premier Region.