Ring them, again: Valley Vista's Arvallo, program capture another title
March 4, 2023 by Jose Garcia, AZPreps365
---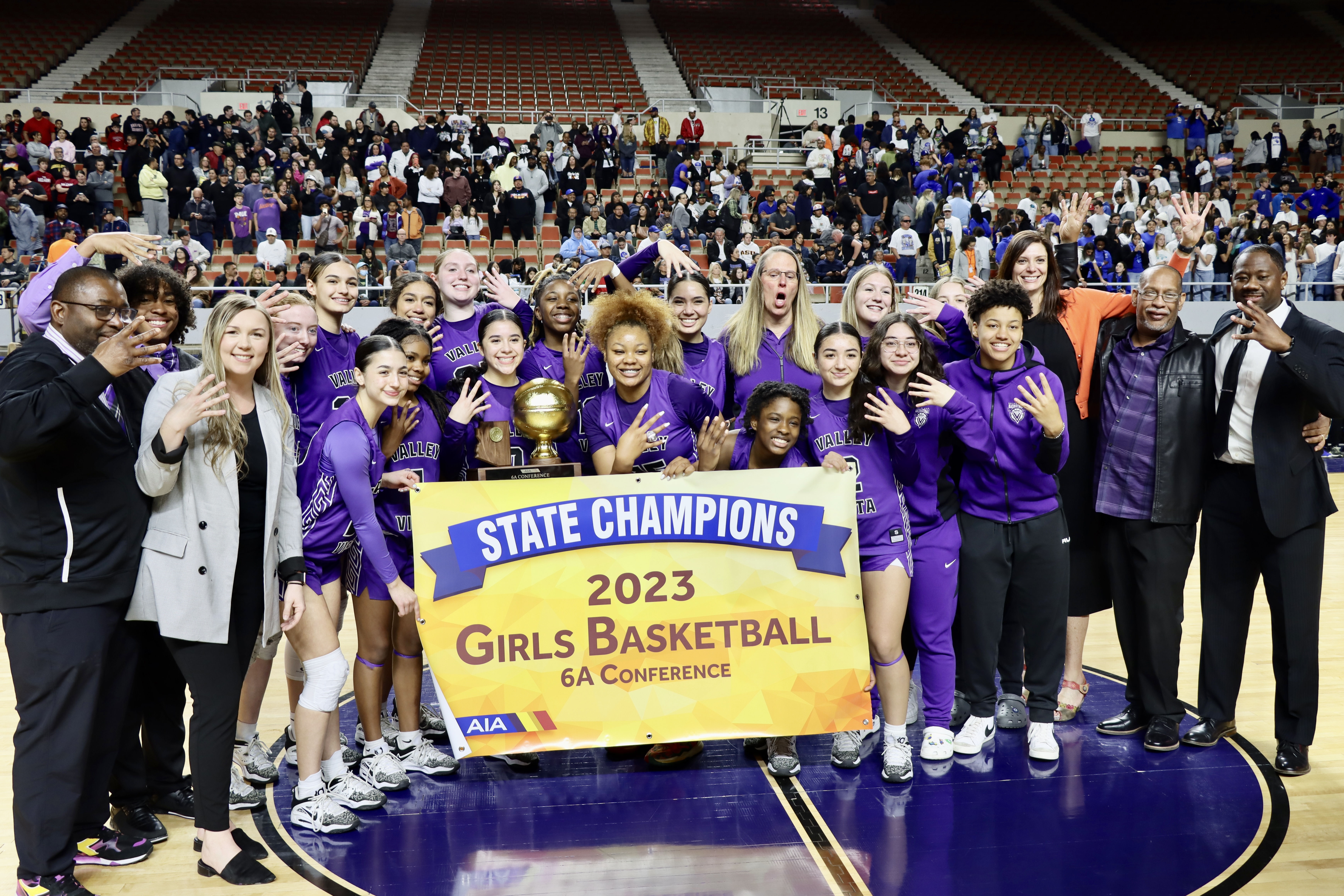 Just like the first half of its season, Valley Vista struggled in the first half of Saturday's 6A state championship game.
But Valley Vista sure knows how to close.
In the end, its own Agent Zero super hero saved the day. Olivia Arvallo, No. 0 for Valley Vista, scored the eventual game-winning points in her team's battle against Dobson at Arizona Veterans Memorial Coliseum.
Her layup with 12.2 seconds on the clock eventually delivered a 48-46 win and Valley Vista's fourth consecutive title.
"The whole entire game I was just like, "I'm winning this game no matter what,'" Arvallo said. "I believed in God. I believed in my teammates. After I hit that layup I knew we would secure the win. I knew we were not going to lose this game."
The four-year varsity championship starter is well equipped to handle late-game pressure situations.
After Emma Dsovich (12 rebounds) rebounded a Dobson free throw miss with the game tied at 46-46, she handed the ball to Arvallo, who took care of the rest. The senior didn't stop dribbling until securing the game's final basket.
On its final possession, Dobson turned the ball over with one second left on the clock. All that was left was to inbound the ball and celebrate.
Arvallo also scored her team's 43rd and 44th points and her assist to an open Aamari Chavers put Valley Vista up 46-42 with 2:02 left.
It didn't show during the postgame celebration, but the 6A champ dealt with some adversity this season. In early January, Valley Vista's basketball general, coach Rachel Matakas, stepped down for health reasons.
A player also transferred before the season, forcing Arvallo to play the point. So it took some time for the team to adjust.
After Saturday's game, though, the entire squad, which finished 23-9, made sure to find Matakas in the stands.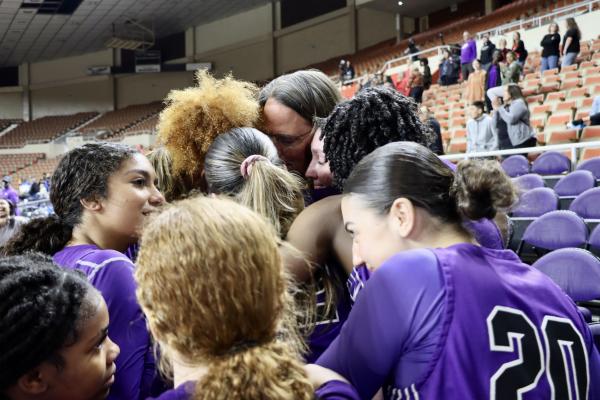 Valley Vista's players hugged their former coach, Rachel Matakas (top middle), after winning yet another title. (Jose Garcia/azpreps365)
"Closure," said Matakas about what Saturday's win meant to her. "I couldn't be prouder of this team. This team is resilient."
Matakas is retiring.
The Arizona high school coaching hall of famer made it official after the game.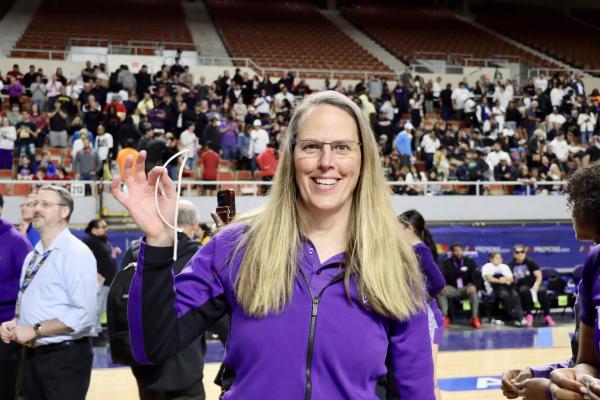 The architect of Valley Vista's basketball program, Rachel Matakas, helped cut the net after Saturday's 6A final. (Jose Garcia/azpreps365)
The interim coach, Brooklyn Hinkins, who is cut from the same cloth as the driven Matakas, kept the Valley Vista dynasty rolling. The program from Surprise has now won a ring in six of its last seven seasons.
"It means so much," Hinkins said. "I'm so glad the kids bought into my system. I didn't change too much. They've been so committed to winning a state championship. It means a lot. I couldn't be more happier for them."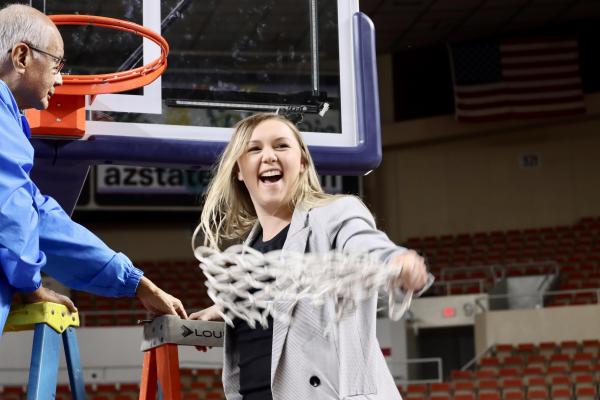 Interim coach Brooklyn Hinkins took over in January and made sure the Valley Vista basketball dynasty kept rolling. (Jose Garcia/azpreps365)
Despite the loss, the overlooked Dobson Mustangs (23-9) proved they were also a championship contender under veteran East Valley coach Henry Bribiescas.
The play of guards Aaliyah Garcia (15 points) and Ahdiayh Chee (17 points) helped Dobson dictate the pace of the game in the first half.
Chee also swished a buzzer beater right before the third quarter ended.
To start the fourth quarter, Dobson kept the momentum when a Jaziah Billey and-1 knotted the game at 33-33.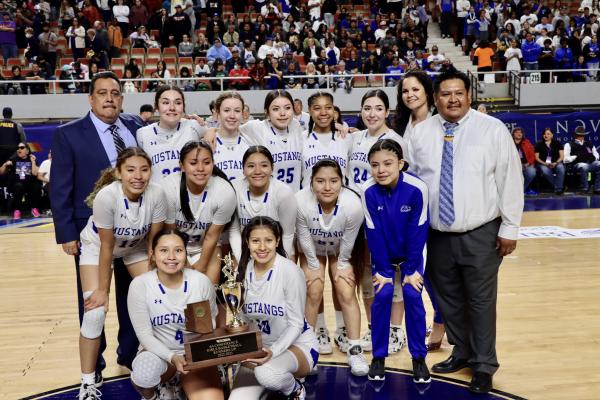 Dobson proved it was one of the elite 6A teams this season. (Jose Garcia/azpreps365)
But Valley Vista's leaders, Joselyn Chavez and Arvallo, responded with back-to-back three-pointers, respectively. With less than four minutes remaining, Dobson trailed 42-41 after Chee made four consecutive free throws after a technical and a foul was assessed to a Valley Vista player.
But that's as close as Dobson would get down the stretch. That's also when Arvallo took over.
In her final game of her outstanding career, the senior finished with team highs in points (14) and assists (4) in 31-plus minutes of action.
She'll also collect one more thing: a fourth title ring.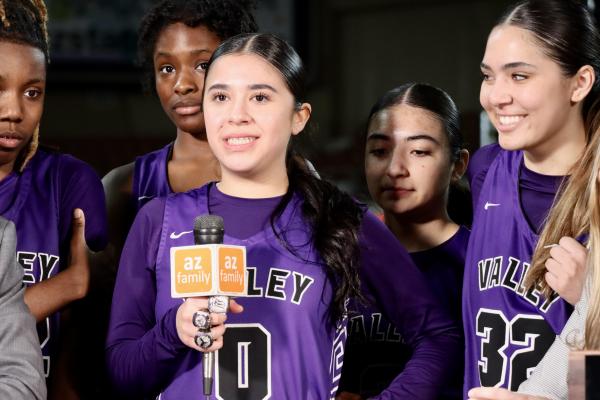 Valley Vista's Olivia Arvallo shows off her bling on her fingers during a postgame interview with 3TV. (Jose Garcia/azpreps365)