Scottsdale Christian golf team falls in first tournament of the season
March 8, 2023 by Stephen Buxton, Arizona State University
---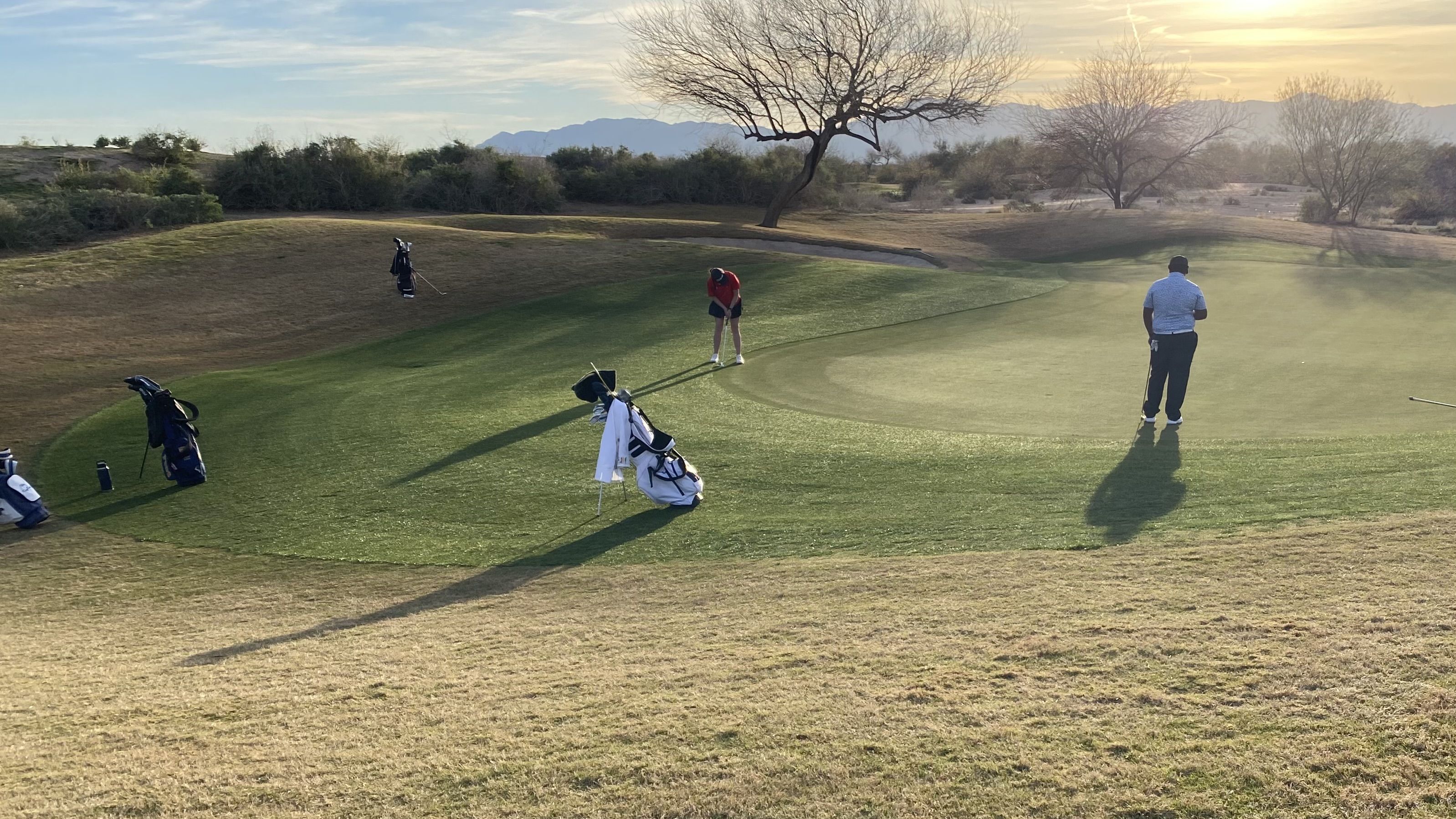 Stephen Buxton is an ASU Cronkite School of Journalism student assigned to cover Scottsdale Christian Academy for AZPreps 365.
The first round of the year for Scottsdale Christian golf did not go as planned for the eagles, but the team took a lot of positives out of the afternoon at Whirlwind Golf Club and looks forward to building on the performance.
Scottsdale Christian placed forth in the tournament hosted by Valley Christian. The team shot 36-over 216 on the day with juniors Gracie McGovern and Matt Reimers posting the team's best rounds going one and two over.
"It was good to be back for playing tournaments again, but my putter just wasn't, it wasn't great today," Said Reimers. "My ball striking was pretty good today, I was hitting my wedges close… and I was playing pretty well off the tee. That is what I struggle with most. Today it was pretty good."
The whole team was just happy to get in to the swing of things. After taking a week off with the schoolwide closure for yearly mission trips, many members of the team knew there was some rust to shake off along with the general nerves coming along with the first tournament of the year.
Head coach Tim Ummel liked what he saw from the team and shared the same sentiment of being excited to start the season and helping the team learn.
"We had some youth. We had Jackson's first time ever playing in a tournament in his life, as a junior. So you know, it's tough. But they practiced really well at practice. They practiced great warming up for today, and I think tournament nerves are in them. And it's a good way to get the nerves out."
Senior Tyler Kelso immediately displayed why he is the team captain coming off the ninth green. Even after finishing his day with a bogey leaving him ten-over, Kelso walked over to his teammates who were preparing to cheer him up before realizing he was already smiling and in good spirits.
He immediately pointed out to them that it was their first round of the year and he was already having a ton of fun golfing with everyone again and if nothing else, they should at least take that away.
"We need to work on our game a little more," Said McGovern. "This tournament wasn't our best, but it is our first tournament. So just to not give up and just keep going. I feel like we're gonna do pretty good."
Even though it was not the round she wanted, McGovern was happy with parts of the round. The junior immediately hit the ground running with two straight birdies to start the round and was one under through seven holes. McGovern said she liked how she played her wedges throughout the day and how she used that to set up shots on the green.
"No one's frowning. Nobody's sad. We're all laughing," said Ummel. "I mean today, they know how to let it go and they know how to let it be past them. And that's a lot of maturity."