Corona bests Brophy, 3-1
March 10, 2023 by Les Willsey, AZPreps365
---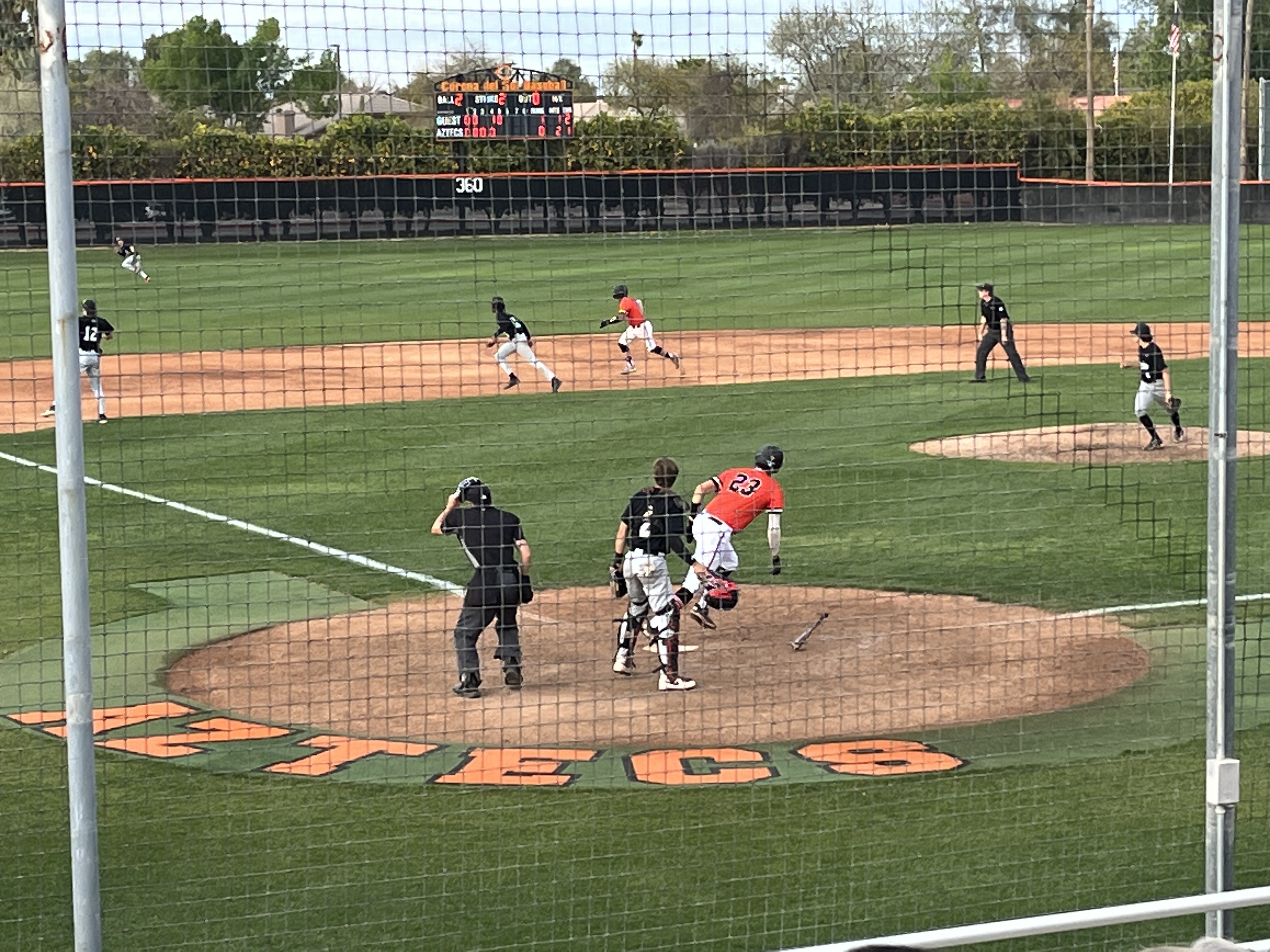 Runs and hits were scarce Friday afternoon as Brophy Prep journeyed to the East Valley to challenge Corona del Sol.
The teams - each owning winning records thus far this season - combined for four hits (all singles).
The most productive knock belonged to Corona's Myles Harrison. Harrison's two-run single highlighted a three-run, fifth inning lifting the Aztecs to a 3-1 victory in the 6A non-region game at Corona del Sol. Corona del Sol improved to 6-3. Brophy remains above .500 at 6-4.
Corona del Sol freshman Carter Jacobson went the distance giving coach Dave Webb a better-than-expected outing. Jacobson allowed one hit -- Matt Niezgodzki's fourth-inning single. Jacobson walked two, hit two batters and fanned four in a complete-game effort.
The game was scoreless through three innings. Brophy pushed across its run in the fourth. George Smith led off with a walk, stole second and reached third on a balk. Fifth-place hitter Matt Niezgodzki recorded the Broncos lone RBI with a single to center.
Brophy planned on starting senior JD DeCremer. DeCremer warmed up, but wasn't able to make the start. Brophy coach Josh Garcia replaced DeCremer with junior Carson Borges. Borges responded by blanking Corona for four innings. Borges was relieved after yielding a single and walk to the first two Corona hitters in the fifth.
Junior Jack Ohman replaced Borges. Corona opted to bunt the runners into scoring position and succeeded and thensome. Ohman bobbled the sacrifice attempt to load the bases. Harrison followed with the second of his two hits putting the Aztecs ahead, 2-1. Harrison capped the rally crossing the plate via a wild pitch.
Brophy put a runner on in each of the sixth and seventh innings (both hit by pitch), but couldn't capitalize.
Corona del Sol gets a few days off before co-hosting the Boras Classic along with Arcadia High School. Arizona schools entered in the Boras Classic (March 15-18) are: Arcadia, Basha, Corona, Canyon View, Casteel, Catalina Foothills, Chaparral, Hamilton, Mountain Ridge, Nogales and Sandra Day O'Connor. Three schools from Nevada and one each from Colorado and Utah complete the field.
Brophy returns to action on Monday competing in the Best of the West Invitational hosted by Sunrise Mountain and several other Arizona schools March (11-15). The Broncos pool opponents Monday through Wednesday, respectively, are: Thunder Ridge (CO) at Notre Dame Prep; Cherokee Trail (CO) at Sunrise Mountain and Canyon del Oro at Sunrise Mountain.