Notre Dame Seniors look to add to the program's history books
March 13, 2023 by Nathan Hafner, Arizona State University
---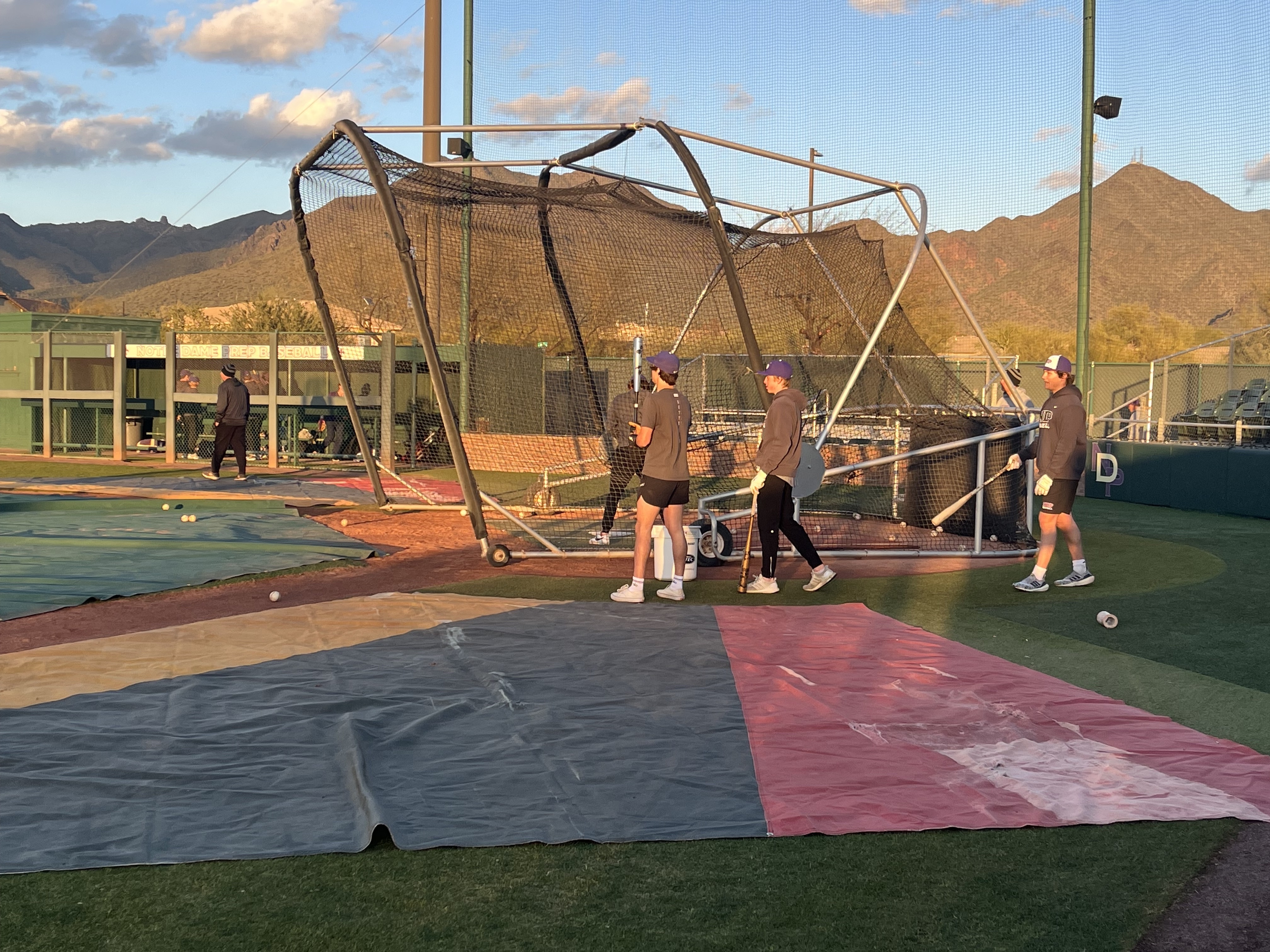 Nathan Hafner is an ASU Cronkite School of Journalism student assigned to cover Notre Dame Prep for AZPrep365.com.
The legacy of the Notre Dame Prep baseball program lives on and off the field within their current players, coaching staff, and distinguished alumni. Current seniors Griffin Nee and Ty Borowski look forward to this season and future endeavors.
Notre Dame Prep, one of Arizona's top athletic schools, has a storied history within its baseball program. Many past alumni have gone on to have great success in the professional sports world. One player, Tayler Scott, class of 2011, is currently playing in the National League for the Los Angeles Dodgers. Scott, a right-handed pitcher, is the first major leaguer to pitch born in South Africa. He made his major league debut back in 2019 for the Philadelphia Phillies. Another notable member of the program is Peter Bourjos, class of 2005. Bourjos went on to have a great MLB career over 10 seasons after being drafted in 2005 by the Los Angeles Angels.
"That's fun because you see those names and it kind of gives you, like, motivation, because you see where they came from," said Nee. "They walk these campus halls, too, so it's just kind of use it as motivation to be like them, one day make it to the MLB."
This year's Saints understand what it means to play for their school. Many of the seniors especially are emotional, knowing that this will be their last high school season. They are looking toward their future, learning from the lessons they have experienced. Ty Borowski, son of former Major League closer Joe Borowski, the team's assistant coach, spoke about his future and his dad's vital role in his life.
"Right now, I'm uncommitted. I would like to get looked at from some schools, but, you know, that's my senior year," said Ty Borowski. "I feel like some people think it's a little too late, but in my opinion, I don't think it's late at all."
Ty Borowski highlighted how much of a baseball community Notre Dame has built.
"Yes, this whole school is amazing. The academic is amazing. The sports here are amazing.
The baseball community here is by far my favorite. We have a lot of people supporting us as well," said Ty Borowski. "And for my dad, I mean, he's my biggest role model. I look up to him and everything. And he's, I mean, before every practice, he takes me, we go hit before every single practice to try and make me the best way I can be, which I completely thank him for."
The program's legacy runs deep and continues with the culture head coach Brian Fischer has created as the team's skipper.
"So, but basically it comes down to, is my coaching staff and of course, players, not necessarily, they have to be great players," said Fischer. "They just have to kind of buy into the system of what we're trying to do. And that's what they've been doing ever since I got to Notre Dame."
Fischer secured his place in Notre Dame Prep history with the program's first championship in 2013. He put together a great coaching staff of people who love the game and want to give back, none bigger than Joe Borowski. Following his MLB career and broadcasting for Fox, Borowski's journey came full circle to join Fischer coaching high school baseball and passing on the knowledge from his career.
"The thing is, after my career was over, I got into doing broadcasting, so I worked for Fox for seven years, and an opportunity arose here to coach, and I've always loved coaching. There's nothing that I take more gratification from, is teaching someone something, and then seeing them actually get it and put it to use," said Joe Borowski. "And it's, it's extremely rewarding for me, especially I've had one kid already go through here. Now I have my youngest one, who's a senior now."
Borowski went on to praise his players for making his job as assistant coach enjoyable.
"But it's awesome. I wouldn't trade it for anything, And it's, it's like anything else. If I didn't enjoy it, I wouldn't do it. And it, I just, I really appreciate the kids," said Borowski. "I mean, they make it a pleasure to wanna come to the field, they're always eager to learn, and when we put it all together, it's a beautiful thing. And I just look forward to doing it for the foreseeable future."
Notre Dame Prep's baseball program has a storied past. Many players have gone on to the ultimate achievement of playing major league baseball. Players that did not advance to the highest level of baseball still benefitted greatly from the program. Fisher and Joe Borowski are continuing this tradition. They are committed to helping the players to grow on and off the field and looking forward to more success stories coming out of Notre Dame Prep.