Record snowfall keeping northern Arizona beach volleyball teams busy
March 13, 2023 by Brian M. Bergner Jr., AZPreps365
---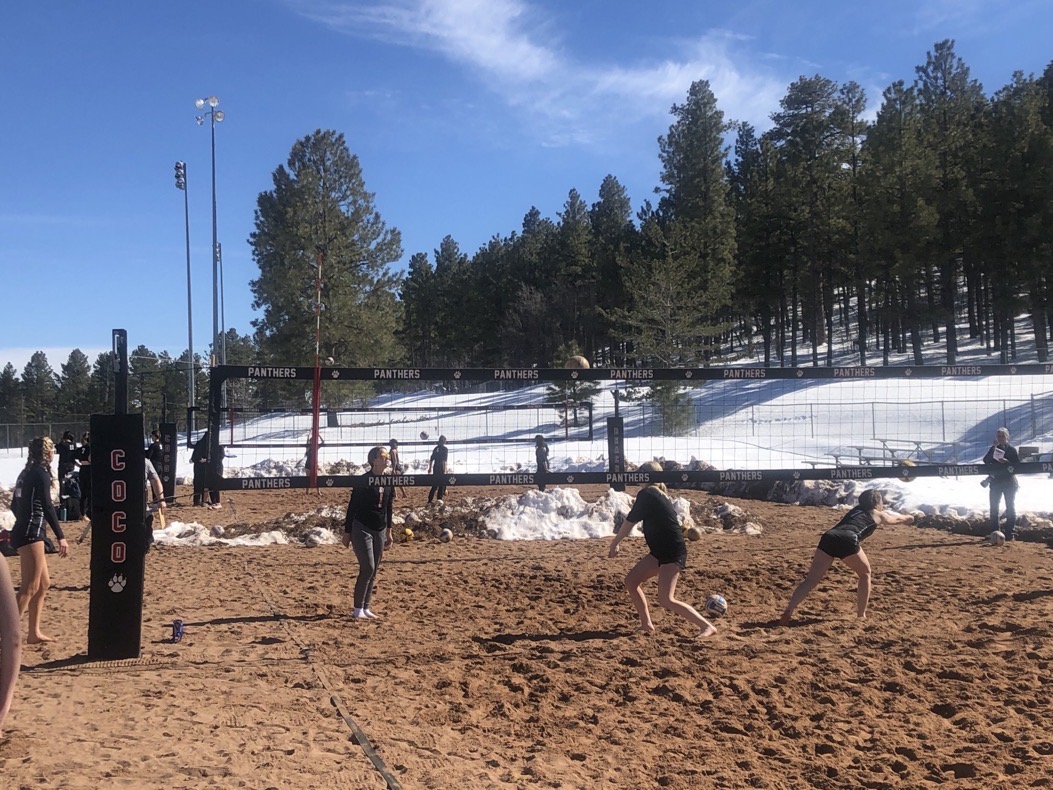 FLAGSTAFF — With the City of Flagstaff receiving record snowfall this winter, northern Arizona beach volleyball teams have certainly been through an interesting first few weeks of their spring seasons.
Take Coconino (2-2, 0-0 Section IV) for example. The Panthers blanked North Valley Christian (4-0) and Trivium Prep. (5-0) in cushy Valley-area beach volleyball settings to begin the season, but came back home to 2 feet of snow last week and had to dig out their own beach.
Coconino lost to Boulder Creek on March 9, 3-2.
Panthers head coach Greta Hannemann, who started the program a decade ago as the first northern Arizona team to play beach volleyball, said shoveling snow is nothing new to begin the season, but this year, nothing compares.
"The amount of snow has been incredible. Weekends were dedicated to shoveling the courts just trying to stay up with all the storms along with evenings after work," Hannemann said. "It's much easier to shovel fresh, fallen snow…if you can call it easy. Volunteers were few, but really appreciated the ones we had."
Hannemann added that many of the people who may normally help are busy shoveling their own driveways just to get to work.
"That everyone had to shovel their own homes out and that was plenty of shoveling, certainly didn't want to do more," Hannemann said.
According to the National Weather Service station in Flagstaff, the city has seen a tick more than 118 inches of snowfall this winter, which is about 50 more inches than average.
Snowbowl has seen 326 inches.
The sheer amount of snow has cut into practice time as well, with the Flagstaff Unified School District calling for 12 snow days already.
"Whenever there is a snow day, no school, kids aren't allowed to practice or shovel snow," Hannemann said with a laugh. "Even days we had the courts cleared we could only go for an hour because their feet would be absolutely freezing."
The Flagstaff Eagles (2-1, 0-0 Section IV) have played just three matches so far this season, all road games to the Phoenix area. They recently beat North Valley Christian, 5-0, and Arete Prep., 5-0.
Flagstaff, which made it all the way to the Division II state championship a season ago as a No. 2 seed before losing to No. 1-seeded Salpointe Catholic, 5-0, is scheduled to host its home opener March 20 against Fountain Hills.
Payson (3-1, 0-0 Section IV) and Mohave (1-2, 0-0 Section IV) are the only two other teams from northern Arizona to play beach volleyball.
All four are in Division II.
Brian M. Bergner Jr. has covered professional, collegiate and high school sports for more than 20 years. Follow him on Twitter @AzPreps365Brian. Have a story idea? Email Brian at bbergner@azpreps365.com.