The motivation behind Sierra Linda's Ricardo Laborin
March 14, 2023 by Jonathan Melendez, Arizona State University
---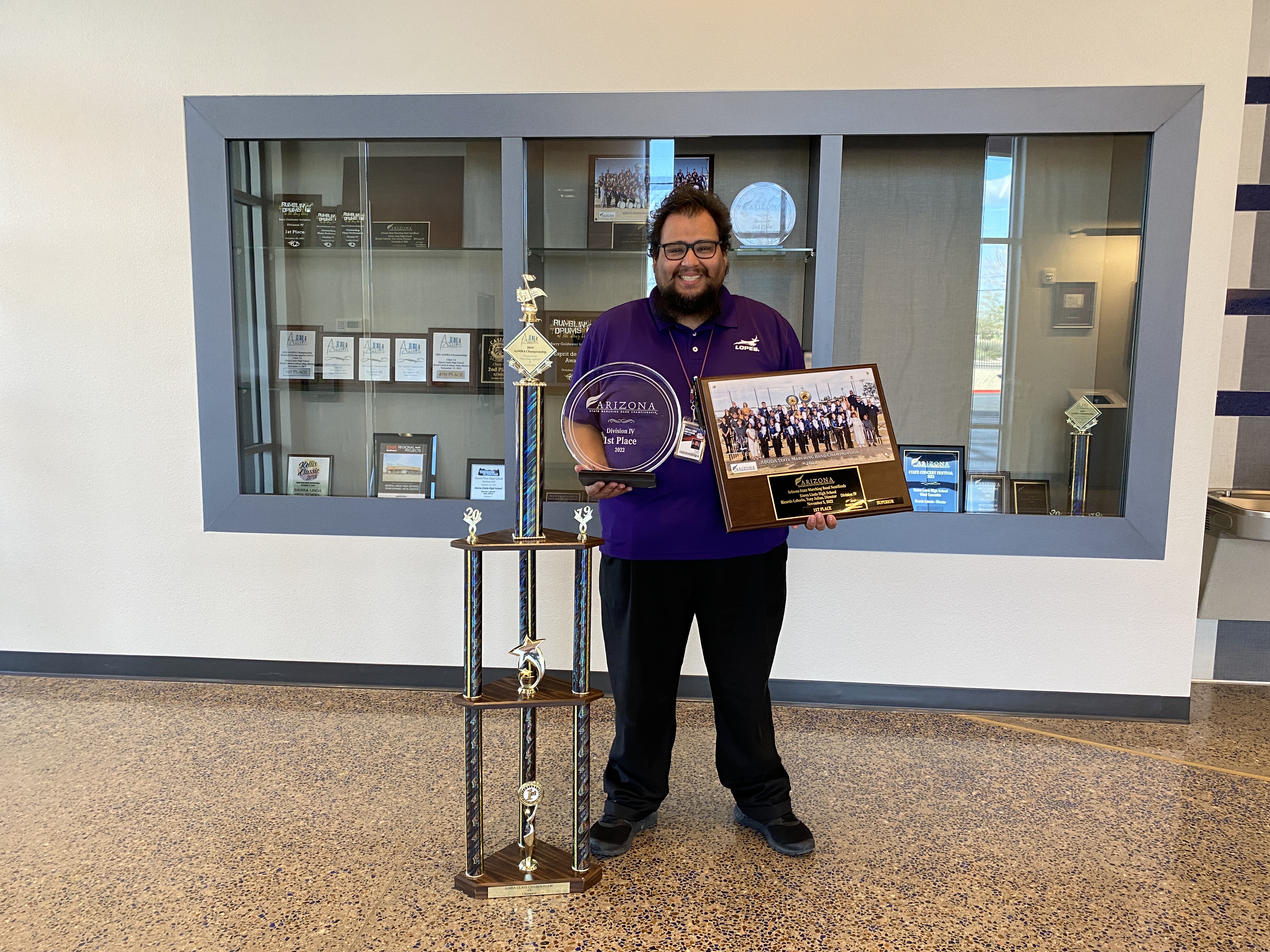 Jonathan Melendez is an ASU Cronkite School of Journalism student assigned to cover Sierra Linda for AZPrep365.com.
Ricardo Laborin is a teacher at Sierra Linda High School, but his job does not stop there. Laborin is a teacher, mentor, coach, musician, gamer and tech enthusiast in charge of multiple extra-curricular activities at the school.
Laborin's titles include head band director of the music program, mariachi director and esports coach. He runs the bark program, which is a program where students learn how to build and fix personal computers. He's also a stage production teacher, an orchestra director and a marching band director.
Laborin, 35, graduated from Maryvale High in 2005 and had a long journey to get to where he is today. After high school, Laborin attended Glendale Community College for three years but struggled to maintain grades in math, science and English. He didn't know what he wanted out of his career and used school as a means of avoiding having to go straight into the work force.
"When I graduated high school, I went to college just to go to college because that's what my band director told me to do," said Laborin.
While attending GCC, Laborin joined the band once again after being persuaded by the band director and in his second year he also began assisting his high school band director at Maryvale as the front ensemble technician and eventually drumline in 2011.
"She (the high school band director) knew I was going to be a band director before I did," said Laborin. "She never told me until I graduated high school that she knew this is what I was going to be, but she said she always saw it in me."
However, before he reached that stage of his life, his struggles with grades forced him to step away from school until he eventually could pick back up at Grand Canyon University and graduate in 2016.
After graduating, Laborin got a job at Sierra Linda the same year as the assistant band director and three years later became the head band director. Throughout his time as band director, he has led the Sierra Linda marching band to state championship titles in 2019 and 2022. He also won the certified Employee of the Year award for the 2018-2019 and 2022-2023 school years.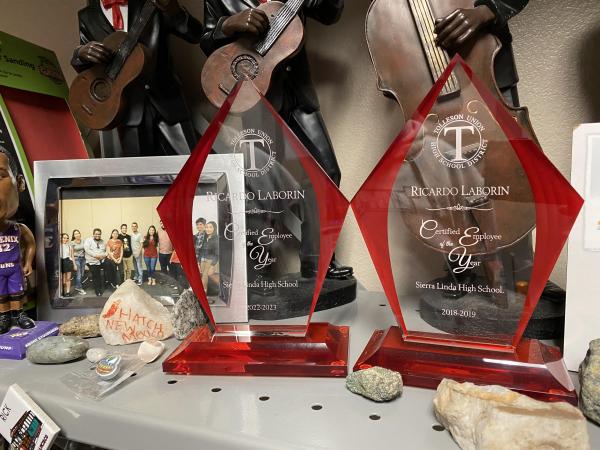 Certified Employee of the Year awards (Photo provided by Jonathan Melendez/AZPreps365)
Laborin thanked his wife and the connection that they had when they first met because she understood him and the commitment that he had to the students at Sierra Linda. "When I met Leah, one of the first conversations we had was that I am going to start going to school to be a band director and she already knew what that meant because she was in color guard in high school," said Laborin.
Leah Laborin mentioned that one of the many things she admires most about him is that he will always put the kids first and make sure that they are successful. Her most memorable moment of his was receiving that call that he had gotten the job of his long-awaited goal of becoming a head band director in 2019 after just three years of teaching.
The most rewarding part of Laborin's job is serving as an outlet for students who don't want to be home because of whatever situation it is that they have in their personal lives. "It's like a safe haven for them. A safe place for them to be away from the problems they face when they go home," said Laborin.
"Everything that he touches is successful and the kids all have positive things to say about him and that speaks volumes in itself that the kids have something nice to say about a teacher," said Samantha Gordon, co-coordinator of the Bark program at Sierra Linda.
"I joined esports playing at Diamond 2 and now I'm at peak grand champ in rocket league," said Donavyn Perry. Perry is a sophomore at Sierra Linda and has been in esports since the team started his freshman year. Perry credited Laborin for his ability to coach and make them stronger overall in all aspects of the competitive scene in Rocket League.
Laborin has managed to grow programs like the stage production crew from nine students to 40 and has consistently followed that trend with every club that he has run. Mariachi initially began as an after-school activity but grew to become a class that he now teaches during the day and prepares students for full-on gigs outside of school. Laborin has introduced students to new ideas and abilities that they might not have known they had and helped them develop careers after high school.
"If I can change one kid's life, then my job is already done," says Laborin.