Canyon View wins The View Invitational
March 25, 2023 by Andy Morales, AZPreps365
---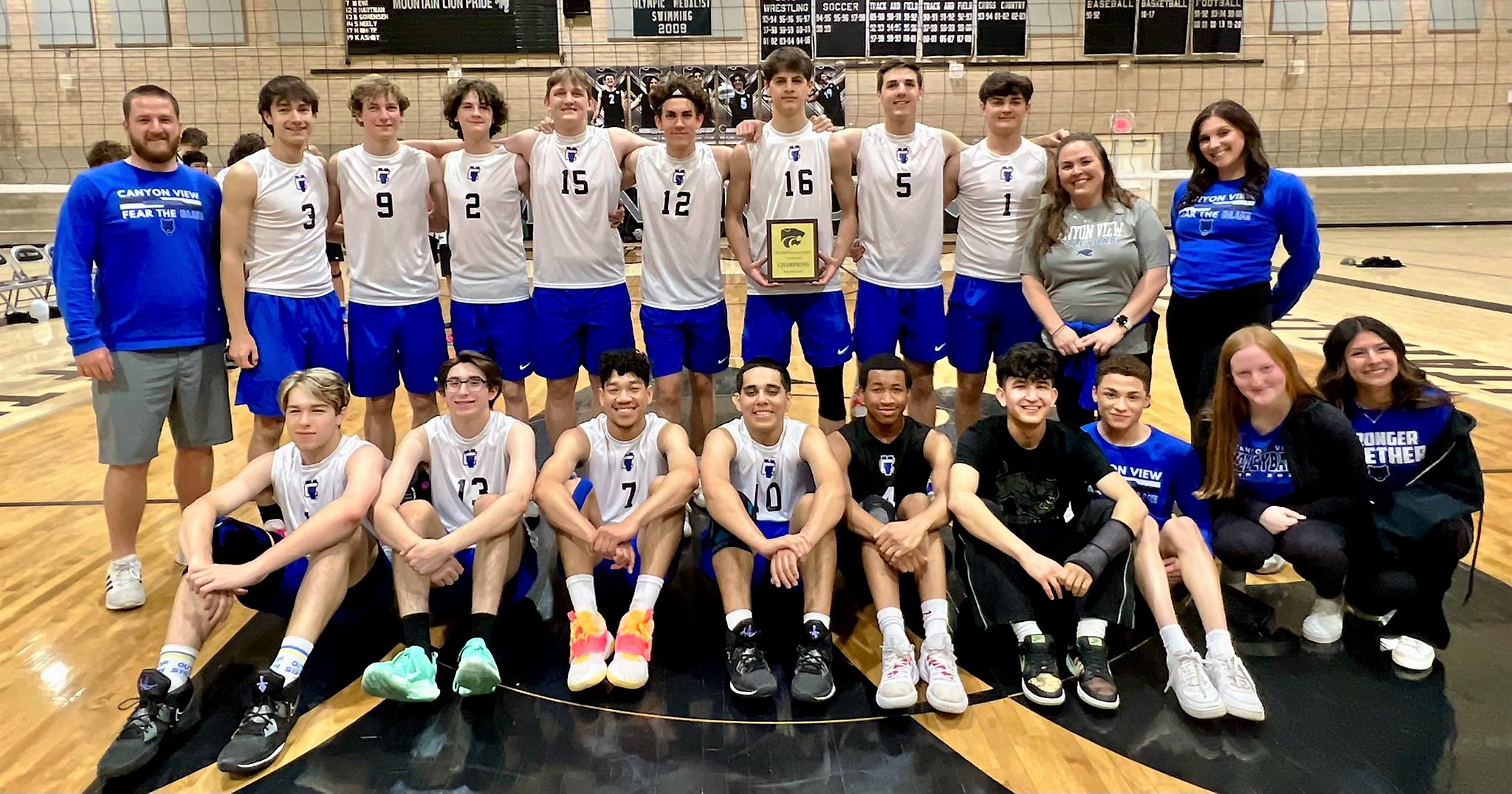 Marana Mountain View: March 24-25
Canyon View went 6-0 to capture the championship of The View Invitational hosted by Marana Mountain View on Friday and Saturday. The Jaguars defeated Basha 2-0 (25-17, 25-13) in the championship final.
Basha (9-6 overall and 2-2 in ranking matches) led the first set 5-2 but Canyon View and Basha battled back and forth from there with the match eventually working to an 11-11 tie. The Jaguars slowly pulled away, ending the first set on a 12-6 run, to end it 25-17.
The Jaguars set the tone early in the second set with four straight blocks from Tucker Lambert, Dylan McWhorter, Lambert again and CJ Eaton. Only a touch at the net prevented a fifth block. The Jaguars jumped out toa 24-10 lead and then finished the second set off 25-13.
Robert Garcia had 10 assists for Canyon View and Matthew Michler added eight more. Lambert and Izaiah Smith had five kills each and Kole Brittan had four. Lambert had four blocks. Jake Woods hand nine assist for Basha. Bryce Andersen, Matthew Wagner and Ryan Wagner ended with three kills.
Canyon View (12-2, 5-1) opened up the season with a 4-set loss Casteel and Casteel is now 20-1 on the year and 4-0 in ranking matches so that initial loss should be a bonus when the first set of power rankings are released on Tuesday. Canyon View and Casteel compete in the 5A Conference and Basha competes in the 6A Premier Region.
Canyon View will travel to Kellis (4-1) on Tuesday and Basha will host Corona del Sol (3-3) on the same night.
ALL-TOURNAMENT TEAM
Bryce Andersen, Basha
Rigor Argentera, Verrado
Tyler Olsen, Canyon del Oro
Alonso Lara, Desert View
Marlo Rodriguez, Rio Rico
Brennon Hurst-Lopez, Flowing Wells
Anthony Skinner, Pueblo
John Vinson, Canyon View
Ethan Kur, BASIS Phoenix
Will Randles, Ironwood Ridge
David Lizarraga-Rivas, Mountain View
Sam Brown, Marana
SATURDAY, MARCH 25
GOLD BRACKET
No. 7 Flowing Wells over No. 2 Marana, 25-20, 25-11
No. 3 Basha over No. 6 Mountain View, 25-20, 25-15
No. 1 Canyon View over No. 8 Verrado, 25-16, 25-22
No. 4 Ironwood Ridge over No. 5 BASIS Phoenix, 25-19, 25-19
Basha over Flowing Wells, 20-25, 27-25, 15-13
Mountain View over Marana, 27-25, 26-24
Canyon View over Ironwood Ridge, 25-17, 25-15
Verrado over BASIS Phoenix, 25-18, 25-14
Ironwood Ridge over Flowing Wells, 25-20, 24-26, 15-8
Marana over BASIS Phoenix, 25-16, 25-22
Mountain View over Verrado, 25-23, 25-19
Canyon View over Basha, 25-17, 25-13
SILVER BRACKET
No. 3 Pueblo over No. 2 Desert View, 25-27, 25-16, 15-5
No. 1 Canyon del Oro over No. 4 Rio Rico, 25-6, 25-15
Rio Rico over Desert View, 25-20, 22-25, 15-6
Pueblo over Canyon del Oro, 18-25, 25-21, 15-13