Caldwell twins, Gloria anchor small but mighty Dobson softball
March 27, 2023 by Judah Brody, Arizona State University
---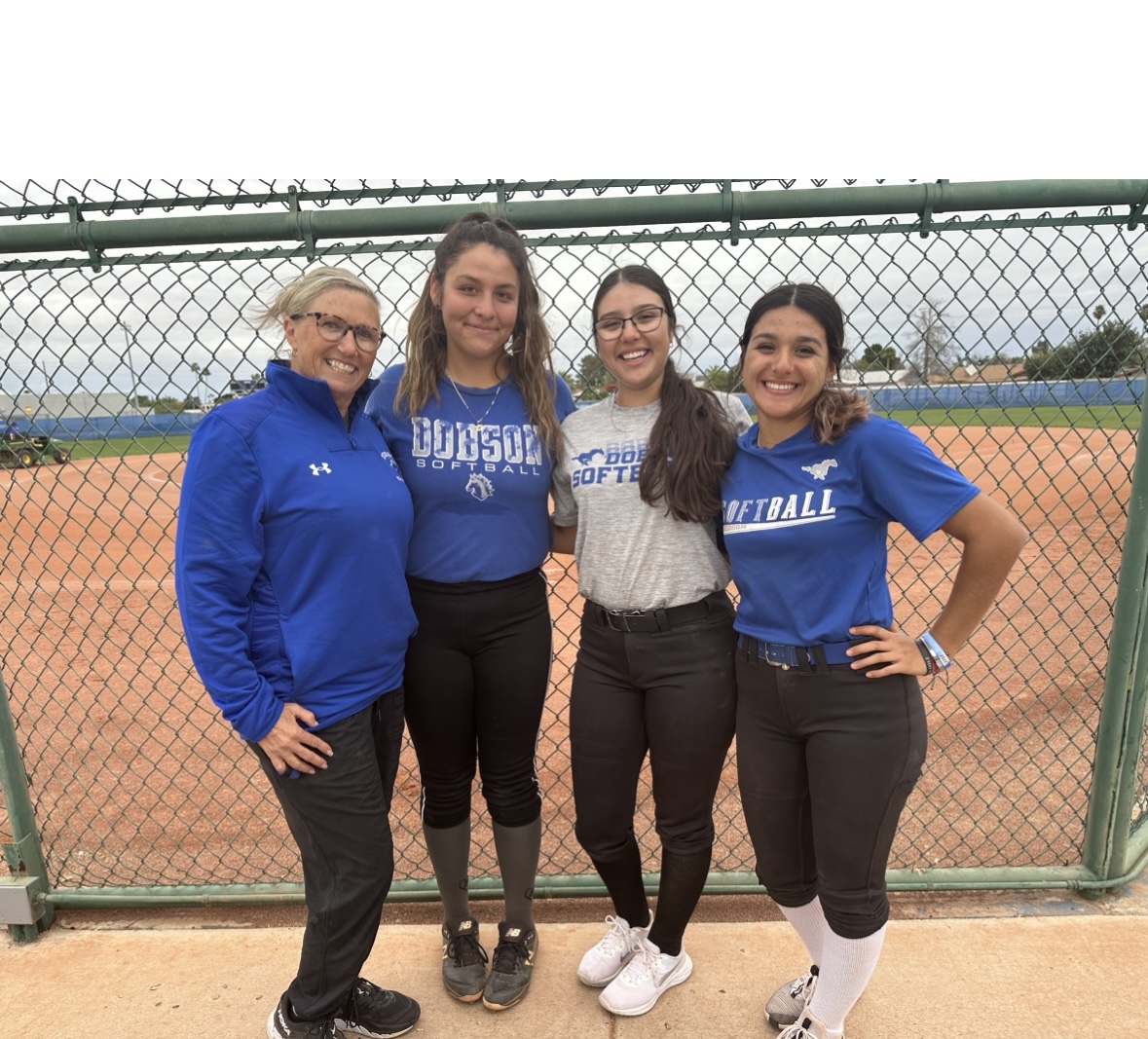 Judah Brody is an ASU Cronkite School of Journalism student assigned to cover Dobson High School for AZPreps365.com.
Varsity softball rosters in the 6A East Valley this year range from having anywhere from 12 to 17 players. For Dobson's 12-player squad, versatility is the name of the game.
"They need to know every position and be able to jump in there no matter what," Strauss said. "We've had some injuries here and there, but they've bounced back pretty well."
Head softball coach Becky Strauss in her third year with the Mustangs has had junior Mya Caldwell and/or freshman Daniella Gloria pitch every game.
When asked if she feels pressure as one of only two pitchers, Mya said, "I feel like at times, yeah. But, it just goes back to trusting your team and knowing your team has your back, and just trusting in yourself."
Mya bats leadoff, even when starting, and is 7th in total strikeouts in region. She ranks one spot below Gloria in region ERA, at 4th, and received an honorable mention last season in the 6A East Valley.
Her twin sister Mariah Caldwell provides power, and she holds the 9th-highest slugging percentage in 6A, while her AVG and OBP are the 11th- and 12th-highest in 6A. Strauss calls the twins her "OGs" since they joined the program the same year as her and have started ever since.
"[Coach Strauss] has taught me that I can be a leader at a very young age, and I can be very capable of many things and not give up on myself, 'cause that was obviously a big problem for me coming in as a freshman," said Mariah. "I was very timid, but she made a good job of making me feel safe and welcome to the program."
Mya started playing at age-8 and Mariah at age-11. Mariah said it was an "odd place" to put herself in as she developed into Dobson's starting catcher, but on most days their "iconic bond," as she put it, keeps them indescribably connected.
"It's really good to know that I have someone along the way for the rest of my life as my best friend," Mariah said.
Returning with the twins are third baseman Natalie Hamblin, outfielders Samantha Kapanak, Anita Tovar and Seve Del Toro.
Seven different Mustangs are top-25 in region OBP and AVG, and six currently sit top-15 in region slugging.
"It's hard to put the lineup together because they all compliment each other and they come through when we need 'em too," Strauss said.
Gloria procured a more-than impressive resume early in her rookie season. She currently has 4th-highest AVG in 6A and leads her region, also slugging 7th-highest in region. On the mound, she is tied for 11th most strikeouts in 6A.
"My personal goal is to have more success than failure," Gloria said. "I know failure's gonna happen, but I just wanna be better and fix it and work hard at it."
Gloria joined varsity alongside fellow newcomers Samantha Armenta, Sydnee Kapanak, Marisa Flores and Nikole Torres.
Multiple Mustangs want to play in college, a standard set by shortstop Jasmine Garcia who is committed to play for Phoenix Community College on an athletic scholarship next year. Garcia's OBP is 9th in region and last year she earned the honor of first team position player in the 6A East Valley.
This year, the twins are gunning for the all-region first team, but Mya acknowledged that "any award doesn't define who I am as a player, as long as I know I went out there, worked hard and did my job."
Strauss' emphasis on improving her players' mental aspects of their game has shaped them not only as players, but as people. To help these efforts, the team works with Education Specialist Jorge Pierce, who started a sports psychology class at Dobson in 2013.
"We've been working on [confidence, character and commitment] as a team ... and that's, that's gonna take them a long way in ... not only softball, but in their life and in their jobs and going forward," Strauss said.
Their confidence showed in their freedom games, as they unofficially outscored three opponents 57-3 over a three-day stretch ending March 8. The games took a mere 13.5 innings, less innings than two full games (14).
But not all of the Mustangs' games were blowouts, including their opener, where Gloria walked-off ALA.
"They intentionally walked Mariah and Jasmine with 2 outs and Daniella hit a double to score both and win the game," Strauss said.
Off the diamond, the team keeps it loose, even having "a dance battle against Maricopa," Mya said.
"I think this is probably the most uplifting, more bondable team I've been on out of my three years here, so it's constantly a fun time out here," Mariah added.
Team bonding activities have made the team closer, and the twins and Gloria broke out into laughter after spilling that their next one would be at Dutch Bros. The team has no captains and instead utilizes a pair system Strauss calls "sister-spotters," where generally an older player mentors a younger one.
"They try to have each other's back ... make sure they're texting each other, make sure you got your uniforms, just be on time, all that kind of stuff," Strauss said. "They like it 'cause they really get close to each other. When we go to our tournaments, that's who they stay with."
Dobson's pitcher duo, Gloria and Mya Caldwell, sister-spot each other,
"When she strikes somebody out, she's, she looks at me first and then I'm always there," Mya said. "We always pick each other up."
The Mustangs host Gila Ridge on Monday at 3:45 p.m. before heading to Red Mtn. to open region play on Tuesday at 6:30 p.m.