Saguaro's Anthony Ponce taking his talents south of the border
March 31, 2023 by Dorian Zavala, Arizona State University
---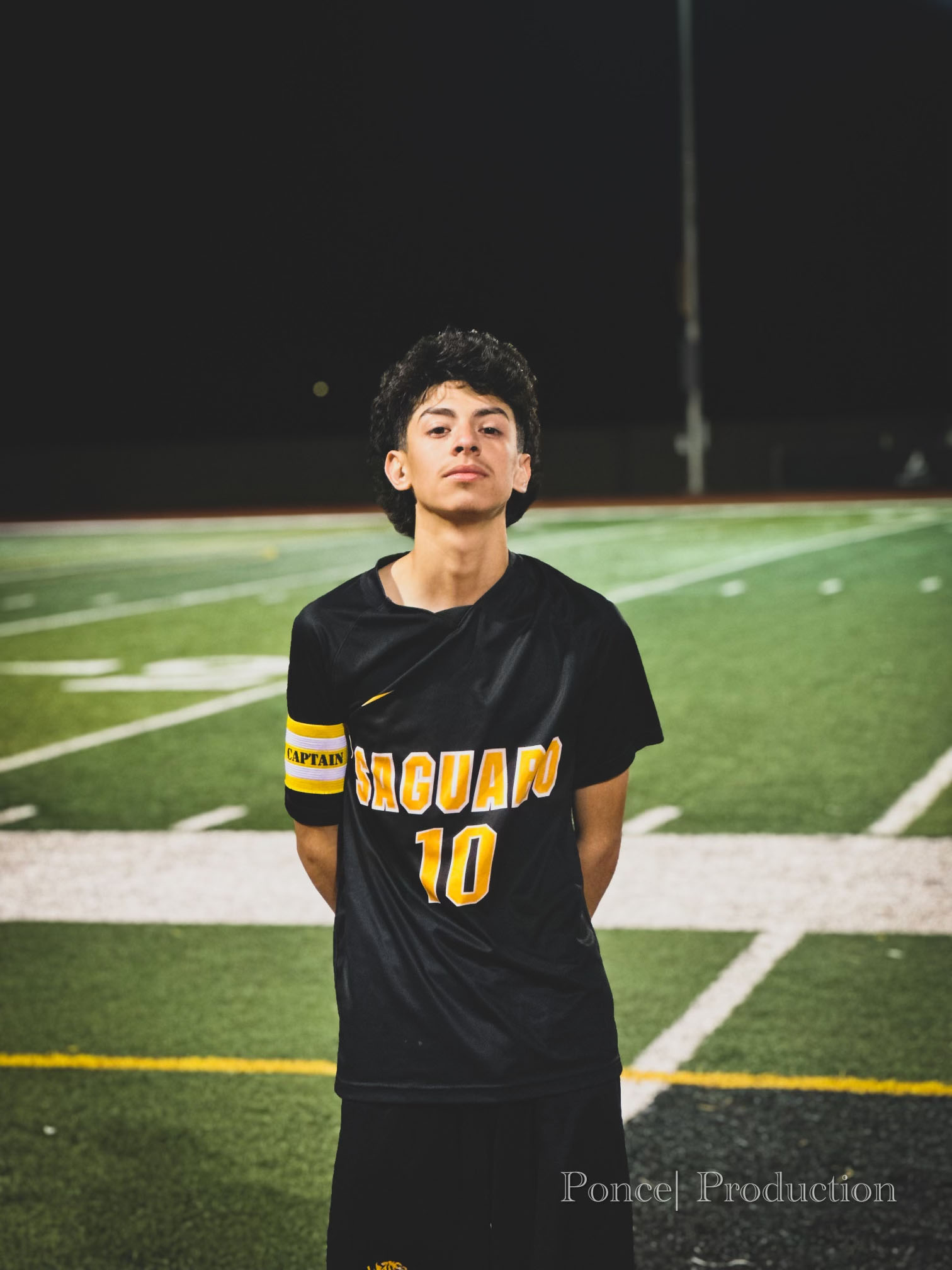 Dorian Zavala is an ASU Cronkite School of Journalism student assigned to cover Saguaro High School for AZPreps365.com.
Many high school athletes join their school teams with a dream of playing professionally after high school by playing in college. Anthony Ponce's vision of becoming a professional soccer player is treading a road that has not been paved yet.
Anthony is attempting to join the professional ranks one day by taking his talents south of the border after graduating high school. The love Anthony has for the game outweighs any fear that arises from the unknown road he is attempting to travel.
"I've loved this game since I was a little kid, it's my dream to play in the Liga MX because I'm always watching the games with my dad," said Anthony.
Anthony began playing soccer at the age of 7 when he saw a flyer encouraging students to try out for the school's soccer team. He didn't know what to anticipate, but he was confident he wanted to try.
When Anthony approached his father, Silverio Ponce, for a pair of cleats since he wanted to play soccer at school, his father was somewhat surprised.
"Do you know how to play?" said Silverio jokingly. Although caught off guard by his son's request, he didn't deny Anthony the opportunity as he bought him his first pair of cleats.
Anthony performed well during the tournament and convinced both his brother and his father that there was a unique talent within him.
"He was always playing soccer after that day tournament ... everything he did revolved around soccer and has ever since," said Jonathan Ponce.
Jonathan, the older brother, had to deal with the headaches of a little brother who always wanted to hang out. But as he put it, after that day, all he concentrated on was soccer.
"He was always a curious kid growing up ... he always wanted to try things, and that's what possibly led him to try out," said Silverio.
Anthony's curiosity led him to try out for his school's soccer team and opened the door to what has led him to this moment.
After four years at Saguaro High School, Anthony was close to ending his high school career with a state championship, but the team fell short of the goal as they lost to Salpointe Catholic in the championship game.
"It was a big letdown for us because we all worked so hard to get to that game and for it to fall apart at that moment really sucked," said Anthony.
With the season over and graduation around the corner, Anthony is looking to expand his soccer career by taking a different approach from the other guys on the team.
Anthony wants to take his talents south of the border to the Mexican developmental league. As a big fan of Liga MX, the top soccer league in Mexico, Anthony dreams of playing in the league he's grown up watching.
The plan is for him to put his schooling on hold for the next couple of years to work toward achieving this goal.
The journey will be challenging because the league is filled with older players clinging to the hope of being called up and the younger generation of players working toward the opportunity to play in the big leagues.
Most of these leagues also do not pay well. Most of the up-and-coming players on the teams that are in these developmental leagues have regular jobs to help pay for their day-to-day expenses on top of the living expenses they already have to pay.
As of this moment the top developmental league in Mexico, Liga MX Acenso is currently on hold because of funding problems within the league.
Four years ago, the top officials of Liga MX froze the feeder leagues because the owners of the top teams in Liga MX did not want to be investigated because Tiburones de Veracruz scandal that led to the end of relegation in Liga MX.
Liga MX did not respond to any of my requests to interview for this assignment.
With all this happening Anthony is willing to and try because he truly wants to reach his dreams of playing in Mexico professionally.
"Nothing worth it will come easy you know I know it's going to be hard, but I want this because I believe in myself," said Anthony.
His parents and brother fully support his decision to follow his dreams.
"I came to this country to give my family a chance at a better life ... That was my dream, and if his dream is to go play in Mexico then I fully support him," said Silverio.
Jonathan also believes in his brother's dream, stating that he knows that the journey his brother has decided to go on is difficult, but he fully believes in his brother's ability.
"This kid has been playing soccer since he was a little kid, it's all he knows so I'm not surprised that he's chosen this path," said Jonathan.