Dobson football aiming for big budget in 2023
April 4, 2023 by Judah Brody, Arizona State University
---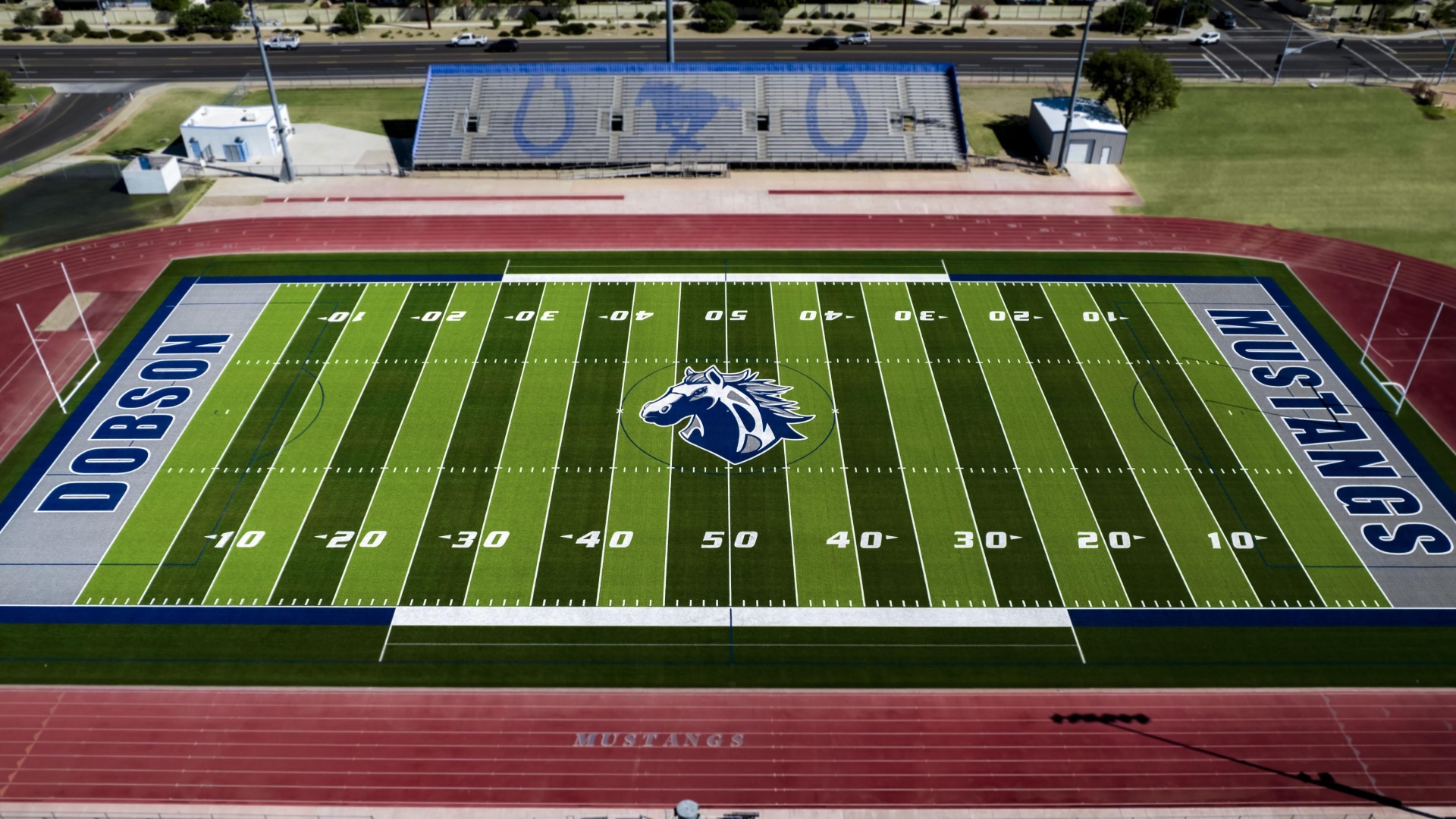 Judah Brody is an ASU Cronkite School of Journalism student assigned to cover Dobson High School for AZPreps365.com.
The Dobson Football Booster Club expects to be flush with cash by the end of 2023.
Head coach Bill Godsil works diligently to up his staff from 13 to 17, across his varsity, JV and freshman teams. The DFBC is supporting his efforts by buying clothing for the new coaches.
"This year we brought in 80 freshmen and out of those, we still have 50 in the program after the first season," Godsil said. "If we can fill the remaining (coaching) spots it will take us to 20."
In 2023, the DFBC expects to spend $32,700 and end the year with $20,000 in net savings. The savings are partly due to Under Armor sponsoring new home and away uniforms for Mesa Public Schools.
"I'm just thankful ... we were racking our brains going, how can we raise this much money?" DFBC President Dee Clark said." "Clearly we are in an area that's not ... gonna get the funding that a lot of these schools are gonna get to get the new jerseys."
Overall, club spending is up an estimated $2,500 from '22 and income is projected to be up $1,200.
The club helps Godsil with reimbursement for things like gas or dinners, as well as Arizona Football Coaches Association dues, since the district fund only be used for things students can keep or consume. It also provides football camp scholarships for students who need them.
Recently the district paid for the team to attend a clinic put on by Glazier and the DFBC paid for hotel rooms.
"We will gladly pay because they bring so much quality information back from it and the kids are already talking about, 'Hey, we learned this' or 'They're gonna do this now,'" Clark said.
About $18,000 of the club's fundraising is expected to come from cornhole and golf tournaments.
Beanbags will fly on April 8 at The Yard Cigar Bar starting at 11 a.m. complete with cash prizes and raffles. Golf is set for June 3 with a 7:30 a.m. tee off at San Marcos Golf Course and prizes will include things like lessons and gift cards. To participate costs $450/foursome or $145/single and students are allowed to play.
The DFBC is also in charge of concessions for home games again and the two Gotta Believe Athletic Club 7-on-7 football tournaments held at Dobson (The second will be held April 22). The Papago Pumas' home JUCO games at Dobson are also an opportunity to bank extra cash and overall concessions will raise around $8,300
"[Papago] doesn't have concessions, so they said, 'Hey, you wanna make some extra money?' And we said, 'Absolutely,'" DFBC Treasurer Michelle Murray said. She added that last year in-season "concessions were taken over by our culinary department in hopes that they could have the kids figure out how to run a business."
The club's biggest non-fundraising expense this year is gear/clothing, which will cost around $4,200.
Its first sponsor for 2023 was Adobe Drywall and they also coordinate percentage nights at local restaurants and ice cream parlors. The board is working with Native Grill & Wings to help provide weekly team meals, but the deal is not finalized yet.
"Without the support of the booster club, we can't run an effective, productive program. Scholarships for camp are vital to getting all of our players to camp," Godsil said.