Sierra Linda's Adrianna Valenzuela makes district history
April 3, 2023 by Jonathan Melendez, Arizona State University
---
Jonathan Melendez is an ASU Cronkite School of Journalism student assigned to cover Sierra Linda for AZPreps365.com.
Adrianna Valenzuela, a senior and clarinet section leader in the band program at Sierra Linda, is the first student to ever make it into the all-state band from the Tolleson Union High School District after auditioning against hundreds of students across the state.
In January, Valenzuela qualified for regionals, which is an audition where students from Sierra Linda's region audition to be in a band that consists of the best students in the region. Valenzuela qualified her junior year and again this year.
However, it does not stop there. After qualifying for regionals students are given the opportunity to audition for the all-state band that is compromised of the best students in the state. Valenzuela took advantage of this opportunity on March 11 and found out soon after that she made it.
"Only three students made it into regionals from the entire district," said Ricardo Laborin, head band director of the Sierra Linda band program. "Out of those three only she made it into all-state and she's the first one to ever do It for our district."
Valenzuela puts in a lot of time and effort into her instrument because she has a strong passion for music that stems from watching her father perform.
"My dad used to play in middle school and high school, and he told me he enjoyed it, so I decided to try it," said Valenzuela.
Adrian Valenzuela, Adrianna's father, has a passion for music that reflected onto her from a young age and has pushed her to want to perfect her craft.
"Her dad is a musician in a local band so since she was small she was always surrounded by music," said Mayra Valenzuela, Adrianna's mother. "She would pick up his guitar and kind of try to teach herself, so we knew she had It in her."
Her mother also mentioned that as she began to take her musical endeavors more seriously you would always see her with an instrument.
"It's something that she really enjoys doing," said Mayra Valenzuela. "I would tell her music teachers, 'You know, it's 3 a.m. and she's still up practicing her music.'"
Valenzuela has been in band since middle school and is now finishing at the top of her class as she looks to graduate this semester. To add to her many musical achievements, she also won two state championships with the Sierra Linda marching band and led the Bulldogs as head drum major when they won their second one this past fall.
Valenzuela also recently received the "Student of the Year" award for the 2022-2023 school year and was accepted into the Arizona State University School of Music where she will pursue a career in music in the hopes of one day becoming a band director.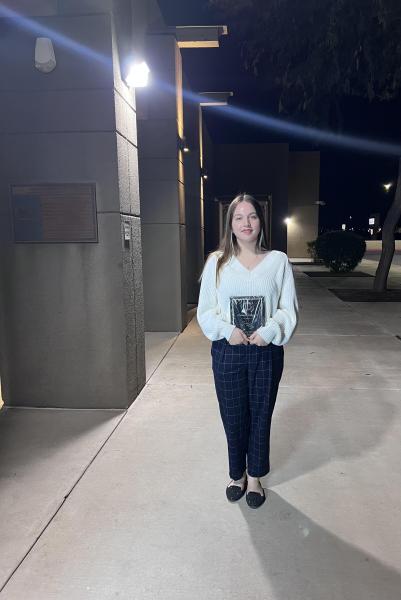 Adrianna Valenzuela posing with "Student of the Year" plaque (photo provided by Mayra Valenzuela)