Mountain Pointe coach Christina Daigle shines on and off the pitch
April 6, 2023 by Josh Jones, Arizona State University
---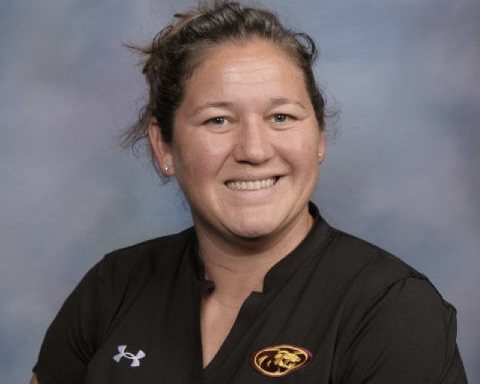 Josh Jones is an ASU Cronkite School of Journalism student assigned to cover Mountain Pointe High School for AZPreps365.com.
Once a Mountain Pointe Pride soccer player, Christina Daigle coaches her alma mater with the mission to bring passion and love back to her high school soccer program. Daigle has been coaching for 12 years but has been involved with soccer since age 4.
Daigle grew up in Ohio and moved to Arizona when she was 8. Following her high school playing days at Mountain Pointe, she received a full scholarship to play Division I soccer at the University of Arizona. Her inspiration was fueled by her passion to pay back her parents for all they had done throughout her youth soccer and club playing days. She enjoyed being a role model for young girls while playing in college.
"On the soccer field she was a competitor," said Mountain Pointe High School counselor Bryan Sabato. "When it comes to working with our students here on campus, she is as driven and as hungry for them to succeed as she was for herself."
Following her career as a Wildcat, Daigle reached out to her former coaches and began getting mentored as a coach. Her first coaching position began with Legacy soccer club and led to a position at Hamilton High School in Chandler in 2011. At Hamilton, Daigle helped coach junior varsity, varsity and the soccer academy for six years before coming back to her high school.
Daigle has now just wrapped up her sixth season coaching Mountain Pointe girls soccer. She also plays a key role in the Unified Sports program and Top Soccer program, which both allow special-education students more athletic opportunities.
"She is a huge proponent of that program," said Sabato. "She has fire and passion in everything she does."
Daigle had her team participate in various community service events this previous season, including work with the non-profit Feed My Starving Children organization and the Larry Thomas Pride Pantry food drive.
"I want them to get the good work ethic, good character, good morals and good teamwork out of it, and just give back and be humble," said Daigle. "It's not even the wins and losses. I mean, everyone loves winning, I love winning, I actually hate losing, but my ultimate goal is wanting them to be better people."
High school soccer in Arizona faces the challenge of competing with and pulling players from the many club teams that didn't exist while Daigle was playing for Mountain Pointe. Clubs such as the Elite Club National League and U.S. Soccer Development Academy sanctions players from playing for their high school teams.
"Back then we didn't have all the social media and electronics that cause so many pressures online for these kids, so we didn't have all that outside noise. We had our own little bubble as a team and we were closer as a team," said Daigle.
She aims to build her own version of a soccer academy at Mountain Pointe and maintain the experience that a high school team has to offer.
The impact that Daigle has made on the soccer program has not gone unnoticed. Former Mountain Pointe Athletic Director and current American Pop Culture teacher, Ian Moses, has known Daigle since she was in junior high.
"Chris was hyper focused and completely driven, and in a good way kind of a bull in a china shop," said Moses. "She has been able to channel that aggressive nature and desire to be more of a teaching coach and someone who can train kids who haven't had the same experience she had as a player."
Moses and others around campus are thrilled to have her around. Her willingness to help others and her passion for her high school is clear.
"We are so lucky that she is back at her alma mater working and coaching on a daily basis," said Moses.
In Daigle's eyes, this is only the beginning and she hopes to stick around for as long as possible.
"I'm not done building the program yet," said Daigle. "I'm trying to get as many girls involved in advanced P.E. as I can so that we can incorporate and build a collegiate-like workout program and practice schedule at Mountain Pointe."