Chaparral blanks 5A's No. 1 team after honoring legend
April 10, 2023 by Jose Garcia, AZPreps365
---
Chaparral opened with Jerry Dawson and closed with Wyatt Halvorson.
That was quite a show the Firebirds baseball program produced Monday, when they honored the coach who sculpted Chaparral into a national power. Dawson returned to Chaparral for the first time in 13 years to throw out the first pitch before turning it over to another man of the hour, Halvorson.
The senior and his teammates made a big statement after defeating 5A's No. 1 team, Casteel, 5-0 in a non-region affair. The tall and dominant Halvorson allowed only three hits during his complete game performance.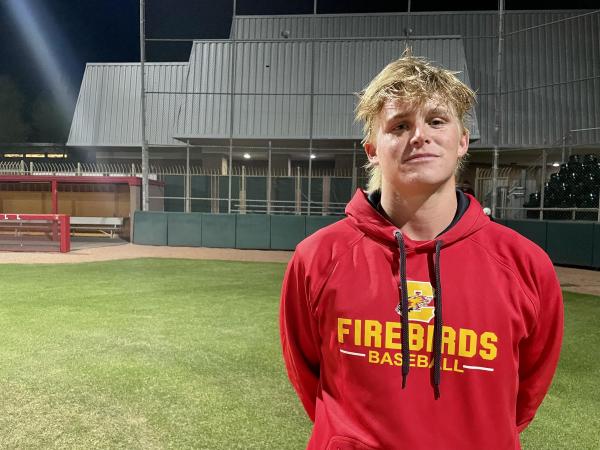 Chaparral's Wyatt Halvorson. Jose Garcia/azpreps365
"We try not to pay attention to the (rankings), but we saw that (Casteel) was ahead of us and I guess it kind of sparked a fire under our bellies," Halvorson said.
This was the second time Chaparral, ranked No. 4 in the latest 5A power rankings, defeated Casteel this season.
The first time came during the Boras Classic, when Halvorson didn't pitch. Aided by a four-run third inning and a defense that didn't commit an error, Halvorson shined the brightest when the lights came on at Chaparral.
With runners on first and second and one out in the fifth, Halvorson struck out Casteel's leadoff hitter with an inside fastball and K'd the following batter with a high pitch, ending the threat. A 1-2-3 inning in the seventh capped the shutout in which the right-hander fanned seven.
Halvorson's father, Greg, played at the school Halvorson committed to, Arizona State. Chaparral's No. 9 hitter, Cody Estes, got on base three times and ignited Chaparral's four-run third inning during a seven pitch at-bat.
Starter Mason Russell, a lefty committed to University of Arizona, was a strike away from a second out and sending Estes back to the dugout, but the senior eventually singled to left. Two batters and a costly infield error later, Russell exited the game (pitch count) with the bases loaded.
With the first pitch, Casteel's reliever hit Chris Newstrom to score Chaparral's first run. The Firebirds' cleanup hitter, Justin Cherrington, then, with Casteel's first baseman playing in, hit a first pitch offering to right to knock in two more runs.
Cherrington's attempt to reach second failed, but Chaparral's fourth run wound up crossing the plate after Cherrington was thrown out. Estes capped his big night with an RBI double in the seventh.
"Coach (Matt) Denny has a great team over at Casteel," Chaparral coach Troy Gerlach said. "We knew after playing them in the Boras Classic that they are well-coached and are going to play hard. We tried to play a clean game, and we did tonight."
The road doesn't get any easier for 16-5 Casteel, which still has three games left to play this week.
For Chaparral (17-4), up next is the Northwest Region's first place team, Centennial, on Wednesday.
"(Halvorson) obviously threw a gem," Denny said. "He threw the ball where he wanted and made some big pitches and really didn't leave (openings) for us.
"It's a good club. It's very athletic. We are looking forward to keep grinding and find an opportunity to get them again down the stretch."