Beach party: Salpointe, O'Connor, Estrella Foothills, Queen Creek celebrate
April 26, 2023 by Jose Garcia, AZPreps365
---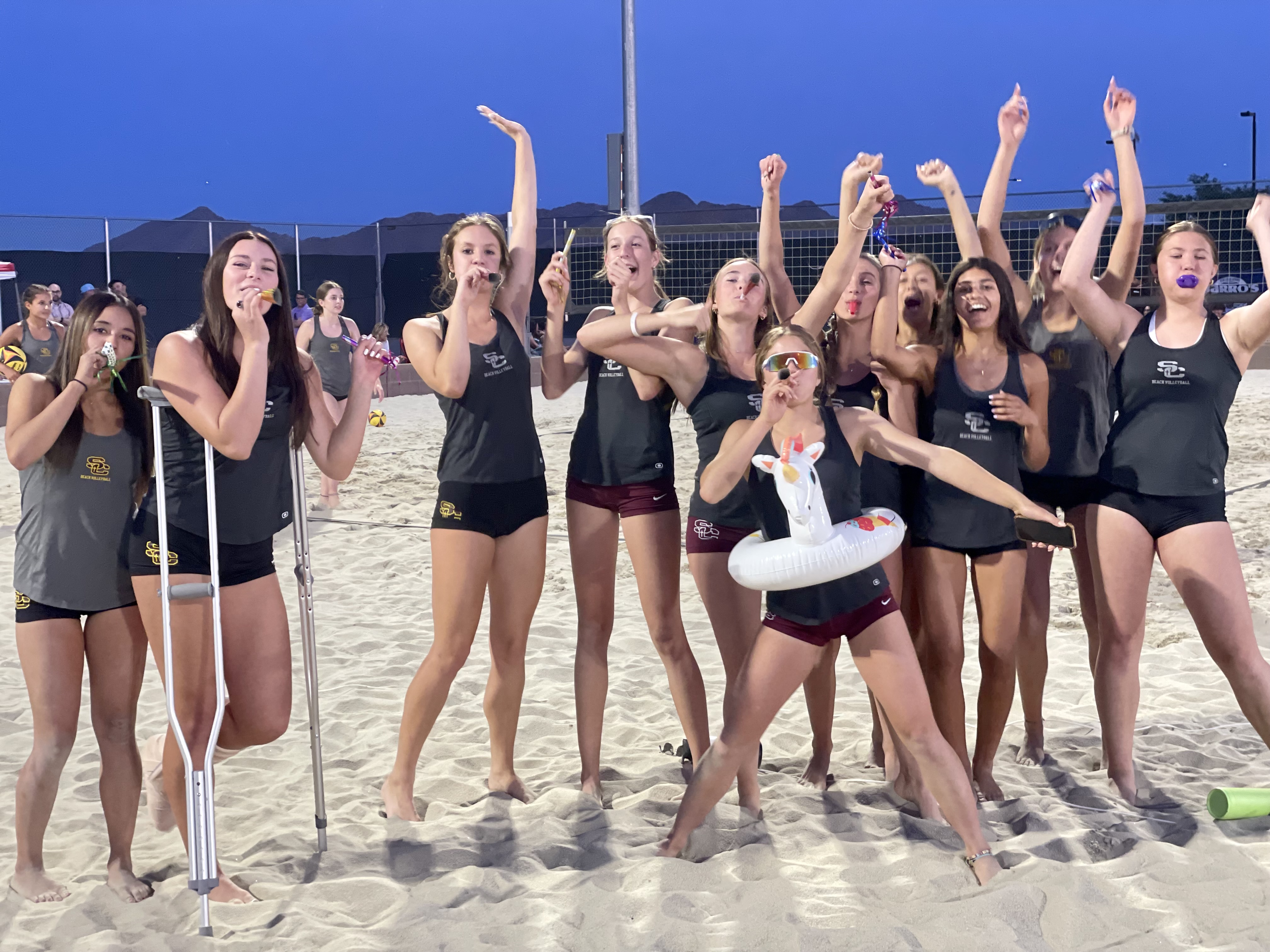 The vibe at Casteel's beach volleyball complex was festive Wednesday for a couple of reasons.
Salpointe three-peated.
Sandra Day O'Connor defended its title.
And despite losing, Estrella Foothills and Queen Creek also celebrated. Beating Salpointe (12-0) and O'Connor (13-0) was a tall order this season.
Not surprisingly, the teams won a combined 13 of the 15 sets that were completed in the Division I and II team beach finals. But after reaching their first volleyball team finals, Estrella Foothills and Queen Creek also deserve some kudos.
After clinching their respective titles by 3-0 scores, Salpointe became the first D-II team to three-peat and O'Connor went home with the program's second team title trophy.
The D-II results:
The match between Minda Prideaux and Megan Muehlebach, Salpointe's No. 1's, and Estrella Foothills' No. 1's, twin sisters Jazzlee and Jennalee Acosta, was called after Salpointe clinched the crown. Each team won a set.
Salpointe's No. 2 Jordan Faircloth and Rylen Bourguet def. Sage Chittester and Raegan Moran 21-12, 21-17.
Salpointe's No. 4 Gabby Monge and Scarlett Isaacson def. Samantha Coleman and Madison Pond.
Salpointe's No. 5 Alyssa Robles and Kate Mobley def. Eleanor Johnson and Abigail Stenz.
D-I results:
O'Connor's No. 2 Piper Rama and Devyn Wiest defeated Madisyn Crnjac and Kylee Pew 21-10, 21-15.
O'Connor's No. 4 Leyton Heldt and Natalie Gilbert def. Miley Hakes and McKenna Kehoe 21-8, 22-20.
O'Connor's Kate Smith and Delaney Singleton def. Brooklyn DeWitt and Hadli McRae 21-11, 21-8.
The match between the No. 1's, Queen Creek's Izabella Mahaffey and O'Connor's Liana Huesca and Olivia Le Blanc, was called after O'Connor clinched the title.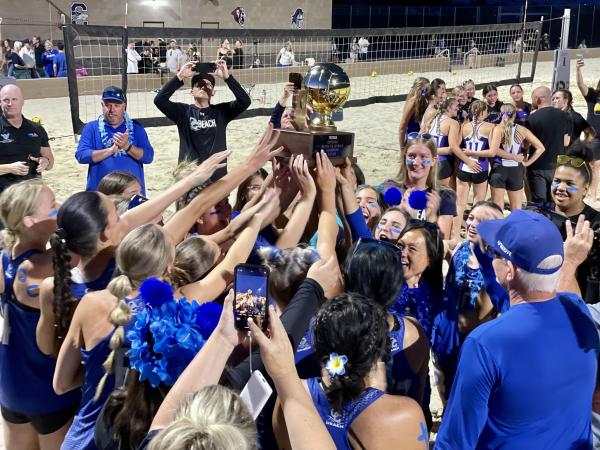 "A huge relief," said O'Connor coach Jamey Spartz after her program won the title with a big target on its back. "It's not even about defending the title. It's about keeping the status, maintaining our humbleness, how hard we work and sustaining the culture of what we are trying to build. It feels really good knowing that we've built that and did it together. Everyone had each other's back and loved each other." (Jose Garcia/azpreps365)
"No one really thinks of us as one of the main big teams in the state, especially in Division I," said Queen Creek coach Stefany Pew about her seventh seeded team. "We have six freshmen and five of them start. It's just a matter of the youth and talent that we have. It spoke for itself today. Elle (Ever) and Izabella (Mahaffey) are our leaders, and they just led the whole way. They are competitors and fighters. They know how to win and are successful indoors as well. It was very special having my daughter (Kylee) on the team. She's our only senior. So it was definitely special. She's played here for four years and indoors. So to get to finish this way with her it's a dream. It's a mom and a coach's dream to be able to take this journey with her all the way to the end." (Jose Garcia/azpreps365)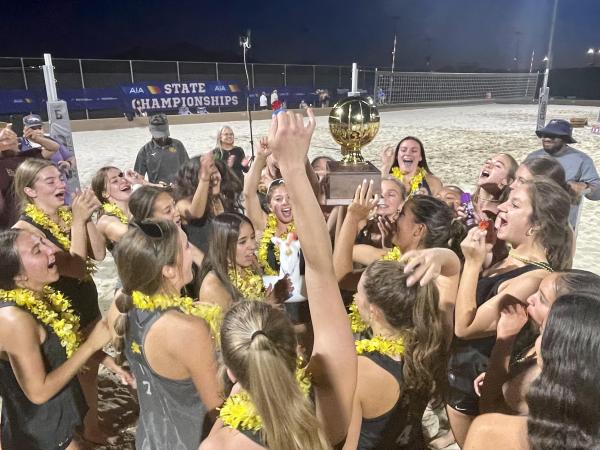 "Just shows a lot of fortitude for our program," said Salpointe coach Heather Moore about three-peating. "All the hard work that the girls put in every day at practice paid off while showing up when it's freezing and when it's super hot. So we've had it all this season." (Jose Garcia/azpreps365)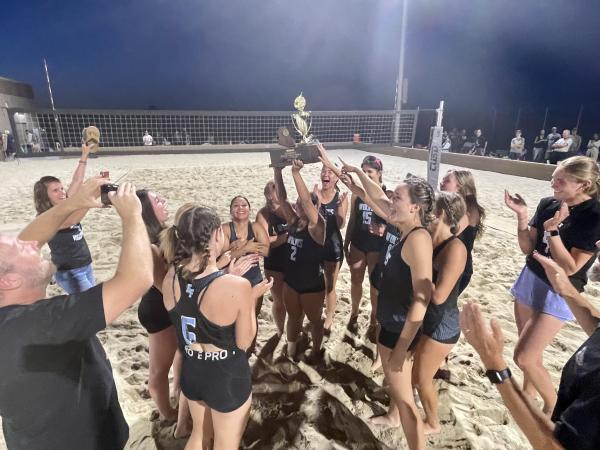 "I can't tell you how proud I am of the team," Estrella Foothills coach Steven Pond said. "In all honesty, the guts that these girls play with is to be commended. Their character I think is what I am most proud of. They just come out and compete. They put their best out there every day. And that's all we ever ask." (Jose Garcia/azpreps365)