Queen Creek is dominant in postseason opener
April 29, 2023 by Jose Garcia, AZPreps365
---
Xavier witnessed firsthand Queen Creek's potent lineup.
As for Queen Creek softball coach Keith Householder, he felt it.
Literally.
Householder was struck near his left temple by a Teyla Takacs foul liner while coaching first base in the second inning. A hush fell over the crowd as athletic trainers ran to the coach's side.
After a few anxious minutes, Householder eventually walked to his dugout to recover from the hit Saturday at home.
"Ouch," joked the veteran coach after the game when asked about the scary moment.
That's also what some might say after learning that Queen Creek beat Xavier 15-0.
A five inning game was likely the last thing fans expected between the two-time defending champ, Xavier, and this season's No. 1 seed. Xavier eliminated Queen Creek last year in the semifinals and lost only 4-3 when the teams met this regular season.
But the tables flipped in this postseason.
"(Xavier) lost their seniors," Householder said. "We are overloaded with seniors. That's basically the difference between the two teams."
Every starter had at least one hit for the home team.
Takacs and her offense immediately went to work after she unintentionally hit her coach.
The freshman ripped a double to left center to plate Queen Creek's first two runs. In the third inning, Takacs blasted another pitch to the same gap for an RBI double and 5-0 lead, which increased to 10-0 by the end of the inning.
On an experienced team, Takacs (3-for-4), a freshman, had a breakout outing in the biggest game of the year so far for 27-1-1 Queen Creek.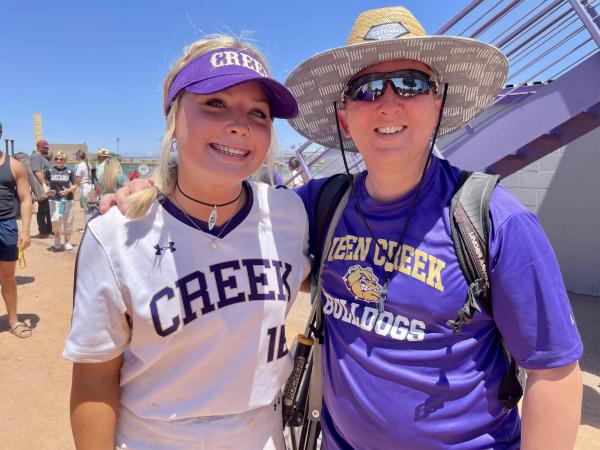 Mark Takacs was very proud dad after watching his daughter, Teyla, play Saturday at home. (Jose Garcia/azpreps365) "The seniors have shown me how to work really hard," Takacs said. "They have helped me change my game and elevate it. It's been a great season with them."
Takacs added that she felt really bad after her foul ball hit her coach and wanted to do something to make him feel better. And the freshman sure did.
Junior Jenae Berry was her dominant self at times, tossing a no-hitter while striking out eight but also walked a season-high nine.
Xavier (12-14) made some uncharacteristic mistakes of their own that led to runs, but its season isn't over. The defending champ will play at Shadow Ridge on Tuesday in an elimination game.
In its next playoff game, Queen Creek will host on Wednesday another Arizona softball power, Sandra Day O'Connor.