Tennis singles, doubles champs crowned
May 1, 2023 by Jose Garcia, AZPreps365
---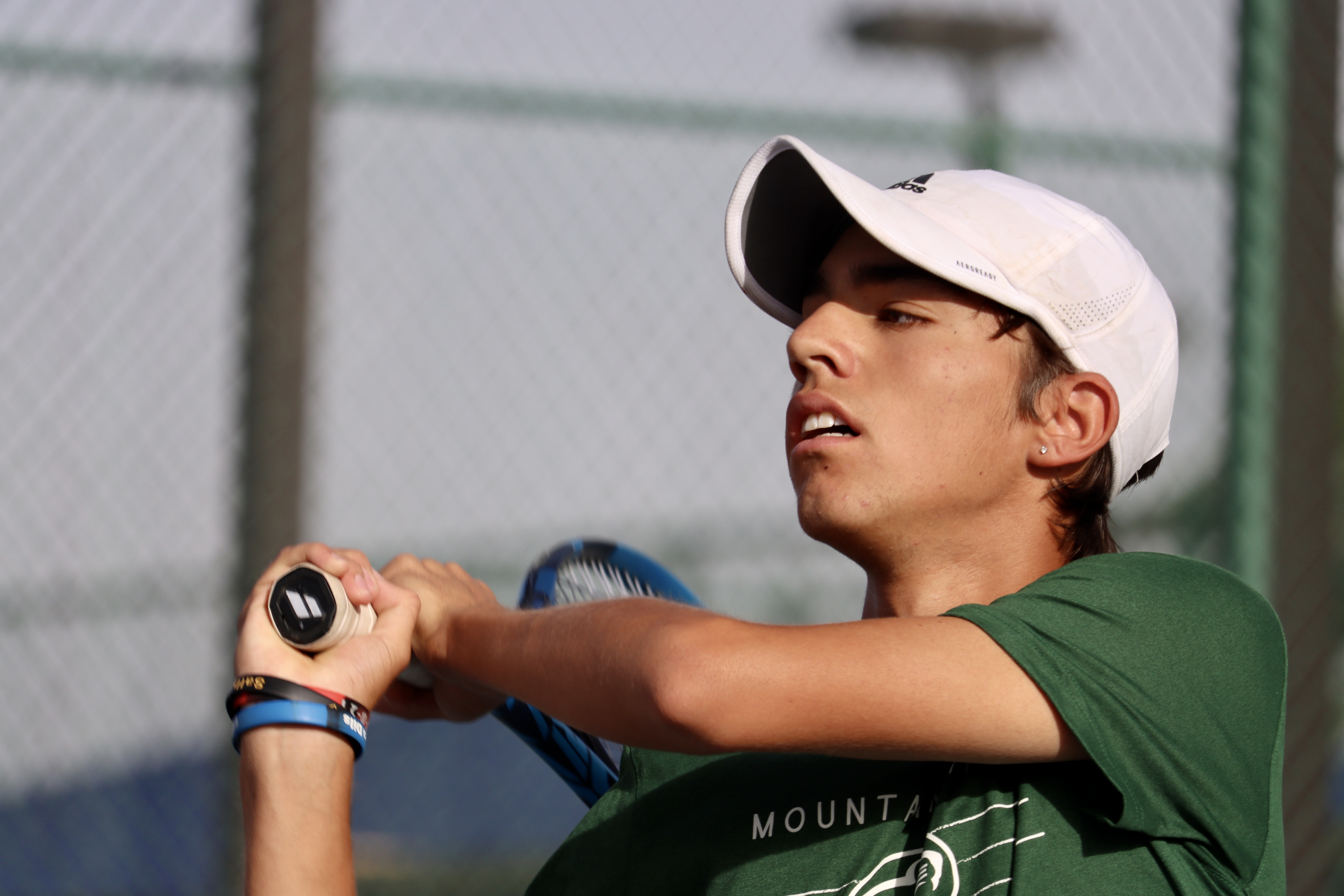 Mountain Ridge's Lincoln Baldonado finished undefeated and took home the Division I singles title medal Monday.
But it wasn't as easy as it sounds.
The junior battled strep throat in the latter part of the season, including the first two rounds of state. On a windy afternoon, Baldonado also lost the first set of the state final and his serve was broken to start the second set.
But he still willed his way to victory (4-6, 6-4, 10-7) over a taller and stronger opponent, Desert Mountain's Trevor Rein, at Glendale's Paseo Racquet Center. After losing the first game of the second set, Mountain Ridge's No. 1 broke back in the following game.
Baldonado and Rein remained on serve until after Mountain Ridge's No. 1 went up 5-4. That's when a couple of errors did Rein in in the final game of the second set.
He misplayed a short ball, leading to some frustration. Baldonado and Rein (9 aces) served well throughout the match, but another ground stroke error by the runner-up closed Set No. 2.
That trend continued in the final set, as Maldonado jumped out to 4-1 and 8-4 leads. The first player to reach 10 points in a tiebreaker wins the match.
Baldonado, on his second Championship Point, did just that to win his first career singles championship.
"It was really windy, which wasn't ideal," Baldonado said. "(Trevor's) serve was really good, and in the wind I couldn't return anything, which is usually my strength. But I just kept playing. It wasn't pretty, but I got there.
"I was thinking about this (title) for months. That's all I wanted to do this season. So it's really huge."
The Mountain Ridge junior and Desert Mountain senior have been playing against each other since Baldonado was 11 and are good friends.
They might see each other again on Saturday if their teams reach the D-I team finals at the same site.
D-I, II, III singles, doubles champs, runner-ups
D-I singles
No. 1 Sydney Schnell of Desert Vista def. No. 3 Natalie Visic of Desert Vista 3-6, 6-0, 11-9.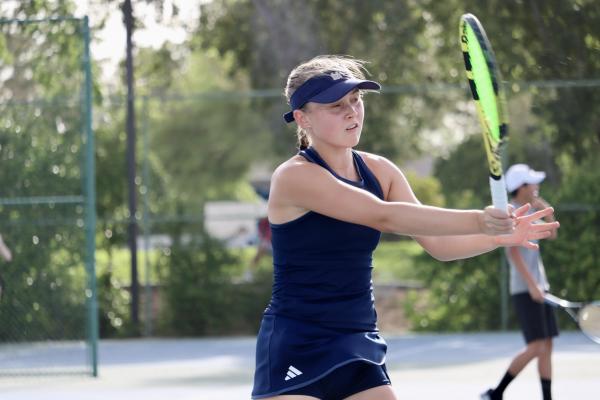 Sydney Schnell, Desert Vista D-I doubles
No. 1 Julia Frazier/Tessa Watchel of Desert Mountain def. No. 3 Danielly Dyer/Belani Soto of Xavier Prep 6-3, 7-6 (3)
No. 1 seed Andre Johnson/Hadley Kukla of Brophy defeated No. 2 Jeronimo Ledesma/Daniel Yuke of Desert Mountain 6-3, 6-3.
D-II singles
No. 1 Zaria McGinty of Canyon View def. No. 3 Sasha Tijore of Ironwood 7-5, 6-1.
No. 3 Adam Sun of Raymond S. Kellis def. No. 1 Jared Perry of Catalina Foothills 6-2, 6-2.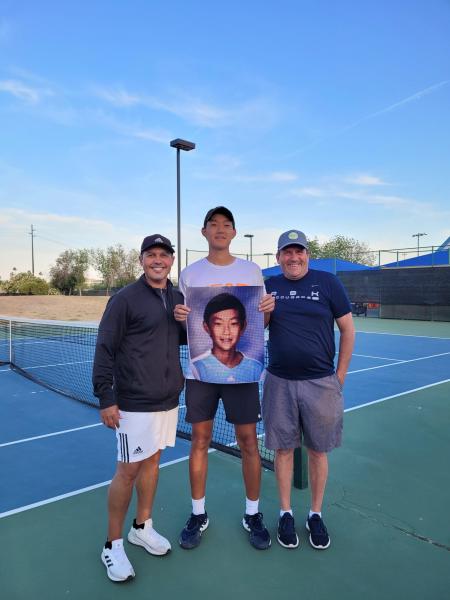 Adam Sun with head coach Marco Moreno (left) and assistant Duncan Thomson.
D-II doubles
No. 1 Gracie Cranford/Kira Lehman of Notre Dame def. No. 2 Morgan Filer/Maria Aranguren of Catalina Foothills 6-1, 6-4.
Score Update: INDIVIDUAL STATE CHAMPIONS!! 🎾⚜️🙌🏼 Congrats to #1 Seed Kira Lehman and Gracie Cranford on winning the Doubles Flight of the Individual State Championships, taking out the #2 Seed Catalina Foothills in the Finals! Go Saints! #ndpsaints #WeAreNDP pic.twitter.com/et17aeuqFf

— Notre Dame Prep Athletics (@NDP_Athletics) May 2, 2023
No. 1 Jason Jia/Santiago Lietzau of Catalina Foothills def. No. 2 Nimith Gurijala/Jason Latz of Paradise Valley 4-6, 6-3, 10-8.
D-III singles
No. 1 Nandini Patel of Scottsdale Prep def. No. 2 Siona Vallabhaneni of Rancho Solano Prep 6-4, 6-4.
No. 1 Jaden Litt of Rancho Solano Prep def. No. 2 Connor Swenson of Scottsdale Prep 6-3, 6-3.
D-III doubles
No. 1 Gaby Chu/Sonali Bhalla of Chandler Prep def. No. 2 Isabella Branton/Margaret Rowan of Gilbert Christian 6-3, 7-5.
No. 1 Jacques Sevrain/Linus Gino-Griffiths def. No. 2 Ian Townsend/Jack Victor of Veritas Prep 6-3, 3-6, 10-8.