Tennis team champs crowned
May 6, 2023 by Jose Garcia, AZPreps365
---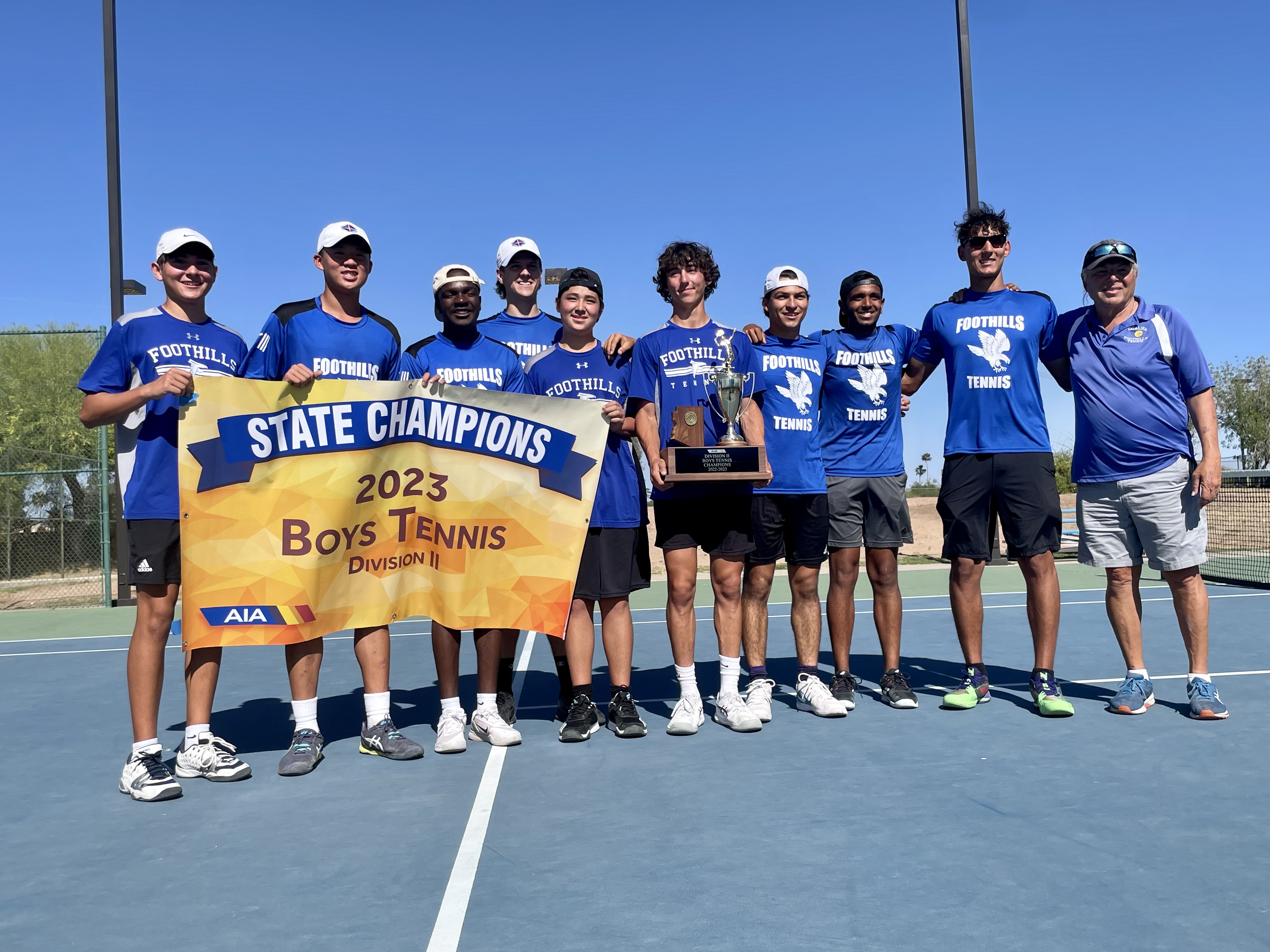 D-I girls
Desert Mountain (18-0) def. Desert Vista 5-0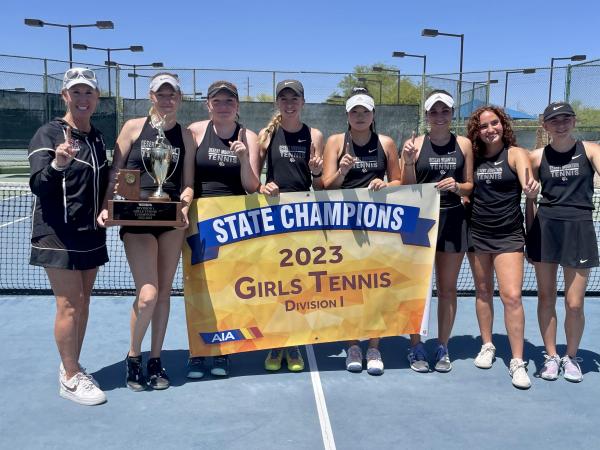 "It's fantastic," said coach Kim Dever about bringing home two team tennis titles to Desert Mountain. "It's so awesome. This happened a couple of years ago. This year was special because they are fantastic athletes who grind it out on the court. We were all down today on all the courts score wise in the beginning, but after the third game they just started grinding it out and making sure they got every point. Everybody played out of their minds."
Results
The match between Desert Mountain's No. 1 Julia Frazier and Sydney Schnell was called after Desert Mountain clinched.
DM's No. 2 Tessa Watchel def. Natalie Visic 7-6 (3), 6-4.
DM's No. 3 Chae Rin Youn def. Amberly Au 6-4, 6-2.
DM's No. 4 Hannah Fitzgerald def. Emi Ito 6-3, 6-2.
DM's No. 5 Alexandria Frazier def. Savanna Roth 7-5, 6-0.
DM's No. 6 Reese Plisky def. Abigail Jacewicz 6-1, 6-1.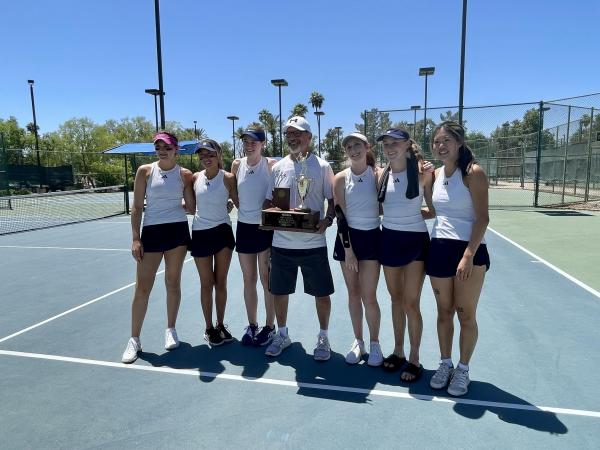 Desert Vista finished the season with a 15-3 record this year.
D-I boys
Desert Mountain (16-2) def. Brophy 5-1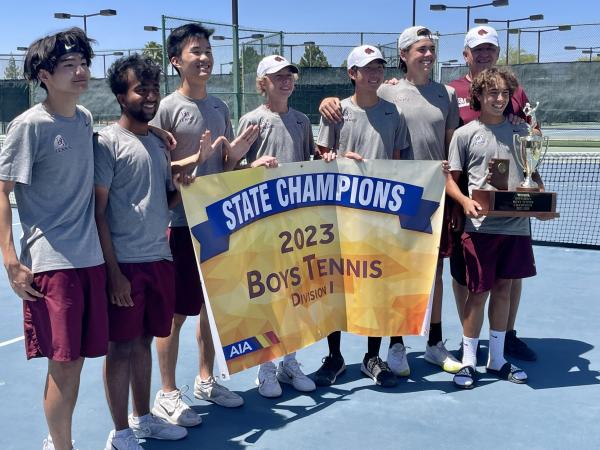 "Battling with all those (fans) right there, in a third set tiebreaker, was very impressive," said Desert Mountain coach Jay Curtis about Yuki Matsui's title clinching victory. "I'm really proud of him and the whole team. I've got three freshmen in this group and for them to go out there and battle a team like Brophy was extremely impressive."
Results
Desert Mountain's No. 1 Trevor Rein def. Hadley Kukla 6-7 (2), 6-0, 10-4.
DM's No. 2 Jeronimo Ledesma def. Logan Phillips 6-2, 6-3.
DM's No. 3 Daniel Yuke def. Andre Johnson 6-4, 6-3.
Brophy's No. 4 Naren Gudavalli def. Akshay Shyam 6-0, 6-1.
DM's No. 5 Benjamin Brasfield def. Tyler Woo 6-3, 6-3.
DM's No. 6 Yuki Matsui def. Austin Kos 6-7 (3), 6-4, 10-5.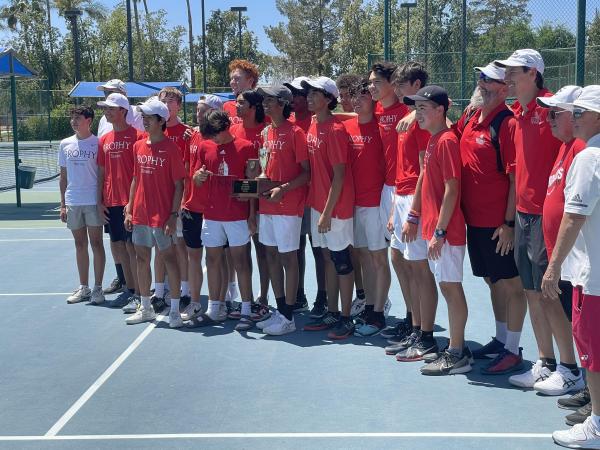 Brophy finished its season with a 17-1 record.
D-II girls
Catalina Foothills (15-0) def. Arizona College Prep 5-0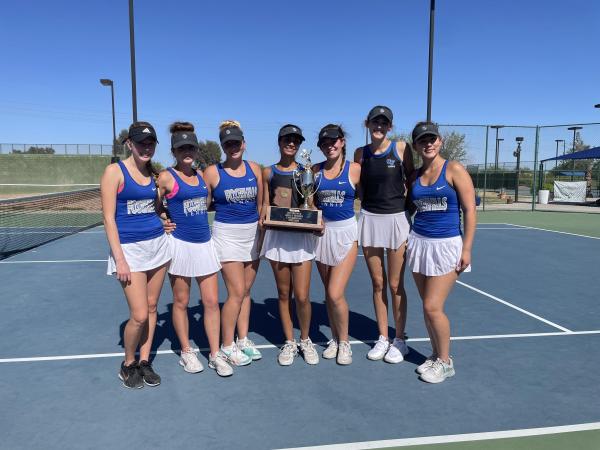 "We've got some determined kids and skilled players," Catalina Foothills coach Daniel Root said. "They worked hard and they had great leadership from junior and senior captains Abbigail Mulick and Morgan Filer. They did a great job."
Results
CF's No. 1 Abbigail Mulick def. Payton Tran 6-0, 6-3.
Match between CF's No. 2 Morgan Filer and Abigail Hansen was called after CF clinched.
CF's No. 3 Gracie Petrow def. Simran Bhalla 6-0, 6-3.
CF's No. 4 Maria Aranguren def. Yewon Kim 6-2, 6-0.
CF's No. 5 Charlotte Henderson def. Sophia Baniameri 6-0, 6-1.
CF's No. 6 Ashiana Sanan def. Alexandra Longfellow 6-1, 6-0.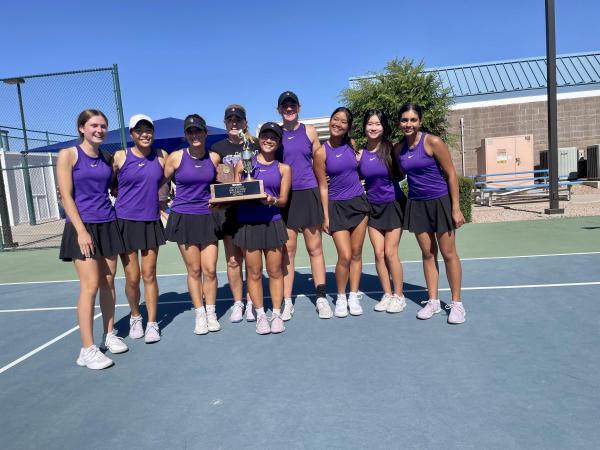 Arizona College Prep (17-1) reached a team tennis final for the first time.
D-II boys
Catalina Foothills (15-0) def. Flagstaff 5-0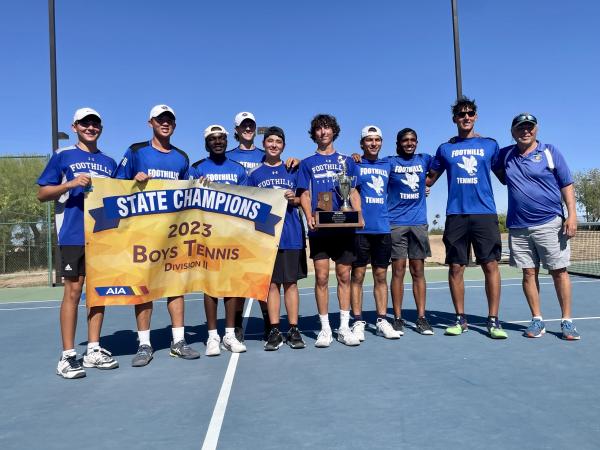 "We didn't even realize that was a possiblity unitl (Friday) when I was looking at the record books and saw that as a possibility," said Catalina Foothills coach Jeffry Bloomberg about his program winning its record breaking ninth title in a row. "It's very cool considering that we were tied with Brophy, which has an amazing program, too. They talked about the (record) before the match and were aware it was a historic win if they could get it. It fed them a little bit. We have four great seniors, Jared Perry, Grant Cohen, Suraj Shah, and Edwin Uche. The brought leadership, amazing tennis, hard work not just during the season but throughout the year, and they know about the tradition. They know there is a responsiblity to keep that going, and they lived up to it."
Results
CF's No. 1 Jared Perry def. Camden Hagerman 6-1, 6-1.
CF's No. 2 Grant Cohen def. Alejandro Acuña 6-1, 6-0.
21CF's No. 3 Jason Jia def. Zachary Miller 6-0, 6-0.
CF's No. 4 Santiago Lietzau def. Rowan Hawkins 6-1, 6-4.
CF's No. 5 Suraj Shah def. August Fahy 6-2, 7-5.
CF's No. 6 Aaron Zeldin def. Braden Jones 6-3, 4-6, 10-5.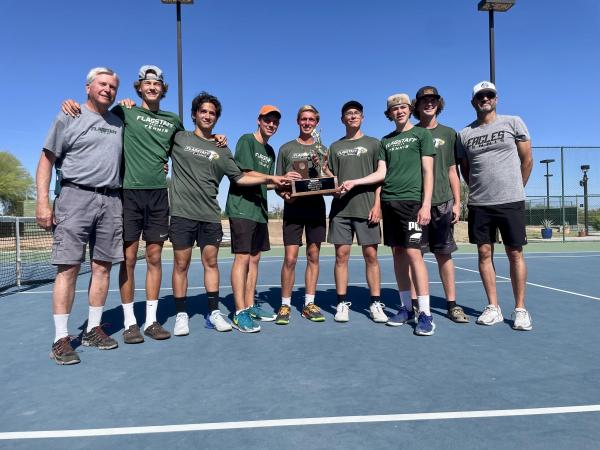 Flagstaff finished 15-2 this season after reaching its first final.
D-III girls
Phoenix Country Day School (15-1) def. Pusch Ridge 5-0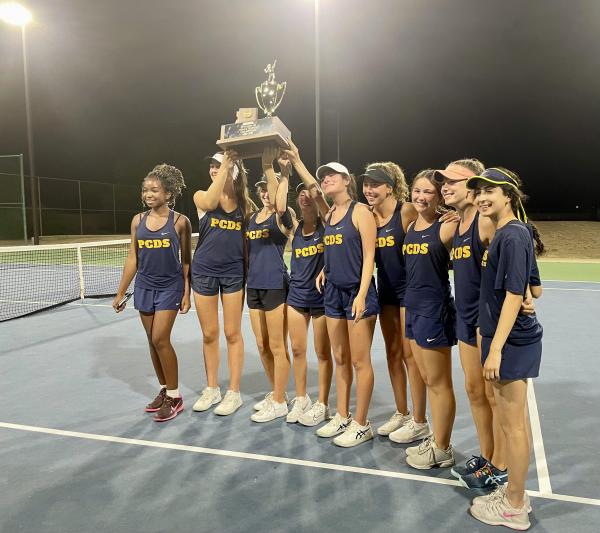 "Fabulous," said PCDS coach Jerry Keever about his team repeating as the D-III champ. "They (Pusch Ridge) are a really formadible team. They are very consistent. You never know what you are going to get. They know how to put the ball in play and make us work to be successful."
Results
PCDS's No. 1 Milan Coraggio-Sewell def. Estelle Fetsis 6-1, 6-0.
PCDS's No. 2 Julia Black def. Ali Grammond 6-1, 6-3.
Match between PCDS's No. 3 Ayelet Jafee and Bartruff was called after PCDC clinched. Bartroff was leading 7-5.
PCDS's No. 4 Elle Bartolino def. Madi Van Holsbeke 6-4, 6-1.
PCDS's No. 5 Misha Ghafouri def. Ella Pierpont 6-3, 6-1.
PCDS's No. 6 Zara Campbell def. Melaney Johnson 6-2, 6-2.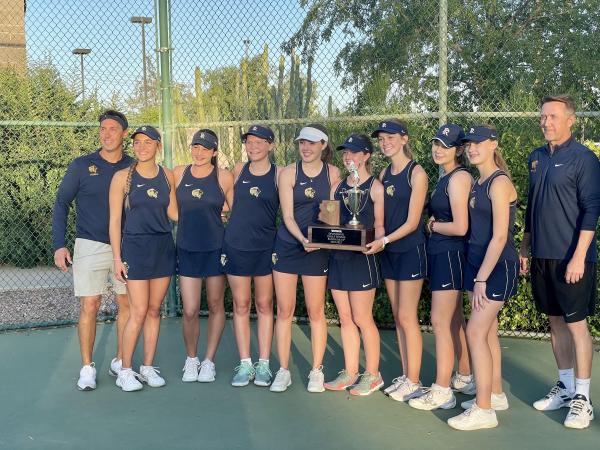 Pusch Ridge finished its season with a 17-2 record.
D-III boys
Phoenix Country Day School (14-0) def. Thatchter 5-4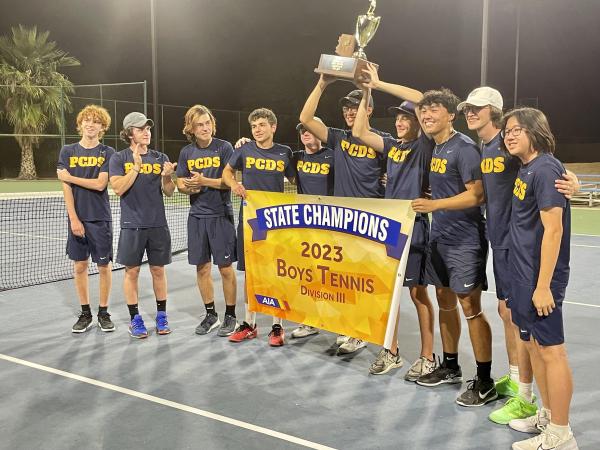 "The big thing for our season was repeat, three-peat," said Jerry Keever, the head coach of PCDS's tennis programs for boys and girls for more than 28 years. "Today, before we came to the (Paseo Racquet Center), we said, 'Whose day is it? This is our day. Whose day is it? This is our day.' So we had that chant. So we had to believe it. Thatcher is an amazing team. They work hard. I know their coach really well. They are always competitive."
Results
PCDS's No. 1 Tyler Tam def. Brock Smith 6-1, 6-0.
PCDS's No. 2 Jacques Sevrain def. Hunter Sellers 6-0, 6-2.
PCDS's No. 3 Carter Kroeger def. Blake Kartchner 6-3, 2-6, 10-7.
Thatcher's No. 4 Gene Huish def. Linus Gino-Griffiths 6-3, 4-6, 10-8.
Thatcher's No. 5 Austin Haynie def. Francesco Castelletti 6-3, 4-6, 10-8.
Thatcher's No. 6 Carter Bryce def. Dasch Gorcyca 6-1, 7-5.
PCDS's Gino-Griffiths-Sevrain def. Seller-Haynie 8-4.
PCDS's Tam-Kroeger def. Karchner-Huish 8-0.
Thatcher's Smith-Bryce def. Marks-Castelletti 8-4.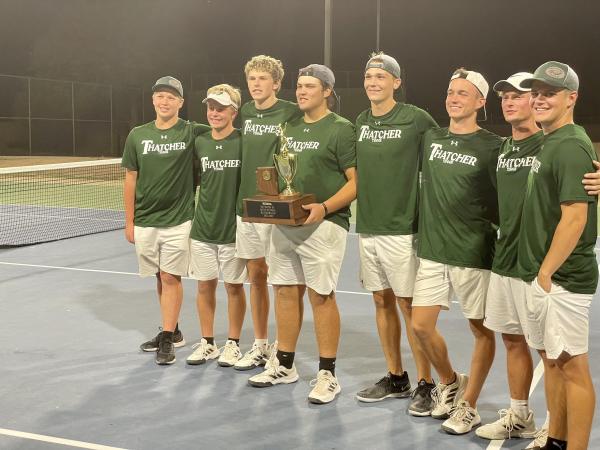 Thatcher finished 17-1 this season.