4A, 5A softball finals set after dramatic semifinal endings at Papago
May 12, 2023 by Jose Garcia, AZPreps365
---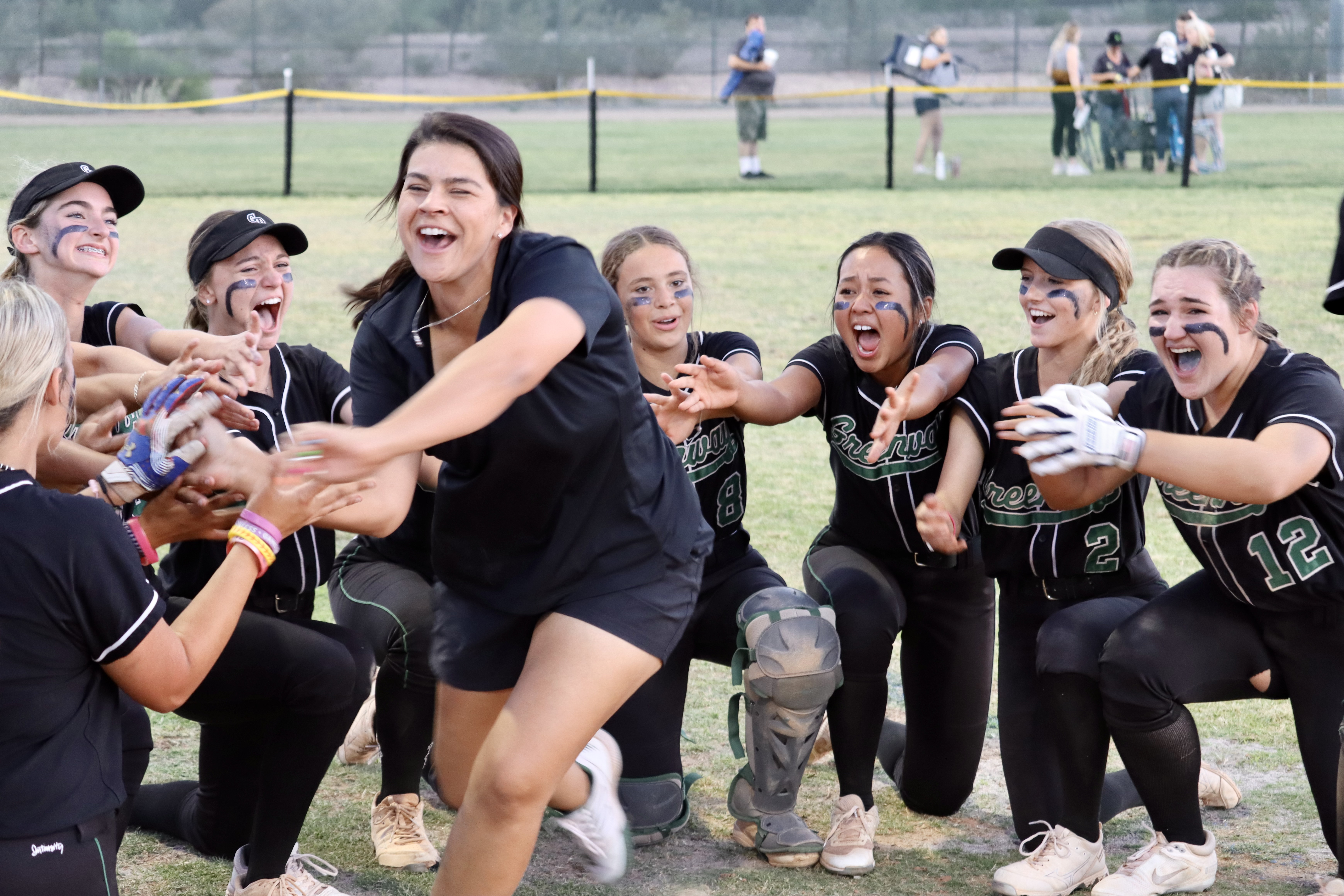 Canyon View was due.
But Willow Canyon wasn't about to lose twice in one day.
Not when it was chasing its third straight trip to the 5A softball final. The team Willow Canyon defeated in the previous two championship games, Canyon View, made the two-time defending champ sweat it out Thursday.
Nationally ranked Willow Canyon and its superstar, pitcher Marissa McCann, suffered their first loss of the year. But they rebounded in a big way.
After dropping a 4-2 decision at Papago Sports Complex in their first semifinal game, Willow Canyon cruised to a 9-1 win over Canyon View in the second game to advance to the final.
McCann pitched 14 innings, and despite the loss in the second game, Canyon View's Emily Davis deserves a tip of the cap as well for beating Willow Canyon in the first game. Canyon View won that game without its head coach and first base coach, who were ejected early in the game.
Arizona Interscholastic Association commissioner of officials Brian Gessner said the coaches were ejected for unsportsmanlike behavior for arguing a call at first. Another Canyon View assistant, Dave Thies, took over the remainder of the night.
It was the first time in six tries that Canyon View defeated its West Valley neighbor. After allowing a season high in runs, McCann (19-1-1, .57 ERA) had a chat with her dad, Heath.
"My dad is one of my biggest supporters," McCann said. "He helped me calm my nerves and forget the game I had thrown before, and I just came back out here to do what I do."
Indeed.
The University of Missouri commit allowed just four singles and an RBI double in the nightcap. McCann was supported by a 10-hit attack, allowing the team to jump ahead 4-0 early.
Also, Willow Canyon's Kylie Bearden and Rylee Turlington each hit no-doubters over the fence and into the Phoenix night. In the first game, Canyon View's Madison Tarrant also blasted a memorable home run in one of the state's budding softball rivalries.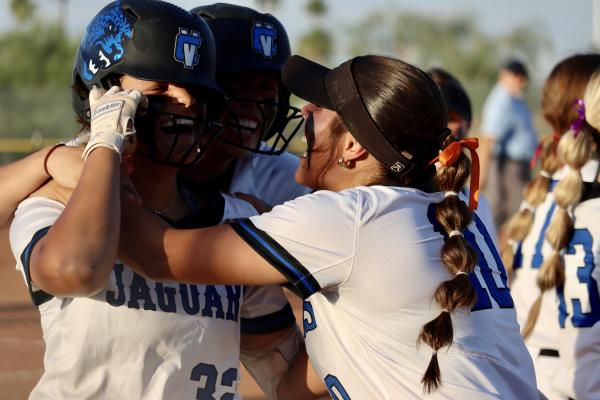 Teammates congratulate Canyon View's Madison Tarrant after her solo blast Thursday in the 5A state semifinals at Papago Sports Complex. (Jose Garcia/azpreps365)
Another much anticipated matchup awaits top-seeded Willow Canyon (30-1-1) next. Desert Mountain, the No. 2 seed in the 5A, has been on a collision course with the No. 1 seed.
Goodwin spectacular once again
The heir apparent to McCann in 5A was once again dominant, and she's only 14 years old and nicknamed Goose.
Those reasons don't exactly scream intimidating. But get Lilly "Goose" Goodwin in the circle, and opponents might want to duck.
She is now 20-1 after leading Desert Mountain to a 1-0 state semifinal victory over Campo Verde at Papago Sports Complex. McCann and Goodwin and their teams will meet Monday at Arizona State's Farrington Stadium for the 5A crown.
Goodwin struck out 14 batters, the 16th time this year she's tallied double digits strikeouts in a game. Campo Verde had the tying run on second base and the go-ahead run at the plate in the seventh before Goodwin's final strikeout.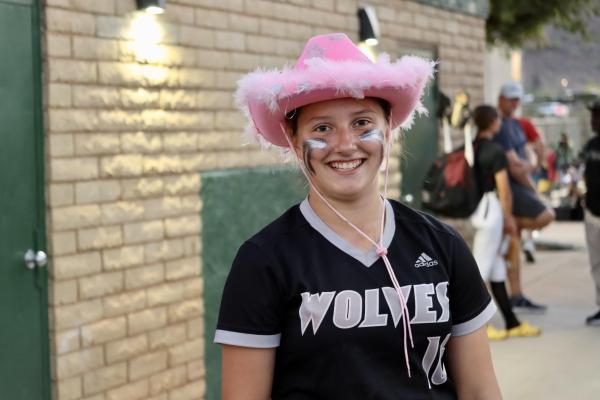 Desert Mountain's Lilly "Goose" Goodwin, sporting her team's lucky hat, struck out 14 batters in Thursday's 5A semifinals. (Jose Garcia/azpreps365)
"It's been so fun," Goodwin said. "The team has back me up the whole way.
"In certain situations it's kind of intimidating and kind of nervous. But I know I have a good defense, a great catcher that helps me out and solid coaches."
Desert Mountain defeated Campo Verde 1-0 to advance to the 5A championship game. Freshman Lilli "Goose" Goodwin with her 14th K to end the game and begin the celebration: pic.twitter.com/llbgDgl2Ld

— Jose E. Garcia (@AZPreps365Jose) May 12, 2023
Emily Strittmatter knocked in the only run in the game after an early game single.
McKinsey Beyer, who got on base after being hit by a pitch, scored the lone run.
Greenway bounces back
The Greenway Demons almost let their title game berth slip away.
The team was ahead 3-1, needing just three outs to defeat Canyon del Oro. But a couple of throwing errors allowed CDO to score twice in the top of the seventh.
Not to worry, though. Jenna Musselwhite and, who else, Kaitlyn Terry came to the rescue.
Not only is she one of the nation's top pitchers, Terry is also a hitting threat. That's why CDO pitched around and behind her when Terry led off in the bottom of the seventh.
Tempers flared a bit after two pitches were thrown behind Terry, who eventually walked. A fielder's choice then moved Terry to second to set up Musselwhite's game ending hit.
"It was right down the middle," said Musselwhite about the walk-off hit to give her team the 4-3 win. "It was my pitch. I knew I had to stand up for my team, because I came out flat at first base and I wasn't doing my part. So I know I needed to do something."
In yet another big-time final, Greenway will meet nationally ranked Salpointe for the 4A title on Tuesday at Hillenbrand Stadium in Tucson.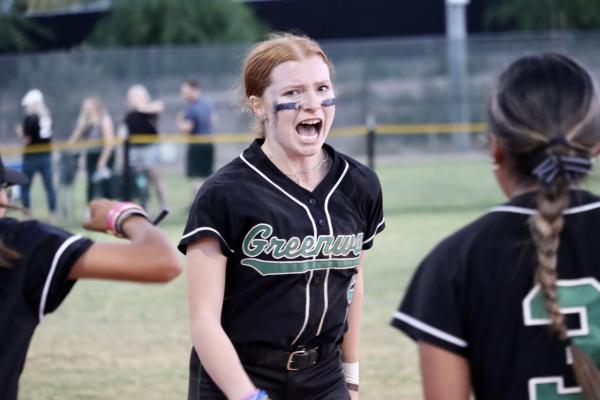 Kaitlyn Terry was fired up after her Greenway team defeated Canyon del Oro. (Jose Garcia/azpreps365)