Deer Valley seniors step up, sweep Northwest Christian for 4A boys VB title
May 13, 2023 by Seth Polansky, AZPreps365
---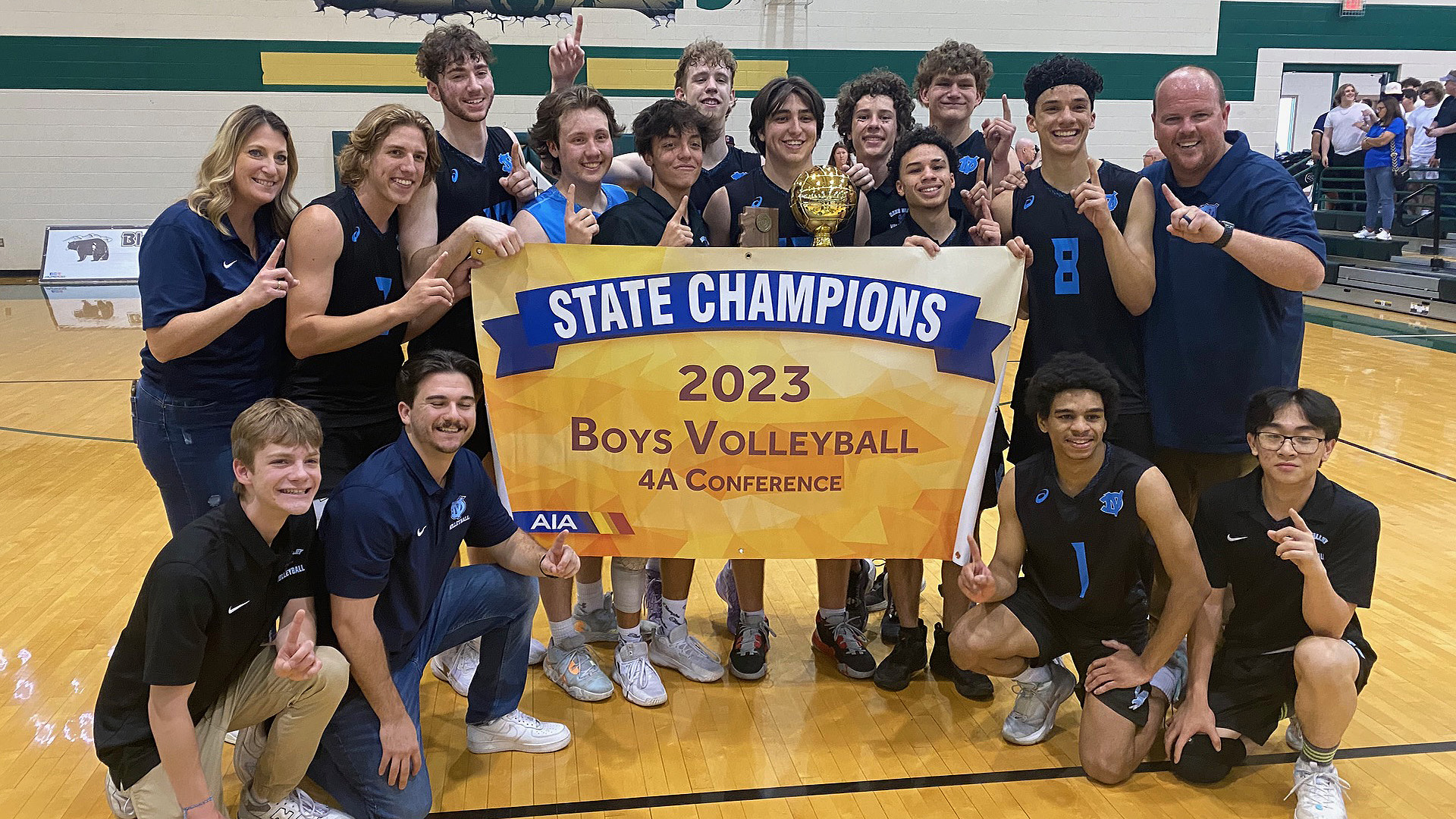 Deer Valley made sure third time was not the charm for Northwest Christian. After falling to the Crusaders twice during the regular season, the Skyhawks reversed recent history and came away with a 3-0 (27-25, 25-15, 25-21) win at Skyline High School and a 4A boys volleyball state championship.
Ending the season No. 1 was definitely more important than the two-seed the team came into the tournament with.
"We were in a really competitive region this year. Those teams prepared us," said coach Eric Palmer. "Playing Northwest for the third time, we knew what they liked to do. We tried the best we could to take them out of what they liked to do. Certainly our guys executed the game plan tremendously. We just had to keep them calm because we play with a lot of emotion in our program, myself included."
NW Christian started the match off aggressive at the net. Deer Valley countered with strong play in the back row defensively. Neither team got much a run until the Crusaders found themselves up 15-12. It would be their largest lead of the first set as the Skyhawks turned the tide at the net. Consecutive blocks and a couple kills, all by senior Rylan Colman, led a rally that saw the Skyhawks eventually get up 22-20.
But a service error by Colman swung the momentum the other way and the Crusaders had set point at 24-23. Deer Valley dug in, kept the score tied at 25-all, and then another block and subsequent kill by Colman ended the first frame.
"We just knew we had to play our best," Colman said. "We've been down like that before the past two (matches) against them. We just have the mindset of stay in the game. Don't let anything get us down. Just play our game because that's how we play good together. At timeouts we would recoup, take deep breaths, then throw it all out there again."
The second set started off the same way with NW Christian going up 5-4. That was the team's last lead. DVHS senior outside hitter Justus Clark and senior opposite Ethan Erickson were too strong for NWC's blocking up front and ran away with it, outscoring the other side 21-10 from that point. That included a small run where NW Christian shrunk the deficit from 21-10 to 21-14. The pair added three aces, and as a team, the Skyhawks only had two attack errors while the Crusaders had 12 total errors on their side of the net.
Both squads came out hot in the third and NW Christian pulled ahead 10-6 with the attack and serve. Something clicked for Deer Valley at that moment. Following a Crusaders attack error, the Skyhawks reeled off five attack points in six serves. After a little back-and-forth, DVHS was back on top at 16-15 with a cross-net shot by Erickson. Clark and Colman stood tall at the net after that and NW Christian could get no closer.
"The tenacity (Erickson) brings to the court - he's locked in and he believes in himself," Palmer said. "Our team believes in team. He was incredible tonight. He was here for this moment. He was here for his teammates and coaching staff, his school and this program."
This was just the second-ever finals appearance for both teams. The Crusaders lost in the 4A title game two seasons ago. And for Deer Valley, they won it all way back in 2010. But the Skyhawks lose a lot to graduation this year compared to just four seniors on the other side.
"We have eight seniors who have been together for three years, and this has kind of been our approach," Palmer added. "Last couple years we've had some early exists from the state tournament, but all along coming into this season, our goal was to get here and win a state championship."
"We've been super excited. We knew we had the potential to do this one day. I think we just played as a team, and I don't know, it's just crazy," Colman said.