Casteel brings home second 5A boys volleyball championship in style
May 13, 2023 by Seth Polansky, AZPreps365
---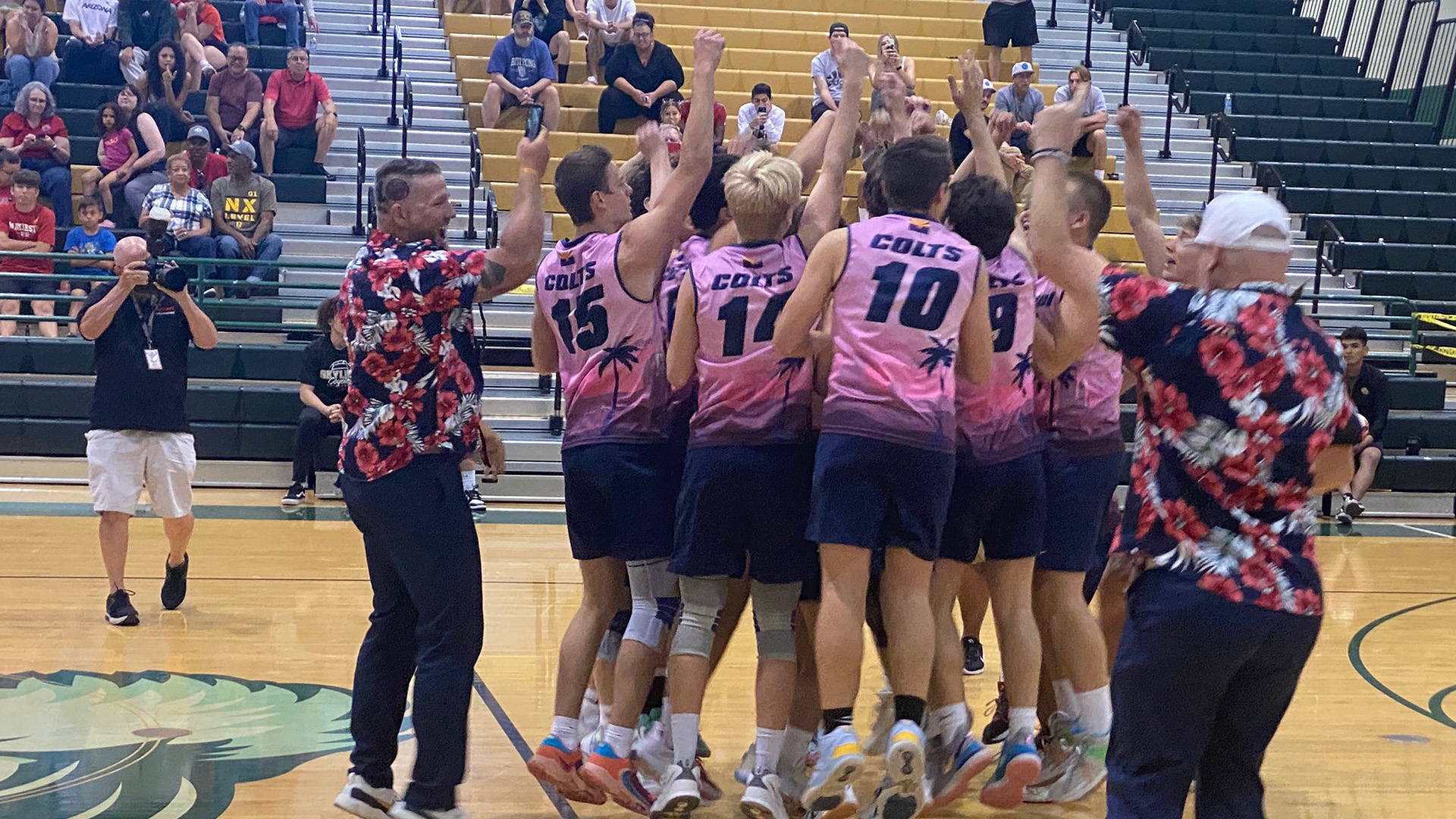 Top-ranked Casteel came into the Skyline High School gym with a lot of confidence, swagger and style. That was on full display in a 25-16, 25-17, 25-18 victory over No. 6 Ironwood in the 5A boys volleyball state championship match.
For coach Ryan Mehn and the Colts, it's their second title in three seasons. Not bad for a program that got started seven years ago when Meyn had to recruit some of the school's basketball players just to fill out a varsity roster.
And this was one that almost didn't end in jubilation. The Colts had to rally from one game down in both the quarterfinals and semifinals for five-set victories and a date against Ironwood.
"It's been a phenomenal journey," Meyn said. "The coaching staff that's been with me and the additions this year, we just keep getting better and stronger. Our kids are great. All these guys together make this a powerhouse and the kids really buy into it."
With the team sporting its pink Arizona desert sunset jerseys and the coaching staff in their Hawaiian shirts, Casteel came out firing in each set. All starters got into the action early on with a mix of attacks and serves. Five different players scored at least one point on the attack in the first set. Ironwood countered with senior opposite Connor Monahan who had five kills and a block, but Casteel was consistently getting small runs of two and three points at a time to increase its lead every service rotation.
"We had a great game plan and knew #11 was going to get his kills," said senior outside hitter Tommy Forese. "We stuck with it. We were more well-rounded so a lot of our guys got their kills."
The momentum continued going into the second frame as the Colts quickly got up 4-1. Ironwood managed to tie it at 4-all thanks to a pair of Casteel errors, but they never took the lead. Casteel's hitting had the team once again gaining chunks of points at a time. Forese slammed one home from the left side to put an exclamation point on the set.
It all starts with the pass and the set." Forese added. "We set really well that game. I had other guys taking the block, so I had a lot of solo blocks on me."
Forese continued to be the star in the third, taking high percentage shots from the left side across the court. He had four kills in the set and an ace, and 10 kills in the match.
It wasn't in the cards for the Eagles. When they were down 9-6 in the third, four of their points were because of Casteel errors. The attack from all angles kept Ironwood's defense from making clean passes and guessing on balls deep in their zone, many times unsuccessfully and having them drop in for Colts points.
"We go so much further than X's and O's," added Meyn. "Just being good humans, good people. That's one thing we preach. You can see it all comes together and makes this perfect puzzle. It's pretty amazing."
Monahan did all he could for the Eagles, finishing with a team-high 12 kills and four blocks. Some of those kills coming from deep on the back row. But the blocking wasn't there and Casteel finished with a positive attack percentage in each set.