Perry rallies, knocks off top-seeded Highland for 6A boys volleyball crown
May 13, 2023 by Seth Polansky, AZPreps365
---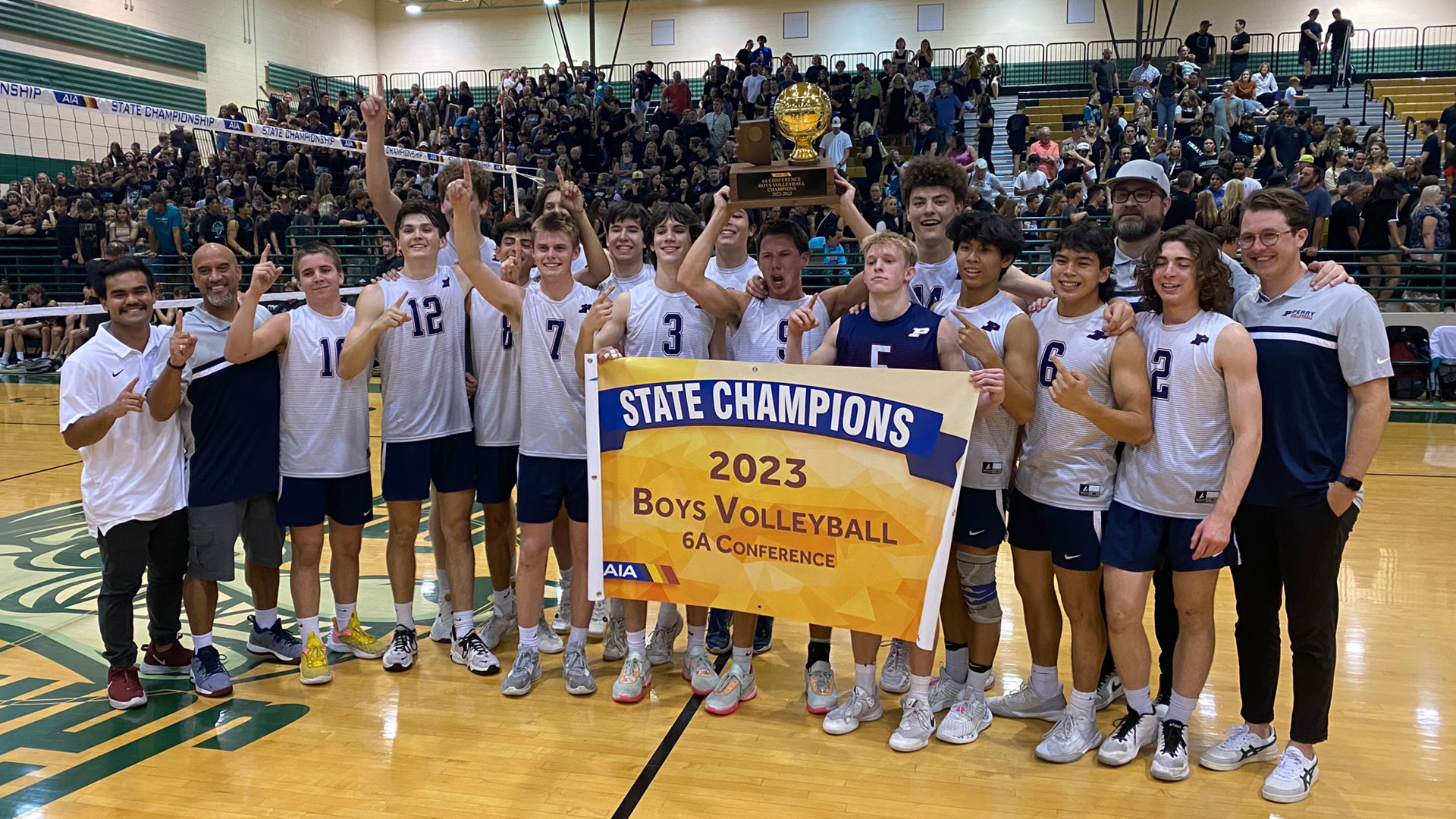 It was supposed to be Highland's turn. After finishing runner-up last season, the Hawks reloaded and took aim for the rest of 6A. And coming into the state championship match against Perry with 37 victories, including two in the regular season against the Pumas, Highland was ready to bring home the trophy for the first time in 10 years.
But down 2-1, something clicked with Perry. Everything came alive after that and the Pumas rallied for the 14-25, 25-21, 19-25, 25-23, 15-10 victory and its second title in three years.
"It's a really good feeling. I'm not going to lie," said coach Ryan Tolman. "We enjoyed that one. It was quite the battle and we came out on top. I don't know if I have enough time to describe how I'm feeling. Every emotion was felt through that epic five-setter. It was just an awesome pleasure to be involved in this against such a great program in Highland."
The match couldn't begin worse for Perry. Highland started the match up 4-1 and also had runs of 8-1, 6-2 and 4-0 before ending the frame 3-1 stretch. Jase Adams closed the set with one of his many emphatic kills, and the Hawks were strong up front with five blocks. Highland was doing Highland things to back up its No. 1 ranking.
But Perry had the answer in the second set. Senior outside hitter Tyler McBurney started a 12-6 rally with a kill, with senior opposite Kirk Valadez getting two kills and senior setter Mark Tomlinson adding four points for an 18-11 Puma lead. Highland kept it close and got back within 20-17, punctuated with a kill by Adams and prompting a Perry timeout. But sophomore middle blocker Caden Ledbetter closed it out with a couple of kills.
Highland started the third set just like the first. Big, accurate hits right off the bat and the Hawks never trailed. Highland kept Perry's defense off balance for a better part of the night thanks to senior setter Hayden Winegar and crew dumping balls over the net on the second hit. Many of them of the no-look variety. Winegar had six of the team's eight quick-strike second-hit points on the night.
Next up is what Tolman called one of the best sets of volleyball he had been a part of. The Pumas' 7-4 lead was the biggest for either team all frame. Perry relied on McBurney to carry the team in this one. He had six kills and half of them were from the back row. That forced to Highland to play back on defense and had to react to plays for more than it was used to in the match.
"They got us on our heels a little bit to start. We cleaned up our serve and pass, and from there we got rolling and scored points," McBurney said. "I was feeling it and it was working. If it's not broke, don't fix it."
"We got smoked in sets one and three pretty bad. And we had to hang in there in set four. Both teams were just digging in," added Tolman.
Using this momentum, Perry was not to be denied in the deciding set. The squad turned a 7-7 tie into a 15-10 victory at the net. McBurney had five more kills, but it was Ledbetter blocking consecutive attacks to finish the match and unleash the celebration. The stands opened up and the Perry faithful were all over the court in jubilation with their team.
McBurney had a team-high 24 kills, with senior middle block Ty Baumgarth adding nine and Valadez eight. The Pumas also had 12 team blocks.
"It's unreal. I feels like I am going to wake up because I'm dreaming," McBurney added. "I can't believe how we battled back after we were down at the start. I am so proud of our team. I knew we had it in us. But it's still just a great feeling when we can do it."
Highland had a consistent attack all night. Senior outside hitter Jaren Brown had a match-high 25 kills, with Adams contributing 13, senior outside hitter Sam Walker had 10, and junior outside hitter David Cluff put down nine.