Late rally gives Scottsdale Prep. its first 2A title
May 14, 2023 by Brian M. Bergner Jr., AZPreps365
---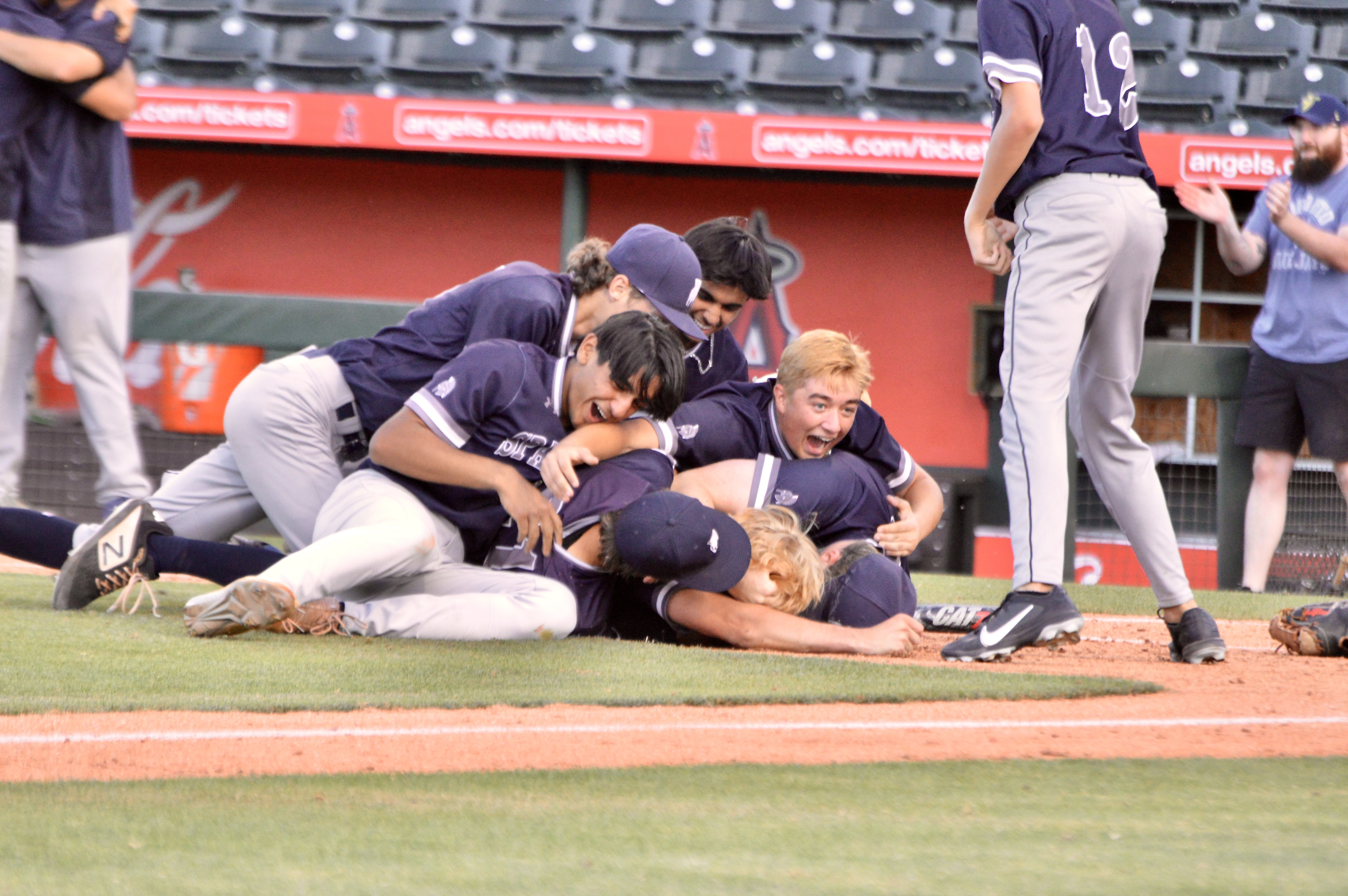 EDITOR'S NOTE: This story has been changed to reflect the seventh inning stats for Scottsdale Prep. in Friday's state semifinal against Phoenix Christian, and how the seventh inning of Saturday's championship game played out.

TEMPE — Craig Bohrer's harmless fly ball to left field in extra innings gave the senior a single RBI, but it also capped an historic rally that led to Scottsdale Preparatory's first title in program history with a 10-9 win over Horizon Honors on Saturday afternoon.
The No. 8-seeded Spartans (19-7, 8-0 2A Metro) trailed 9-4 heading into the top of the seventh inning where they would miraculously plate five runs to tie the game at 9-9, setting up the extra-innings drama to win the title.
The first spark of confidence came in the top of the fifth inning when Tyler Johnson smoked a ball to the left field gap and although he circled the bases to score, he was credited with a triple to cut Horizon Honor's lead in half, 8-4.
Johnson, who just 24 hours earlier hit an RBI single in the seventh frame to tie Phoenix Christian 1-1 before Bohrer's RBI single gave them a 2-1 win in the state semifinals, said he used the same approach in Saturday's plate appearances.
"I think last night's win over Phoenix Christian helped us mentally, knowing that we can come back from anything," Johnson said.
Johnson was 3 for 3 with two triples, three RBIs and two runs scored Saturday.
In the seventh down 9-8, Tyler Larson (0 for 3) had two strikes on him as the fans in the stands could feel players from No. 6-seeded Horizon Honors were itching to celebrate a championship.
Nevertheless, Larson made contact and sent a dribbler down the third baseline. Hot-corner specialist Richard Fretwell fielded it quickly for the Eagles (22-8, 10-0 2A South), but he threw wide of the first baseman for an error, scoring Will Ryken to tie the game at 9-9.
After the Spartans (19-7, 8-0 2A Metro) took a 10-9 lead in the eighth on Bohrer's sacrifice fly to score Sahej Malhi, do-it-all senior Nathan Kammer faced the tying and go-ahead runs on base, but pitched out of the jam, forcing Ben Hamby to fly out to right field where Ryken squeezed the final out in his mitt.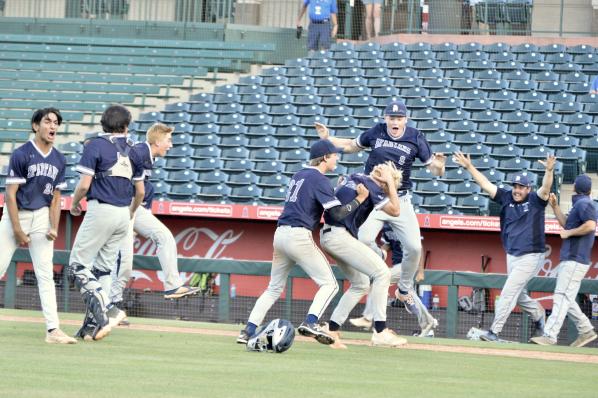 Scottsdale Preparatory celebrates a 2A state championship after scoring six runs in the final two innings for a come-from-behind victory, 10-9, over Horizon Honors on Saturday, May 13, 2023, in Tempe. (Brian M. Bergner Jr./AzPreps365)
Kammer, who was 2 for 5 with an inside-the-park two-run homer in the first inning, said he couldn't believe what transpired in the seventh inning rally.
"That seventh inning was nuts. I trusted the guys behind me and in front of me. We did the same thing against Phoenix Christian. We are a last-inning team. I had total faith," Kammer said, adding that he was emotionally drained with Saturday's result.
"I already cried like three times. I'm so excited to get a burger and hang with my family," Kammer said with a big smile.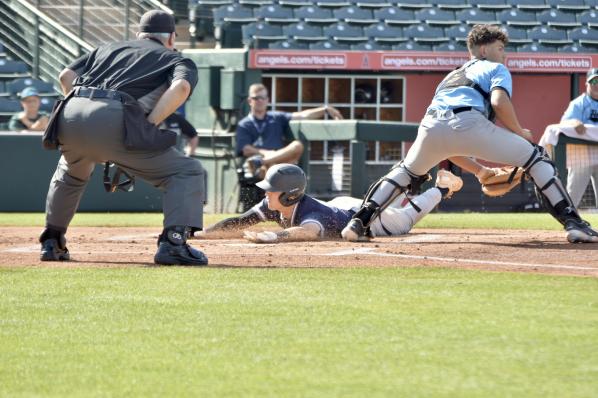 Nathan Kammer slides head first into home plate for an inside-the-park home run in the top of the first inning. The homer gave Scottsdale Preparatory a 2-0 lead, which they would relinquish. Trailing 9-4, the Spartans scored five runs in the seventh to tie it, and one in the eighth to win a 2A title. (Brian M. Bergner Jr./AzPreps365)
The senior pitched five innings, allowing two runs on five hits while striking out five. Malhi, who was 2 for 4 with a double and three runs scored, started the contest, but gave up seven hits and seven runs before being pulled after the third inning.
Spartans coach David Primavera's club ends the 2023 season on an 11-game winning streak, but things weren't always so rosy this spring.
"We started off the season pretty rough. We had some new guys in the outfield, one of our top pitchers got hurt early in the year. We didn't expect to be here. I didn't expect it, but the kids did," Primavera said. "They played really hard. They believe in themselves."
Primavera pointed to the 12-11 loss to No. 2 Miami in the 2A state quarterfinals a season ago as a way to tell his guys that anything could happen.
"Last year we blew a four-run lead with two outs to go," Primavera said. "That was in the back of our mind the whole time."
Now, Scottsdale Prep. has something even better to remember.
Brian M. Bergner Jr. has covered professional, collegiate and high school sports for more than 20 years. Follow him on Twitter @AzPreps365Brian. Have a story idea? Email Brian at bbergner@azpreps365.com.