Northwest Christian Crusaders defend crown
May 15, 2023 by John Theriault, AZPreps365
---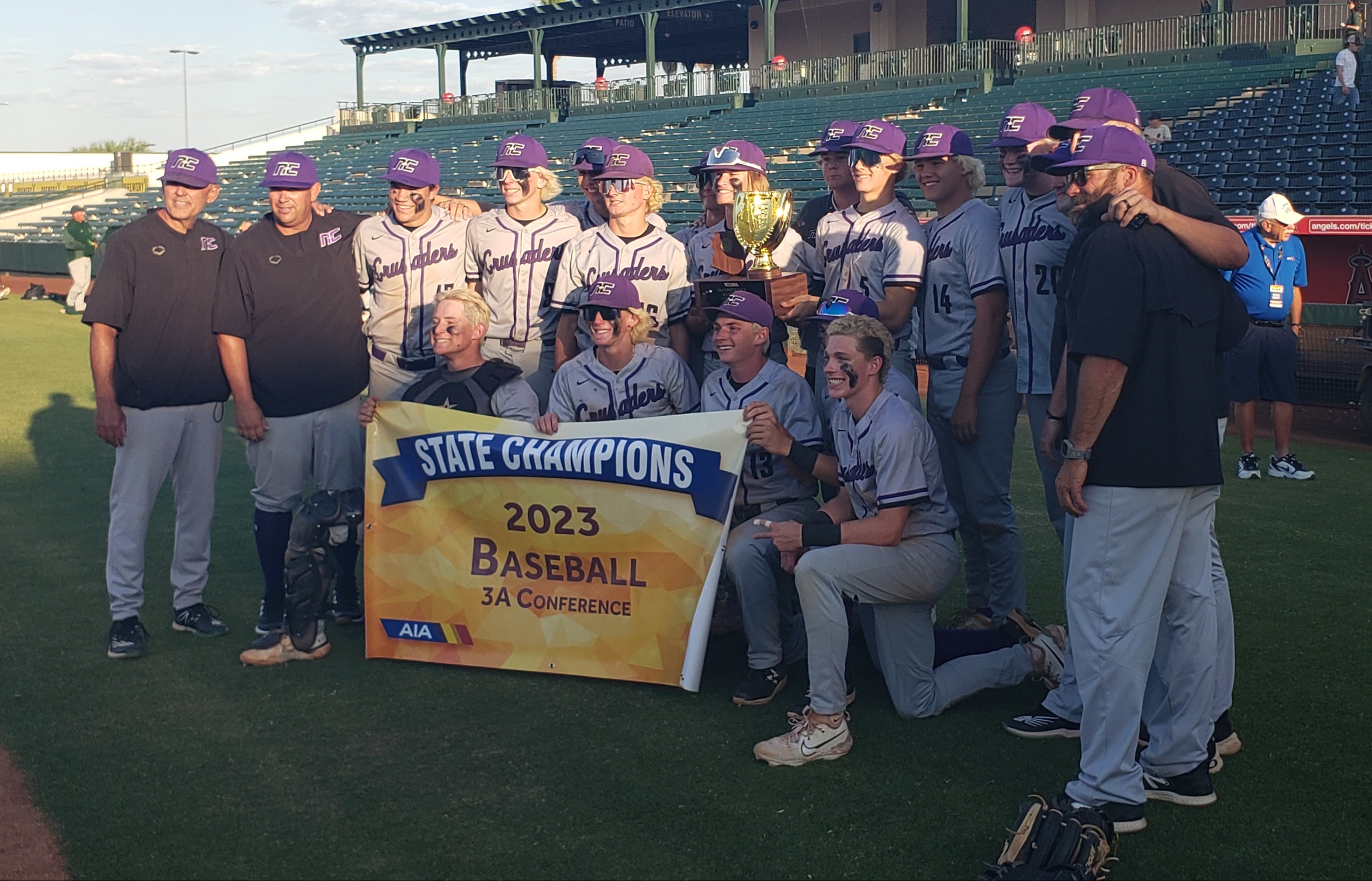 In baseball, sometimes a team can garner enough offense to slip past its opponents.
Other times, a stingy defense can keep the troops on target. And when a pitcher gets hot, victories are sure to follow.
How about when all three phases are clicking?
Championships are achieved.
This theory was on full display in Monday evening's 3A baseball state championship at Tempe Diablo Stadium. The No. 2 seed, Northwest Christian, entered the finale riding a 15-game winning streak with its hottest pitcher taking the bump, Gunnar Penzkover.
The junior, who was 9-1 on the season and allowed just seven earned runs all year, didn't disappoint. Allowing just two runs against Chandler Valley Christian, three scattered hits and two walks over 6 2/3 innings, Penzkover finished one batter short of a complete game when he ran up against his pitch limit.
Despite that, his team still walked away with a 4-2 win and a second straight state title.
"(Valley Christian's players) were really good hitters," Penzkover said. "They barreled a lot of balls. I mean I didn't have a lot of strikeouts, but our defense just worked really hard."
The Crusaders' defense was flawless the entire game until an infield error in the home half of the seventh led to the only runs the Trojans scored, which came on a Kyle Grier two-run single. Prior to that, Penzkover had a stretch of 11 straight batters retired, starting with the last out of the Trojans' third.
And while his pitching was the key throughout, Penzkover's bat got the party started early for Northwest Christian when he led off the game with a deep triple to the right center gap. He was then cut down at the plate when the next batter, Cole Muscari, grounded into a fielder's choice, but Muscari scored two batters later on a Bryan Lorenz single.
The 1-0 lead would stand until the visitor's half of the seventh.
That's when Zach Prilleux roped a one out single, followed by a Penzkover infield hit. Up stepped Muscari then, who shot a 2-run triple into the right field corner.
Another RBI single by Lorenz led to a three-run inning, offering the Crusaders breathing room heading into the final frame.
"That's why I'm proud of these guys," Northwest Christian Coach Bob Howry said. "We are not completely relying on one aspect of the game. These guys they pitch, they hit, they play defense really well and that was what happened today."
Timely hitting and defense surely keyed the victory, but it was Penzkover's dominance that ultimately did in the top-seeded Trojans, who entered the game having won 22 of its last 23 games.
"He's our number one for a reason," Howry said. "Every game he goes out there he gives us a chance to win every ball game. Today we scored enough runs and did well on defense to win it."