Xavier Prep's Bryant, AZ College Prep's Chor named AIA Students of the Year
May 21, 2023 by Jose Garcia, AZPreps365
---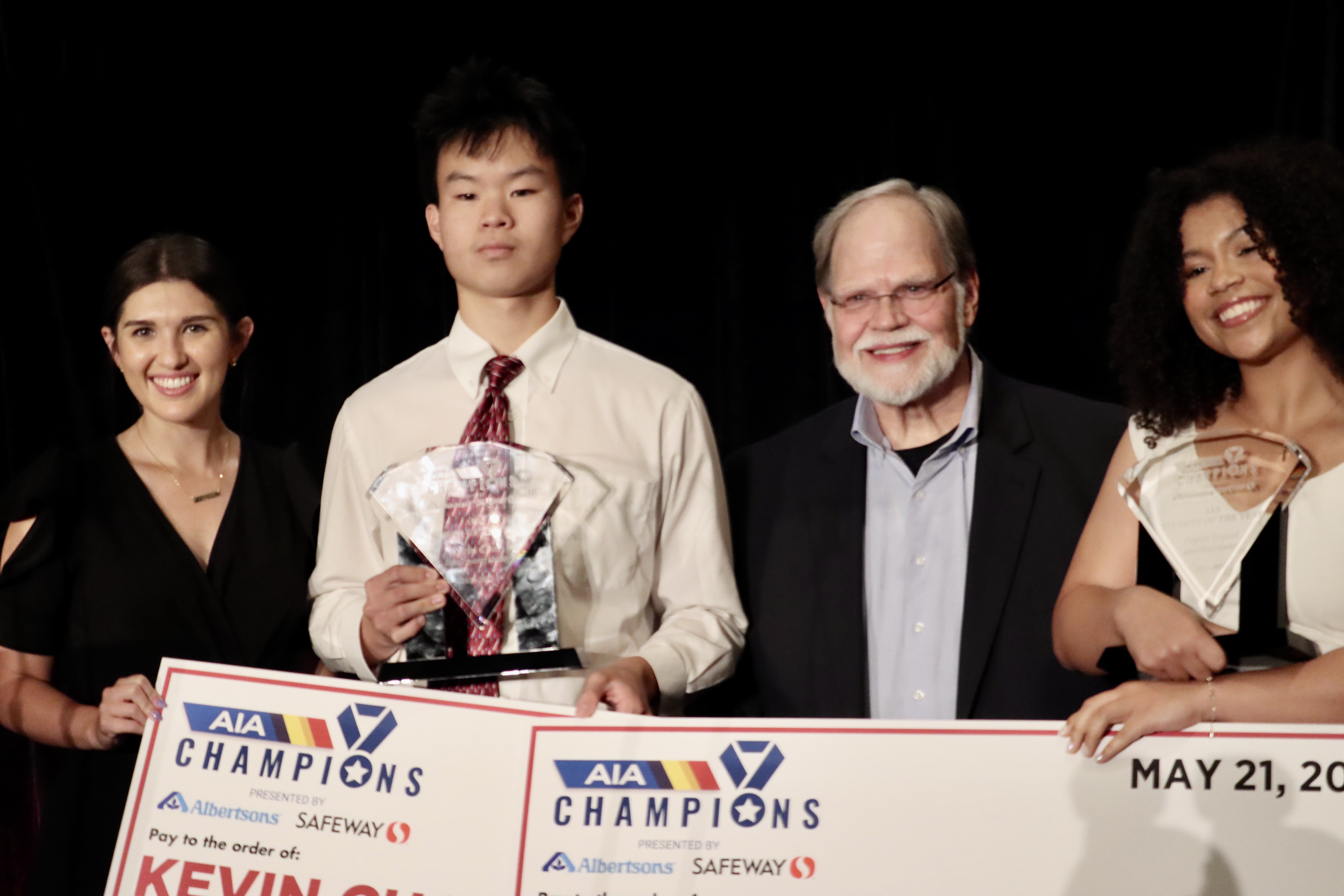 The Arizona Interscholastic Association honored its top programs, administrators, official, coaches and students of the year Sunday night.
The Scottsdale Resort at McCormick Ranch hosted the AIA's annual Champions Gala, MC'd by 3TV CBS5's Nick King, for the first time. Xavier Prep's Peyton Bryant and Arizona College Prep's Kevin Chor were named Students of the Year and each received $5,000 scholarships from Alberstons Safeway.
Bryant was Xavier's first robotics' team captain as well as an orchestra concert master, four-star thespian and lacrosse player. She was also the vice president for the National English Honor Society and her non-profit, Bang for your Book, has donated over 56,000 books to Title 1 schools.
During the next school year she will attend Massachusetts Institute of Technology to study cognitive neuro science.
"For girls in STEM (science, technology, engineering, mathematics), we need to have a focal point and show that if you have conviction in who you are as a person, you can truly make any change in this world," Bryant said.
Chor achieved one of the highest ratings in chess, national master, when he was just 11.
Less than one percent of rated players can say they are a national master. He led his team to the 2022-23 AIA chess title.
As a certified club tournament director, Chor volunteers his time at chess tournaments. He also founded Chess 64, a charitable organization that promotes equity in chess education.
Chor has worked to partner with Title I and tribal schools to offer resources to their students. The senior, who also was his school's golf captain, carries a 4.0 weighted GPA and wants to study data or computer science.
"I would like to thank the AIA for giving us the opportunity to compete," Chor said. "I would also like to thank all the coaches I've had, my school and my parents for all of their support throughout the years. And lastly I want thank all the teammates and friends I've had, for all of the fun memories and for helping us be successful."
One of the other big awards went to Highland High, which received the Director's Cup.
The athletic program won nine state titles during this school year.
The AIA's Pillar Awards went to two administrators that the AIA will miss tremendously and are retiring, AIA Assistant Executive Director Joe Paddock and Chief Financial Officer Denise Doser.
But before they officially step down, David Hines, the AIA's Executive Director, recognized the two highly respected staff members of the association.
"(Denise) has helped transformed that position (CFO) into a key component to the success of the AIA," Hines said. "She has worked long hours for many years to make things simple for our members. There is nothing that she can not create on Excel."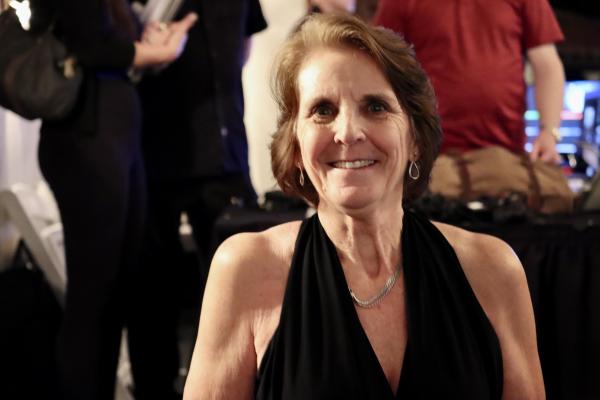 Denise Doser
Doser served the AIA for 15 years.
"I told David that I just wanted to ride off into the sunset," Doser said. "So this is a surprise.
"The last 15 years of my business CFO career have been the most challenging, inspiring and rewarding. I want to thank the membership, the athletic directors and the incredible staff that I have worked with for 15 years."
Paddock helped create the Student Leadership Advisory Academy, Student Leadership Summit and clean up the AIA's bylaws, policies and regulations. Paddock has also mentored athletic directors throughout the state.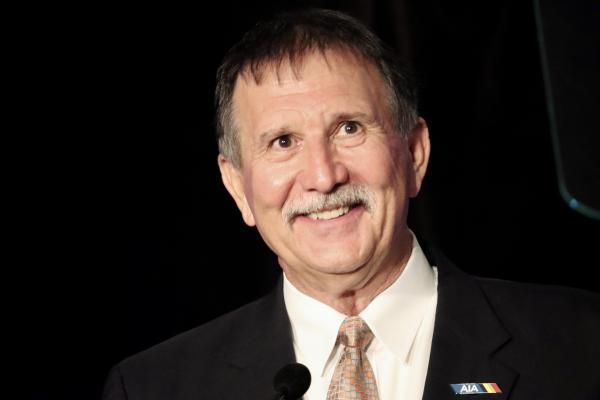 Joe Paddock
"(Paddock) means the world to me," Hines said. "He is a tremendous leader and never is looking for the spotlight."
Hines surprised Paddock by announcing that the annual AIA Pillar Award will now be named after him.
Paddock served for 40 years in education, mostly in Tucson, and joined the AIA six years ago.
"The last six years have been six of the best years," Paddock said.
Award recipients
Tony Komadina and Leadership In Girls/Womens Athletic
Jennifer Meza
Student Leadership
Each received $1,000
Claire Zeller, Boulder Creek
Hayden Darst, Hamilton
Gary L. Whelchel Officials Award
David Alvarez
Skip Bryant Media Award
Don Ketchum. His wife, Carol, accepted the award.
Glen Treadaway Sportsmanship
1A Duncan; 2A Greyhills Academy; 3A Scottsdale Christian; 4A Arizona College Prep; 5A Lake Havasu; 6A Xavier Prep.
School Spirit Video
2A Mohave Accelerated; 3A Safford; 4A Arizona College Prep; 5A Willow Canyon; 6A Basha and Xavier. Small school winner: Safford.
Big school: Xavier. $500 will go to each program.
Unified Sports Coach, Partner and Athlete of the Year
Westwood badminton coach Heidi Dorn, partner Brooklyn Isom of Mesa, athlete Dylan Haugan of Perry.
Scholar Activity
Sophia Berg, Arizona College Prep
Oscar Rodgriguez, Coolidge
Scholar Athlete
1-3A girls: Tatum Benson, Benson
4-6A girls: Mischa Mathews, Cibola
1-3A boys: Steven Halls, Blue Ridge
4-6A boys: Cian McKelvey, Prescott
BBB Ethical Athlete
Leah Pederson, Sedona Red Rock
Maritza Bautista, Cesar Chavez
Each received $2,500
Administrator of the Year
Jacob Holiday, Peoria
Coach of the Year
Valorie McKenzie, Horizon