Four AZ teams claim Section 7 titles
June 17, 2023 by Jose Garcia, AZPreps365
---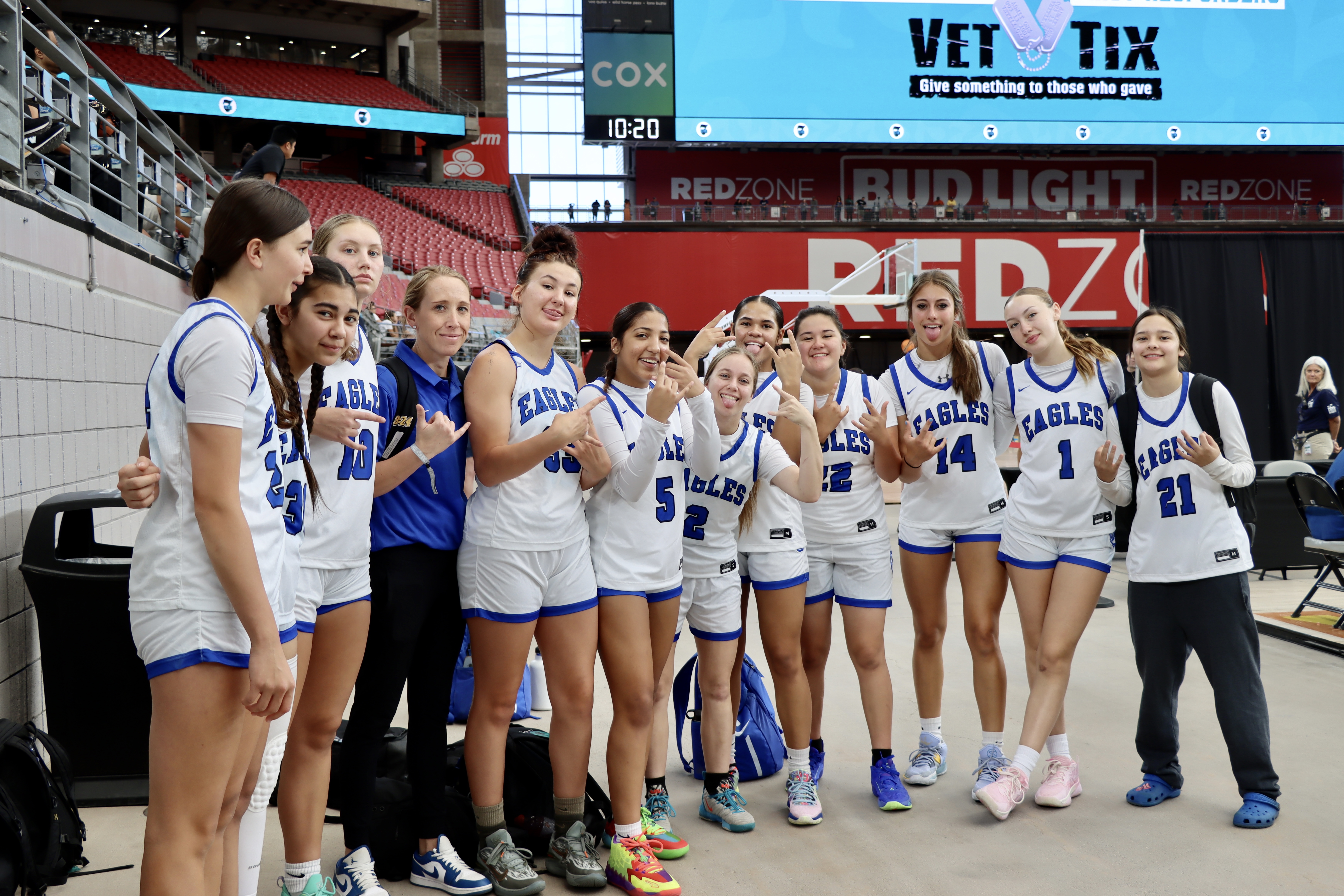 Four minutes into its game, Sandra Day O'Connor had zero points.
But when it ended, O'Connor felt complete.
The north Phoenix program finished its Section 7 run as the Mayo Clinic Bracket champ after defeating Utah Brighton 54-47 Saturday at State Farm Stadium. Credit the long distance shooting of Thalia Daniels and Audrey Bhesania for jumpstarting the winner.
Daniels (21 points) made five of her six threes in the first half in what's likely become the biggest high school offseason basketball event in the nation.
For the first time, the girls had the stage all to themselves during the third year of the basketball bonanza. Next week, the Section 7 boys step in.
More than 100 teams attended the opening week of Section 7, and four Arizona girls' teams went home as bracket champs. O'Connor scored half of its points in its final off of three pointers.
"The threes definitely helped," Daniels said. "I stepped up a little bit, trying to get my team together. Everyone played their role and did really well. We had some struggles but were able to overcome the adversity."
Despite trailing 33-16 in the second half, Brighton didn't quit, closing the third quarter on a 16-4 run.
But O'Connor regained control in the final eight minutes and never lost the lead.
"I'm proud of my team, but we still have a lot to work on," Daniels said. "But it's a great start. I'm really happy about this offseason and looking forward to the season."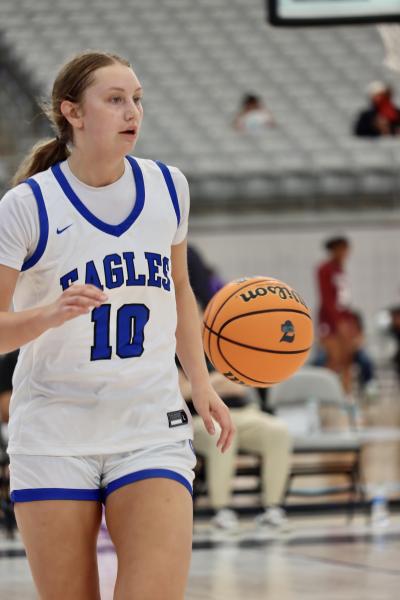 Sandra Day O'Connor's Thalia Daniels
Dobson's tenacity on display in victory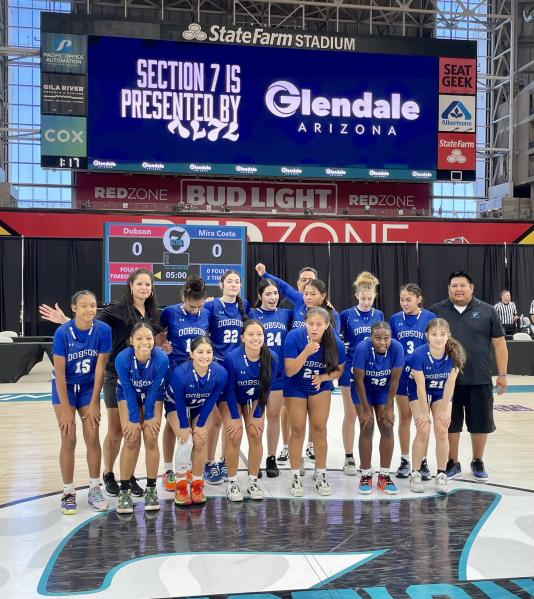 Dobson celebrates after winning its first ever Section 7 bracket. (Jose Garcia/azpreps365)
A slow start didn't faze Dobson in the City of Glendale bracket final against Calif. Mira Costa.
The team kept its cool down the stretch in its 47-44 win. A buzzer beater three from the very accurate Ahdiayh Chee at the end of the third quarter handed Dobson a lead it didn't relinquish the rest of the game.
"Today we were a little more patient," Dobson coach Henry Bribiescas said. "I thought in the games before we were just impatient, rattled and trying to play faster than we could. The zone really helped us slow the ball down, and with Ahdiayh hitting shots it opened up our inside posts, who did a good job. But credit to them (Mira Costa). They can shoot the ball. They had multiple shooters. I think that's what happened today, just the patience and us bringing up the ball and getting good offensive sets and good shots."
Seven of Chee's (25 pointe) nine field goals were three pointers.
Show Low ends on a high note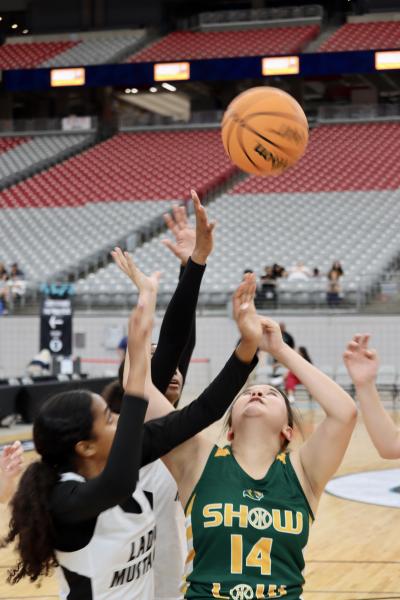 Show Low and North players battle for a rebound during their Section 7 game Saturday at State Farm. (Jose Garcia/azpreps365)
Three players scored in double figures, led by Mikenzie Kullish's game-high 18 points, to help Show Low capture the Leo Foundation crown after defeating Phoenix North 65-38.
Raquel Wilson had 10 and Grace Moore tallied 11 for Show Low. For North, Jizelle Portis scored 17 points.
Notes
Despite its third place loss in the Arizona Family Bracket, Xavier will likely be the Open favorite during the 2024 Arizona high school season. That also depends on which players return to their high schools. Xavier lost 51-35 to Utah Lone Peak Saturday. … Canyon View's experience helped it win four games at State Farm. It capped its run with a 66-41 triumph over Casteel in the Legacy Foundation final. The West Valley team will return almost every player during the next school year … Mountain Pointe also had a good showing during Section 7, reaching the Financial Solutions championship. It lost to Seattle Prep 45-39 in the finale.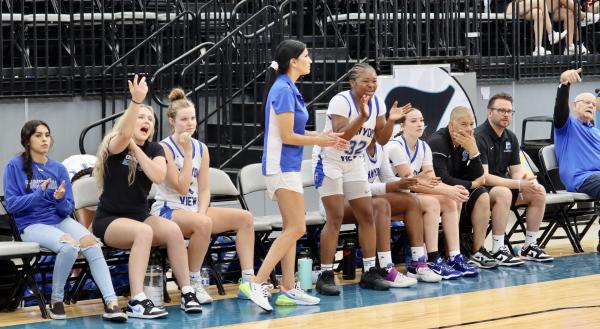 Canyon View's bench celebrates during the team's bracket victory final Saturday. (Jose Garcia/azpreps365)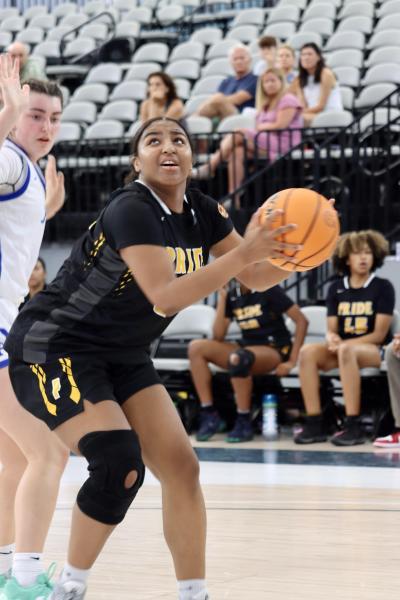 A Mountain Pointe player attempts to take a shot under the basket during her team's final against Seattle Prep. (Jose Garcia/azpreps365)