Football season is upon us
August 17, 2023 by Jose Garcia, AZPreps365
---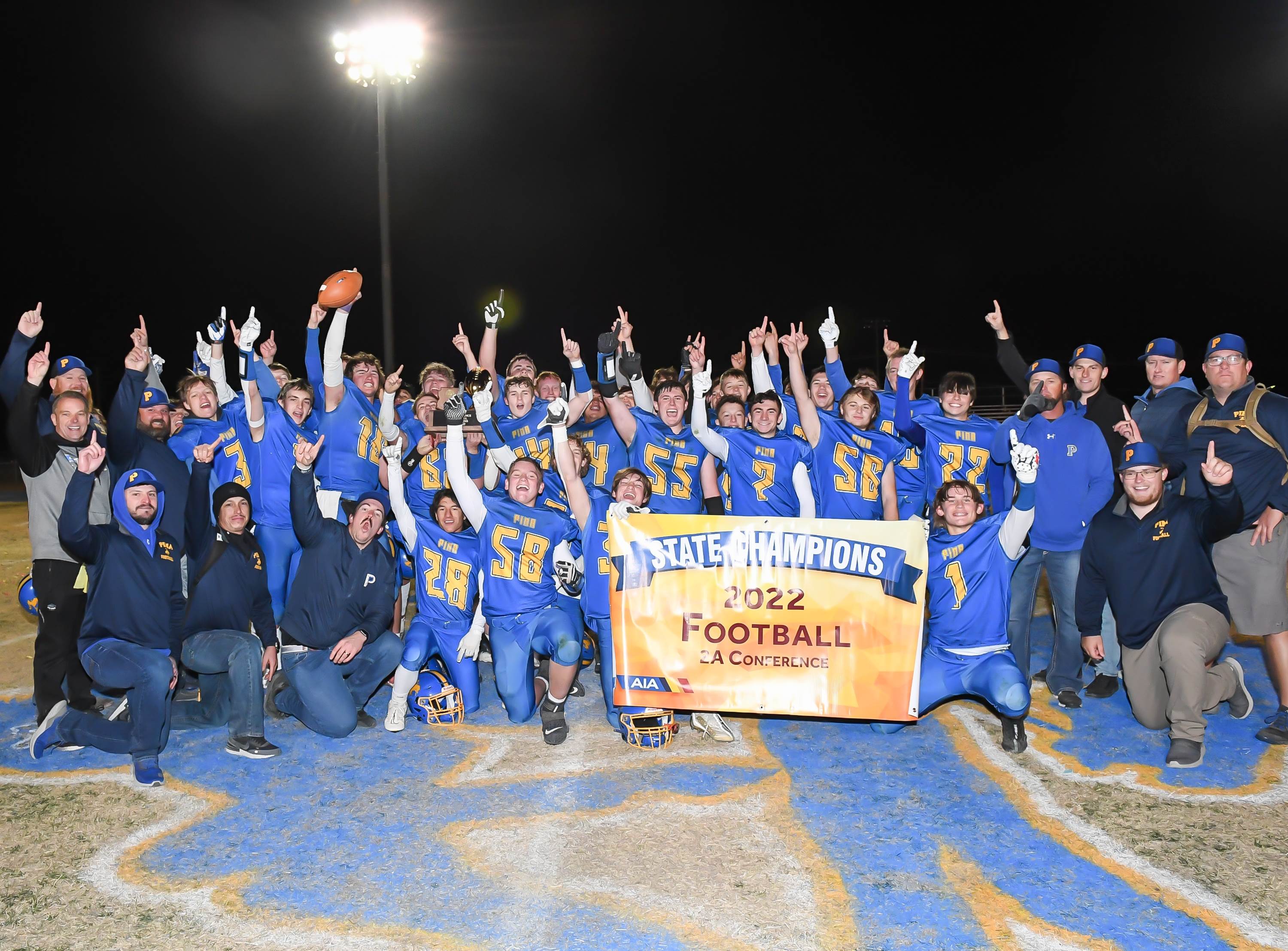 The 2023-24 Arizona high school football season kicks off Thursday with two 2A games, Scottsdale Christian at San Tan Charter and Valley (Sanders) at New Mexico Crownpoint.
For the 1 and 3A teams as well as the first full slate of 2A games, Friday marks their starting point. azpreps365.com and 1580 The Fanatic will broadcast Friday's 3A game between ranked Thatcher and Paradise Honors.
Today's Scottsdale Christian-San Tan Charter match-up features two top-10 teams with veteran leaders at quarterback. Follow azpreps365's Ben Stapley (@AZpreps365Ben) for game updates.
azpreps365.com's posted its preseason top-10 rankings for each conference in this year's Sollenberger magazine.
Here's 2A:
1. PIMA: Head coach Josh Wilkins doesn't expect much of a drop off from the defending champ, not with likely the No. 1 defense in 2A. Some of that unit's muscle belongs to down linemen Brock Haws, Jeremiah Martinez and Pepper Hughes as well as the non-stop motor of MLB Tuddy Smart. With Martinez and Smart also contributing in the backfield along with the dynamic Jaxon Jon, the Roughriders' run game is in good hands. Pocket passer Rhett Hughes, the grand nephew of former championship coach Jim Hughes, is the new QB. Circle Sept. 1 on the calendar. That's when the No. 1 team meets the next team in the rankings.
2. SCOTTSDALE CHRISTIAN: The Eagles welcomed coach Mike Sheahan back to their nest, 10 years after he was an assistant at the school. After serving the last eight years at Scottsdale Notre Dame, the spirited Sheahan will operate one of 2A's potent passing attacks, piloted by QB Jack Atkinson. WR Caeden Murphy and twin brothers Andrew (WR/KR), who is on the cusp of landing offers, and Jacob Trapp (RB/LB) are Atkinson's main targets. The mainstay of the O-line the last couple of years, Sr. C Luke Richardson, returns. We're about to find out just how much the experienced defense, which gave up a ton of points in last year's semis, has grown.
3. ARIZONA LUTHERAN: The team was in 3A last year, but this isn't its first trek in 2A. If the new linemen click, good luck catching the three-headed monster of QB Jorge Lomeli, RB Gideon Enter and RB Rylan Bass. Its Double Wing-T is a program staple and capable of producing three 1,000 yard rushers this season. The RB depth will allow Enter, the team's returning leading tackler, to catch his breath. Elijah Harris also figures to get his share of carries.
4. WILLCOX: Yes, it graduated 3,500-plus rushing yards from last year's state semifinal team. But the Cowboys restocked their stables with backfield bruisers Remington Todd and Ismael Cuevas. Plus, they return three-year starting QB Kash Macumber, a three-year starter at safety as well, and everybody on their O-line except for one player. The Cowboys will know immediately where they stand after opening with ranked Arizona Lutheran, Tonopah Valley and 3A Show Low. This season will mark the return of one of the team's linemen leaders, Bryson Kibler, who survived a life-threatening bout with COVID.
5. SAN TAN CHARTER: In Year 2, after establishing a new culture last year under a new regime, the athletes and leadership are present to achieve its objective: hosting and winning the program's first playoff game. Itching for his first playoff win is three-year starter Zayden Neill. The athletic QB with two D-I offers has a chance to break the 2A completion career record (598). With D-I-bound ATH Uriah Neloms (6-3, 180) and WR Daniel Dippre, who also has a chance to set some 2A career records, in the lineup, the skill players can help offset the lack of size up front.
6. CAMP VERDE: Winning its first postseason game in 11 years didn't satisfy the team last season. To help address some of last year's defensive deficiencies, head coach Aaron Gronwald hired a good friend, Ronnie Jorgenson, to work with the defensive line. Next, Camp Verde hit the weight room, doubling its participation compared to the previous year. "Brick by brick" Gronwald said. The defense this year may start 11 seniors and returns one of its two lockdown corners back from injury, Jordan Williams. The other shutdown corner/WR, the athletic Christian Sanabria, and QB Tyson Buckley can't wait to roll out their highly successful air-raid show again.
7. SANTA CRUZ: The training wheels are off. It's time for last year's youngsters to prove that they can indeed carry the torch for one of the state's tradition-rich programs. QB Nathan Harris, one of eight sophomores who started last year, is accurate, super smart and more comfortable running the team, Santa Cruz coach and alum Thomas Cortez reports. The short but gritty Jonathan Ramos (Jr. RB) also will be a focal point of the offense. The lines are loaded with experience and size. Just ask G/DT Kukailani Kalani and T/DT Christian Moreno.
8. TONOPAH VALLEY: Brett Davis' pass-happy offense fits his jovial personality. "I don't have any gray hair," he said about the fun he's having while running a variation of the run-and-shoot with great success. Last year, in Davis' first year in AZ, his team won a region title and a playoff game with the help of two QBs who each tossed at least 25 touchdowns. One of signal callers was a fearless freshman with a strong passing arm, smarts and quick release, Malachi Wilt. The cool names on the team belong to some of its best athletes, Sir-Izzik Sanchez Caldwell, Robert Escarcega IV, Najea Cooper and Dyllon Goodall. Depth won't be an issue, so don't expect much platooning by the players.
9. SHADOW MOUNTAIN: The origin story for the Matadors donning a top-10 preseason cape begins with them going 0-10 two years ago. That's when they had 18 sophomores. But last year, for only the second time in its previous 48 seasons, the program won its first four games. It eventually ended with a 5-5 record and moved to 2A. Its starting QB and second leading rusher opted not to play this year. But one of its best athletes, Joey Meyn, will step in at QB, and its 1,000 yard rusher, a much stronger Tavares Allen, returns.
10. BENSON: Benson is back in 2A after last year's 3A foray, and the stripes on the Bobcats have changed. They are now a much more balanced team offensively and returned to 2A with a different boss, second-year coach Dustin Cluff. Cluff, who played for former Show Low coach Bill Morgan and won a title in 1999, returns a very savvy, strong-armed QB in Dalton Crockett. In his second year as the starter, Crockett will share the spotlight with backs Flint Davis and Andrew Workman, who is healthy and ready to prove himself at ILB as well. WR Kohen Frost is Crockett's No. 1 target. The skill players have to lead while the young lines gain experience.