Brophy Rodeo results
August 27, 2023 by Andy Morales, AZPreps365
---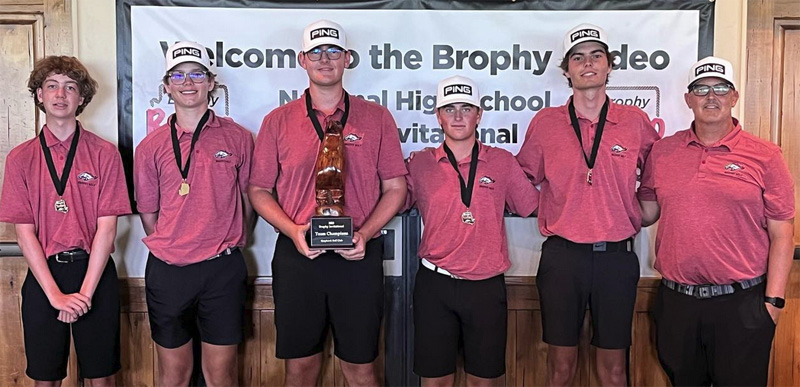 Brophy Rodeo: Grayhawk Golf Club – Talon Course
Brophy senior Tyler Spielman shot a 6-under-par 66 on Friday and he followed that up with a 1-under round on Saturday at the Grayhawk Golf Club to help pace the Broncos to the team title at the Brophy Rodeo. Brophy (591) held off Hamilton (593) and Ironwood Ridge (595) took third.
Spielman won the Division I state championship last fall and the senior standout committed to play for Auburn. Corner Canyon (Utah) junior Bowen Mauss came in one shot back with a 6-under 138. Mauss picked up two shots on his final two holes to get close but Spielman shot a bridie on his final hole to win the tournament. Hamilton senior Vincent Cervantes came in two shots back.
BOYS TEAM TOP TEN
1 Brophy (D-I) 591
2 Hamilton (D-I) 593
3 Ironwood Ridge (D-II) 595
4 Corner Canyon, UT (D-6A) 600
5 Trinity Christian-Addison, TX (D-6A) 604
6 Gulf Coast, FL (D-2A) 610
7 Notre Dame Prep (D-II) 611
8 Houston Strake Jesuit (D-6A) 631
9 Lone Peak, UT (D-6A) 632
10 Windermere, FL (D-3A) 635
BOYS INDIVIDUAL TOP TEN
1 Tyler Spielman, Brophy 137 -7
2 Bowen Mauss, Corner Canyon 138 -6
3 Vincent Cervantes, Hamilton 139 -5
4 Carson Baez, Windermere 143 -1
4 Landon Ashcraft, Notre Dame 143 -1
6 Brasen Briones, Ironwood Ridge 144 E
7 Owen Greenough, Hamilton 145
8 Kihei Akina, Lone Peak 146
8 Ryan Miller, Gulf Coast 146
10 Tyse Boman, Corner Canyon 147
Brophy Rodeo: Grayhawk Golf Club – Raptor Course
The 2022 Nevada 5A state champion Coronado (594) squad held off Xavier (598) to win the Brophy Rodeo played at the Grayhawk Golf Club on Friday and Saturday. The Texas 6A state champion San Antonio Reagan (598) team took third.
Coronado senior Ali Mulhall shot a 7-under 137 to hold off her senior teammate Brynn Kort by one stroke and Xavier sophomore Isabella Piazza came in third with a 3-under 141. Kort was the 2022 Nevada individual state champion.
GIRLS TEAM TOP TEN
1 Coronado, NV (D-5A) 564
2 Xavier (D-I) 594
3 San Antonio Reagan (D-6A) 598
4 Bishop Gorman (D-5A) 609
5 Punahou A (D-BIIF) 618
6 Harvard Westlake (D-1) 627
7 Cactus Shadows (D-II) 630
8 Ursuline Academy-Dallas (D-6A) 638
9 Diamond Bar (D-1) 651
9 Lone Peak (D-6A) 651
GIRLS INDIVIDUAL TOP TEN
1 Ali Mulhall, Coronado 137 -7
2 Brynn Kort, Coronado 138 -6
3 Isabella Piazza, Xavier 141 -3
4 Marissa Loya, San Antonio Reagan 143 -1
4 Hayoung Lee, Coronado 143 -1
4 Lydia Portlock, San Antonio Reagan 143 -1
4 Alexis Lamadrid, Xavier 143 -1
8 Angela Chen, Hamilton 144 E
9 Flora Tao, Hamilton 145
10 Ariya Soldwisch, Coronado 146
10 Samantha Harris, Bishop Gorman 146