Veritas Prep defeats Horizon Honors in 5-set thriller
September 15, 2023 by Josh Heron, Arizona State University
---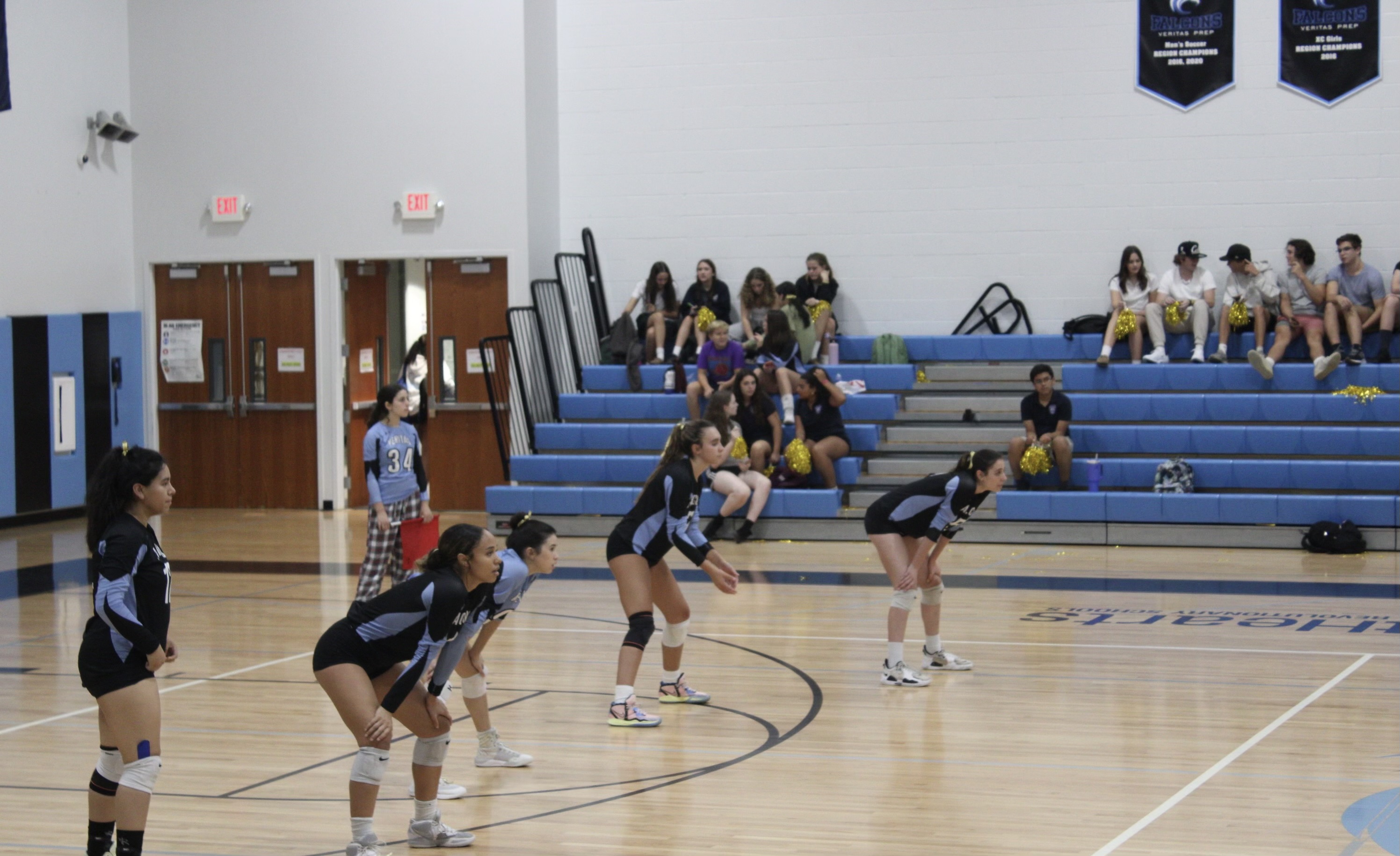 Joshua Heron is an ASU Cronkite School of Journalism student assigned to cover Veritas Prep Academy for AZPreps365.com
Veritas Prep coach Brooks Dockter called his second timeout within three plays with the Falcons down 14-13 to Horizon Honors in the fifth set of Thursday night's home match. The message in the huddle was not about a change in strategy, but rather a change in spirit.
"I told them, 'Hey, we have to have confidence,'" Dockter said. "This was our third five-set match of the season, and we lost the first two, and I could tell in the body language something was wrong. I told them there is a difference between 'I want to win' and 'I am confident that we can win.' I reminded them how hard we worked to get to this point and that it was time to finish."
Two Horizon errors followed the timeout to set up senior captain Sydney Mishkin with an opportunity to defeat the No. 1- ranked team in the 2A South conference.
Horizon players froze upon Mishkin's serve, expecting an out-of-bounds service error. Mishkin expected the same.
"I was really nervous because I thought it was going to be out, so I was super excited when they called it in," Mishkin said.
Her match-point ace gave Veritas a 25-15, 27-29, 25-18, 21-25, 16-14 victory and improved the Falcons to 5-7, snapping their three-game losing streak.
"It was not an easy game," Mishkin said. "We really had to pull through and stay disciplined, so I am proud of us."
Horizon started the fifth set with a 2-0 lead thanks to a Delaney Lawson block and a Kobree Bartreau ace.
Middle hitter Mary Hamann put the Falcons on the board with a kill followed by a block assist with captain McKenzie Perrault to tie it 2-2.
No team possessed a two-point advantage again until Veritas took a 9-7 lead. An ace by senior outside hitter Jaz Cobb made it 10-7.
On the following play, the mobile 6-foot Hamann ambitiously covered the front line. Watching the ball well, she collected two blocks, resulting in a Mishkin kill, giving the Falcons an 11-7 lead.
Horizon coach Amanda Bors then called timeout, and her team made it competitive, clawing their way back through successful hits to a 14-13 lead before Veritas went on a 3-0 run to seal the victory.
"I had a feeling it was going to be close because we are very similar in many aspects, so I am not surprised that it went to five sets," Bors said. "We came into the last set knowing that to win, we would have to be aggressive, but it didn't go for us. However, I think we played great and are using that positivity to move forward to play Phoenix Country Day."
The Eagles displayed resilience in winning sets two and four after Veritas took sets one and three.
The Falcons ended the first set with a 12-3 run in which Cobb and sophomore Bella Espinosa had two kills each.
Cobb accounted for the Falcons' first four points of the second set with a kill and three consecutive aces, giving her team a 4-1 lead. However, Horizon avoided a possible sweep with a 29-27 set win.
Veritas won the third set 25-18 with Espinosa and Cobb providing three kills each. Hamann and junior Vivian Keery added two. Hamann finished the game with eight kills and six blocks. Espinosa had 13 kills to complement 14 digs and three aces. Cobb led the team with 14 kills, bringing her season tally to 86. She also contributed 18 digs and five aces.
The Eagles bounced back strong with a 25-21 fourth set victory before losing the final set 14-16.
"Winning this game revealed our effort and leadership on the court," Cobb said. "We are going to play Joseph City with the same energy."
Dockter hopes this victory turns the Falcons' season around.
"We hope this win brings momentum," Dockter said. "We have had a tough schedule, but now we hope to move forward more aggressively."
Veritas Prep plays at Joseph City (8-5, 2-1) today at 5 p.m. Phoenix Country Day (4-0, 0-0) hosts Horizon Honors (11-7, 2-0) on Tuesday at 5 p.m.