Barry Goldwater falls to Verrado, 49-15
September 16, 2023 by Luke Galindo, Arizona State University
---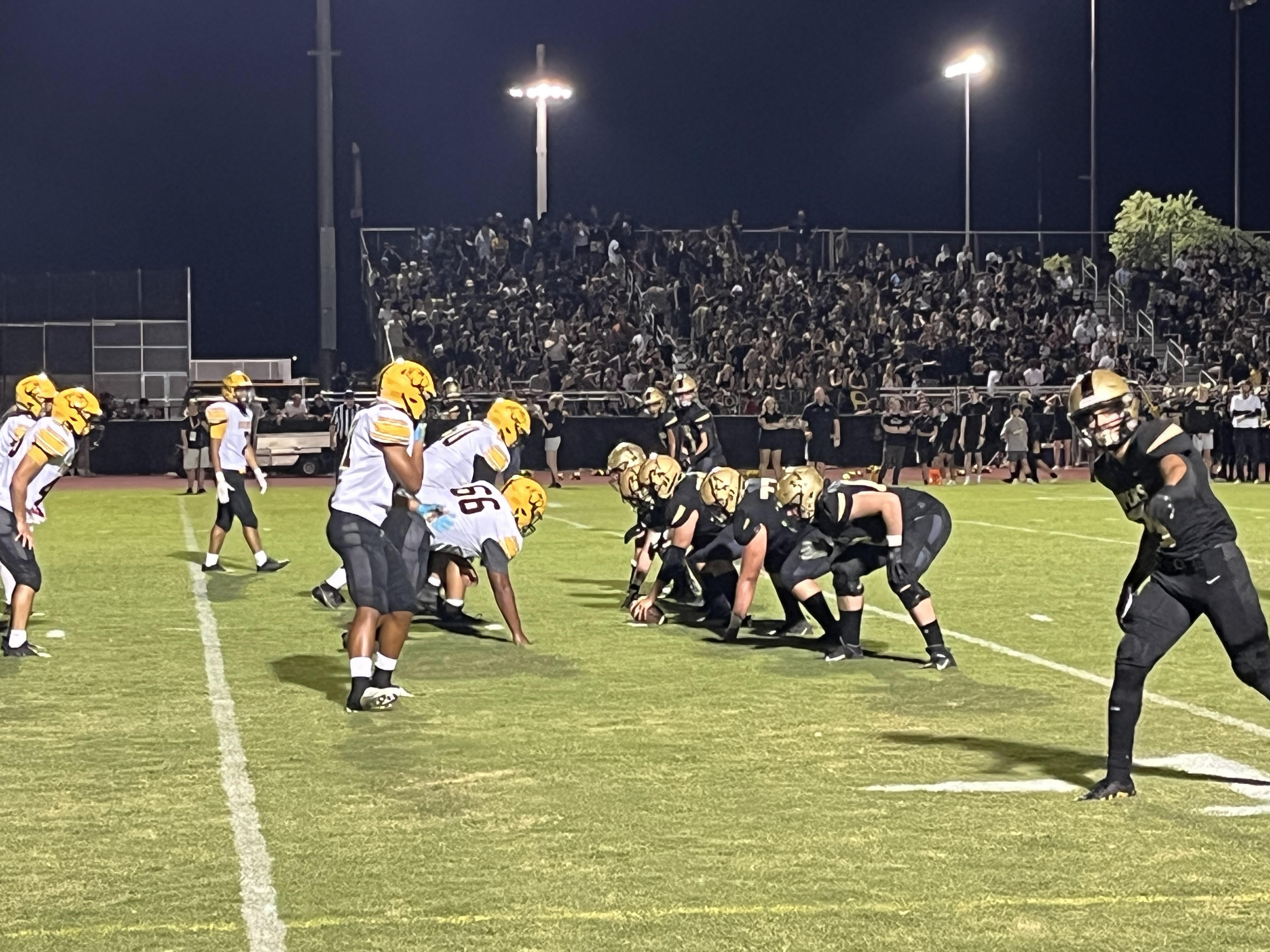 Rippe Galindo is an ASU Cronkite School of Journalism student assigned to cover Barry Goldwater High School for AZPrep365.
Barry Goldwater had a demoralizing 49-15 loss from Verrado on Friday night in 5A non-region action.
Goldwater has never beaten Verrado in school history. They have played each other only five times, and every game has been a blowout in Verrado's favor.
Goldwater (2-2) is coming off a 6-4 2022-2023 season. Coach Frank Lautt is trying to lead this team to the playoffs for the first time since he was hired in 2019.
Lautt believes in a very unique run game that involves a lot of movement in the backfield. The Barry Goldwater assistant athletic director described it as a "shell game in the backfield," referring to the popular game where one shuffles cups around with a ball underneath one of the cups.
"We run it because that's our style. It's our identity, " Lautt said. "We do it because we have good running backs and good linemen."
The Bulldogs ran for a total of 210 yards and scored two touchdowns on the ground coming from junior Dylan Hayhurst and sophomore Marvin Larry.
A total of nine different running backs handled the run game for Goldwater offense.
"It's hard to keep track when people are moving in different directions," added Athletic Director Chandler Evans. "It's very deceptive."
Deceptive is a light way to put it. Once the ball is snapped so much movement occurs between the offensive line and the quarterback.
With three people acting like they're running the ball, it can leave defenses very confused and gives Goldwater several different options of where to go with the football.
In many cases, a running back will take the snap only to hand it off to another running back. Or to trick their opponent even more, sometimes the quarterback will hand off to a running back and then that player pitches it to another running back.
"It makes us dangerous," quarterback Brodie Drank said. "It also opens up the passing game whenever people expect us to run the ball."
In the first quarter, Goldwater only attempted two passing plays, however, in the second quarter when the defense adjusted to the run, they threw the ball 10 times.
You may be asking yourself, "If Barry Goldwater's run game is so deceptive and tricky, how come they lose by such large margins?"
The answer to that is the division they play in. Goldwater's football team is the only team on campus that plays in 5A. All the other Barry Goldwater teams play in 4A.
"We've appealed every year and we've been denied every year," Evans said. "We're competitive enough to stay in 5A, but not bad enough to drop down to 4A. But when you look at the teams we are beating, they aren't winning either."
The Bulldogs seem to have been locked in this endless mediocre cycle, unable to play in the smaller division. When asked to join 4A they are told they will receive an easier schedule, however, because all their wins are against easier teams it eliminates them from playoff contention.
Lautt puts it simply, "We've got 1,400 kids at our school. We should be in 4A."