Gilbert Tigers rally to defeat Mesquite in dramatic fashion
September 17, 2023 by Alex Sanchez, Arizona State University
---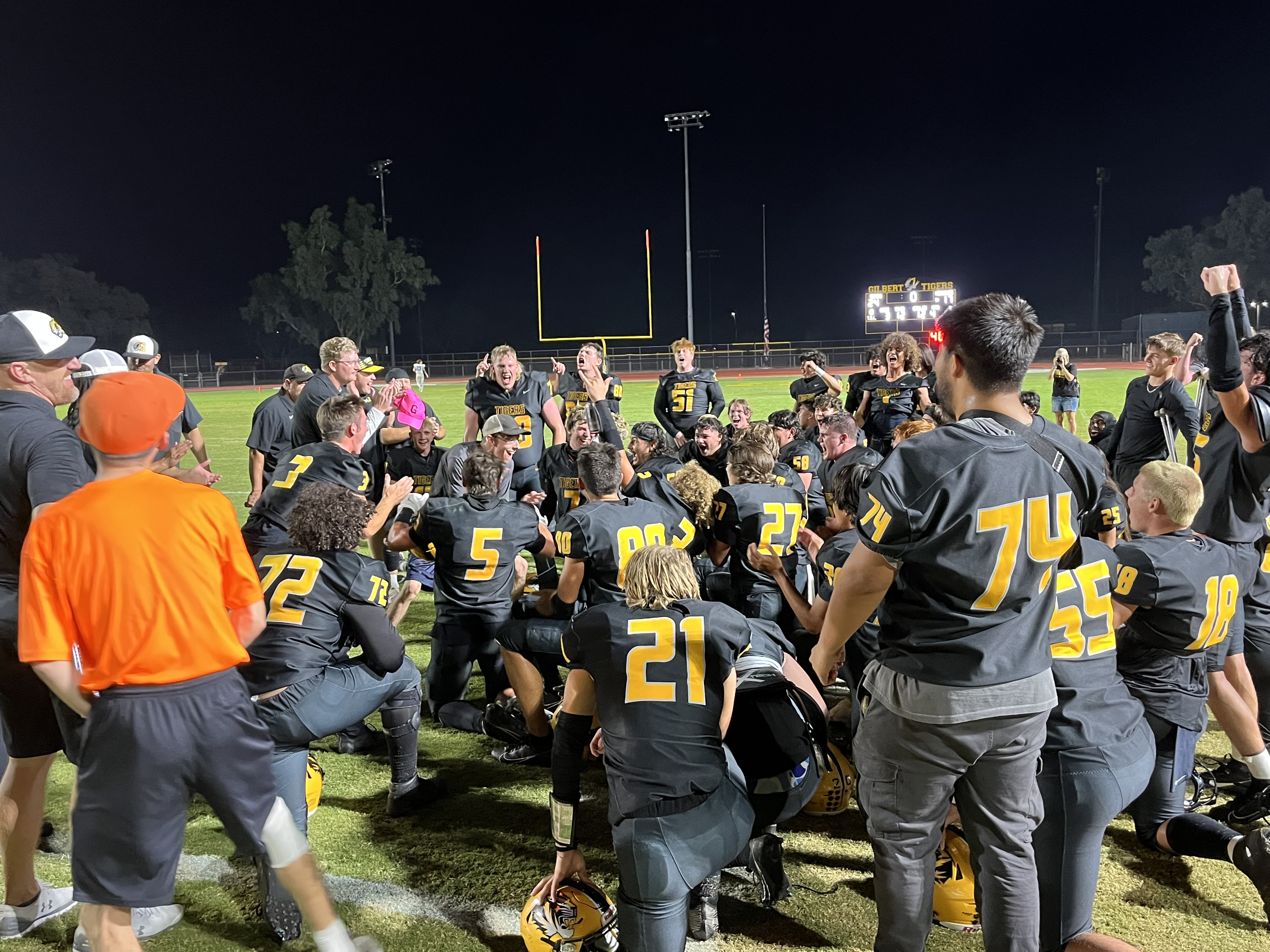 Alex Sanchez is an ASU Cronkite School of Journalism student assigned to cover Gilbert High School for AZPrep365.
The Gilbert Tigers rallied to steal the crown from the Mesquite Wildcats in overtime on homecoming night. The Tigers came thundering back in a 24-17 overtime win improving their record to 2-2.
The Tigers trailed until the fourth quarter. Their defense led the reversal.
To start, the Tigers moved down the field but were held to only a field goal. On the following drive, Mesquite answered with a touchdown, making it 7-3. Unfortunately for Gilbert on the following drive, the Tigers gave up an interception to the Wildcats.
The Gilbert defense got a couple of stops but the offense had a tough time producing after the iinitial drive. The Tigers trailed 17-3 at halftime.
Coming out of halftime the Tigers knew they had to step up if they were going to win. At halftime, the coaches preached the same message. "Heart and desire, how much do you want it?" said coach Derek Zellner.
The defense sparked the Tigers.
After forcing a turnover, the Tigers converted, pulling within 17-10. The next possession it seemed that all momentum had shifted to Gilbert's side as Mesquite fumbled the first snap and the Tigers recovered.
The Tigers ran the football into the end zone tying the game 17-17, thanks to stand-out running back Zach Thompson. Thompson stepped up as a leader for the Tigers late in the game by providing multiple scoring drives and hustle plays.
"We just needed to be positive, we had a lot of negativity going in," said Thompson. "We just decided that we were going to run it down their throat."
This was the key to success for the Tigers, a change in attitude.
In overtime, Gilbert lost the toss but Mesquite decided to defer, putting the Tigers first on offense. The Tigers punched the ball in behind Thompson for his third touchdown of the night. But the Tigers still had to stop the Wildcats on defense. The side that got them back into the game had to finish the game.
The Wildcats progressed toward the end zone. The Wildcats got to third down on the 7-yard line. The Wildcats took the snap and went for a pass, then all of a sudden the ball was thrown over the middle and was picked off at the goal line. The Tigers had done it.
Defensive coordinator Quenton Magg was asked what adjustments were made at halftime that caused the defense to flip a switch.
"I let the players take over at halftime, let them make tough choices. We had some sophomores who haven't played much but stepped up big for us," said Magg.
The grit and resilience of the Tigers were tested but they rallied with a great team effort.