ALA-Queen Creek takes down O'Connor with big plays and timely defense
September 17, 2023 by Ben Stapley, AZPreps365
---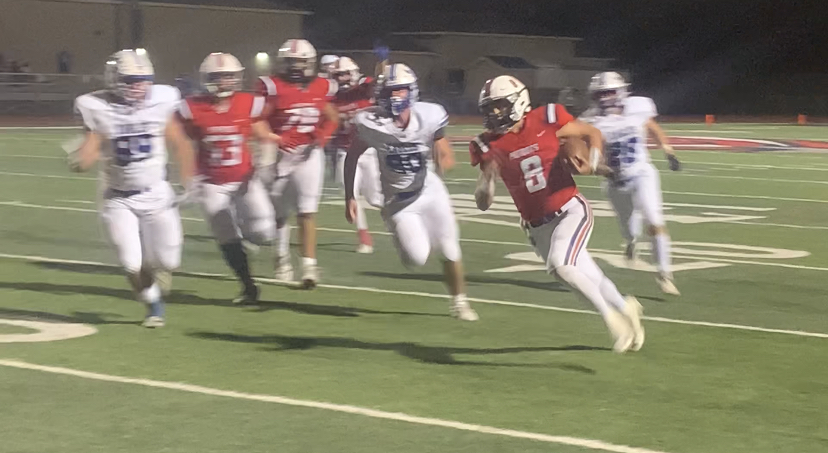 American Leadership Queen Creek seems to be handling the 6A ranks just fine.
After an opening week 49-35 shootout loss to perennial power Saguaro, the Patriots have reeled off three straight wins. The latest came by way of a 24-10 victory over visiting Sandra Day O'Connor Friday night in a non-region matchup.
The Patriots employed their usual bent-but-don't-break defense along with a signature passing attack that kept O'Connor off balance most of the night.
Quarterback Enoch Watson threw for 242 yards, with a pair of first half touchdown passes, plus a rushing score late in the game to help secure the win. ALA Queen Creek's defense did the rest.
"That was another good win for our team and I'm pleased with how our defense played in crucial moments," ALA QC coach Ty Detmer said of his team's performance.
"We gave up some yardage here and there, but our defense seemed to step up in or near the red zone."
Two big pass plays in the first half gave ALA Queen Creek control. In the first quarter, receiver Taylor Searle took a quick pass from Watson before turning it in to a 65-yard touchdown down the sideline.
Receiver Jayden Williams scored on a similar catch and run late in the first quarter, this one covering 58 yards and giving ALA Queen Creek a 17-7 lead.
ALA Queen Creek survived the bruising running style of O'Connor tailback Nathan Bayus, who used his 6-foot, 215-pound frame to chew up 129 yards, including a 63-yard touchdown run in the first quarter. That brought the score to 10-7, but ALA-Queen Creek's scrappy defense never broke the rest of the game.
O'Connor could only muster a second quarter field goal and was shut out in the second half despite a couple lengthy drives.
ALA Queen Creek puts this game away with a nice defensive stand from inside the 5 yard line. The Patriots are running out the clock with a 24-10 lead and improve to 3-1 on the season. O'Connor drops to 2-2 pic.twitter.com/MRdPWeyAlK

— Ben Stapley (@AZpreps365Ben) September 16, 2023
"We knew (Brayus) was going to give our defense everything we could handle," ALA-Queen Creek Coach Ty Detmer said.
"Our defensive line is smaller than most, and I challenged them earlier in the week, basically telling them this game was going to be in their hands. So I was really pleased with the way they played especially in the second half and keeping (O'Connor) out of the end zone."
O'Connor put together offensive drives of 50 and 47 yards in the second half, even driving to ALA-Queen Creek's three yard line late in the game, but ALA's defense put the clamps on when it mattered.