Mountain View continues rebuild of football program
September 19, 2023 by Joshua Freeman, Arizona State University
---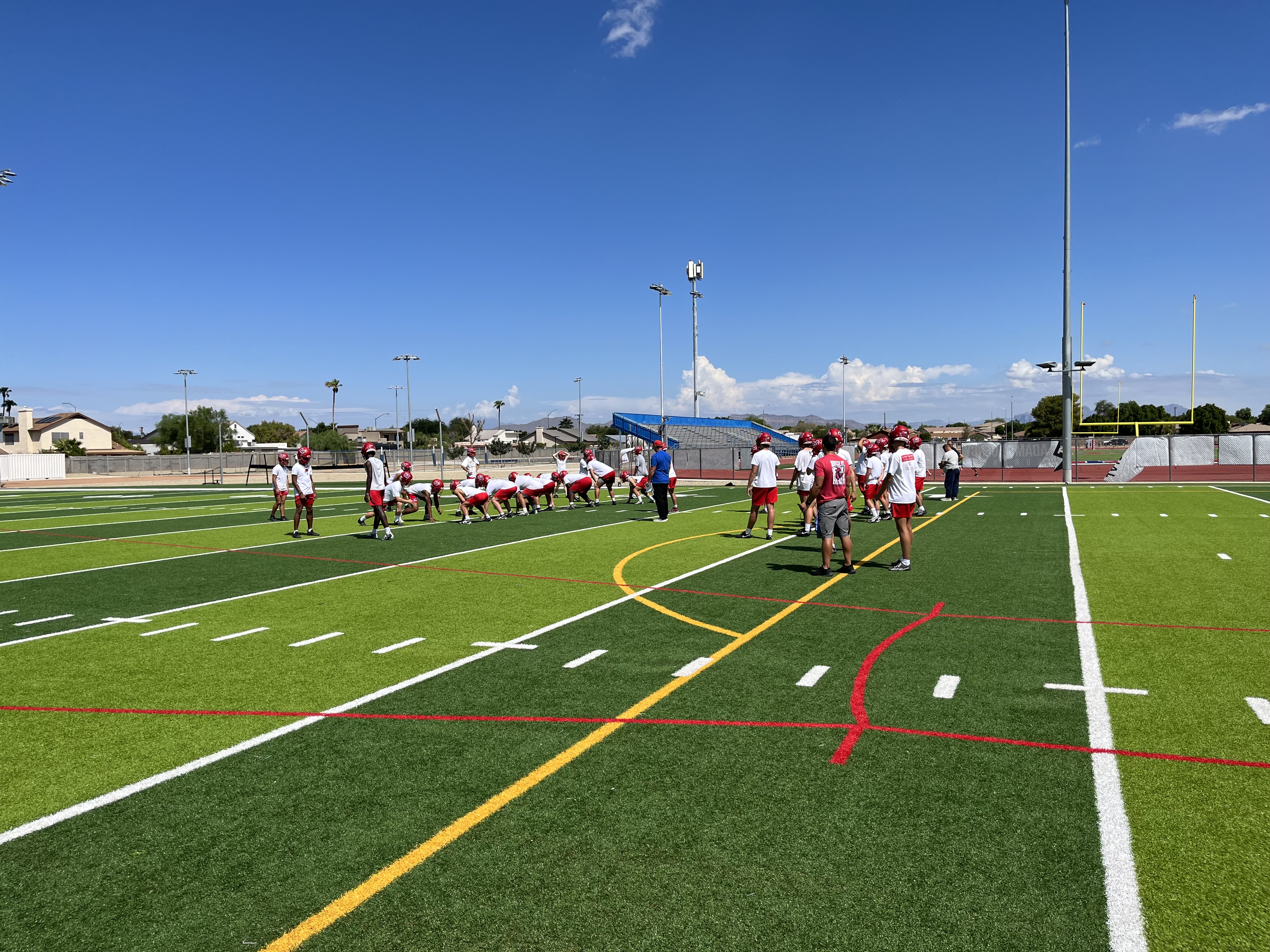 Josh Freeman is an Arizona State University and Walter Cronkite School of Journalism and Mass Communication student assigned to cover Mountain View High School for AZPreps365.com.
The Mountain View Toros want to draw upon a football tradition and culture in order to restore the school's rich history behind alumnus and current head coach Joe Germaine.
Three years ago, Germaine returned to his high school alma mater with a tall task -- to restore his old team's winning ways. Mountain View was once one of the premier football programs in Arizona when he played for the school, but in recent years, the program has struggled to win meaningful games, which was indicative last season when the team finished with a 2-8 record.
This past offseason, Germaine knew he had to make profound changes if the team was going to improve.
"Our offseason program this year ... not only did we work out in the weight room, but we would do a lot of competitive drills with our teammates to try to foster that competitive instinct," Germaine said.
The head coach said he is trying to model the program after his former high school coach at Mountain View, Jesse Parker.
"He was trying to prepare young men's minds and hearts and souls to lead Mountain View and go out into the world and be successful … and be tough, and be durable, and lead," Germaine said. "He used the game to try and mold young men to do that. That is the culture we have here."
As Germaine looks to bring the program back to prominence, he looks no further than to his son, Jack Germaine, to lead the charge as the team's quarterback, which is the same position he played at Mountain View.
Jack Germaine is off to a fantastic start, accounting for a 98.7 quarterback rating through three games, while leading the team to a 2-1 record, which already matches last season's winning total.
But the road the younger Germaine had to take to be ready for this season was not an easy one. Jack Germaine is coming off his third ACL surgery, a serious operation that requires months of rehabilitation.
Jack Germaine credits his teammates and the winning culture his Dad has implemented as a big reason why he decided to return for his senior campaign.
"If it wasn't for some of my teammates, I wouldn't be here," Jack Germaine said.
Now that the team has its quarterback healthy and playing at a high level, winning the 6A Fiesta region championship is the first goal in order to right the wrongs from last season, according to the do-it-all junior tight end, linebacker and running back Beckham Barney.
"We finished last in our region last year, which really stung," Barney said. "Then we came into this year and saw things that predicted us not to win the region, so I feel like that is a chip on our shoulder."
Barney also said beating rivals Westwood, Mesa and Red Mountain is another important goal the team has this year, which is a stepping stone to accomplishing the team's larger goals.
In the immediate future, the Toros turn their attention to Friday night as they will square off with the reigning open-division champion in the state, the Basha Bears. The Bears have beaten the Toros handily the past two seasons, and Germaine and company look to turn that around and fix another wrong that was written last season.
The key to the game the coach says, is to execute as flawlessly as possible.
"We have yet to even come close to executing close to a perfect game as far as execution goes," Joe Germaine said. "That's kind of our focus. It's not about who we are playing, it's about us doing what we do better."