Northwest Christian sweeps Bourgade Catholic
September 20, 2023 by Mohana Holloway, Arizona State University
---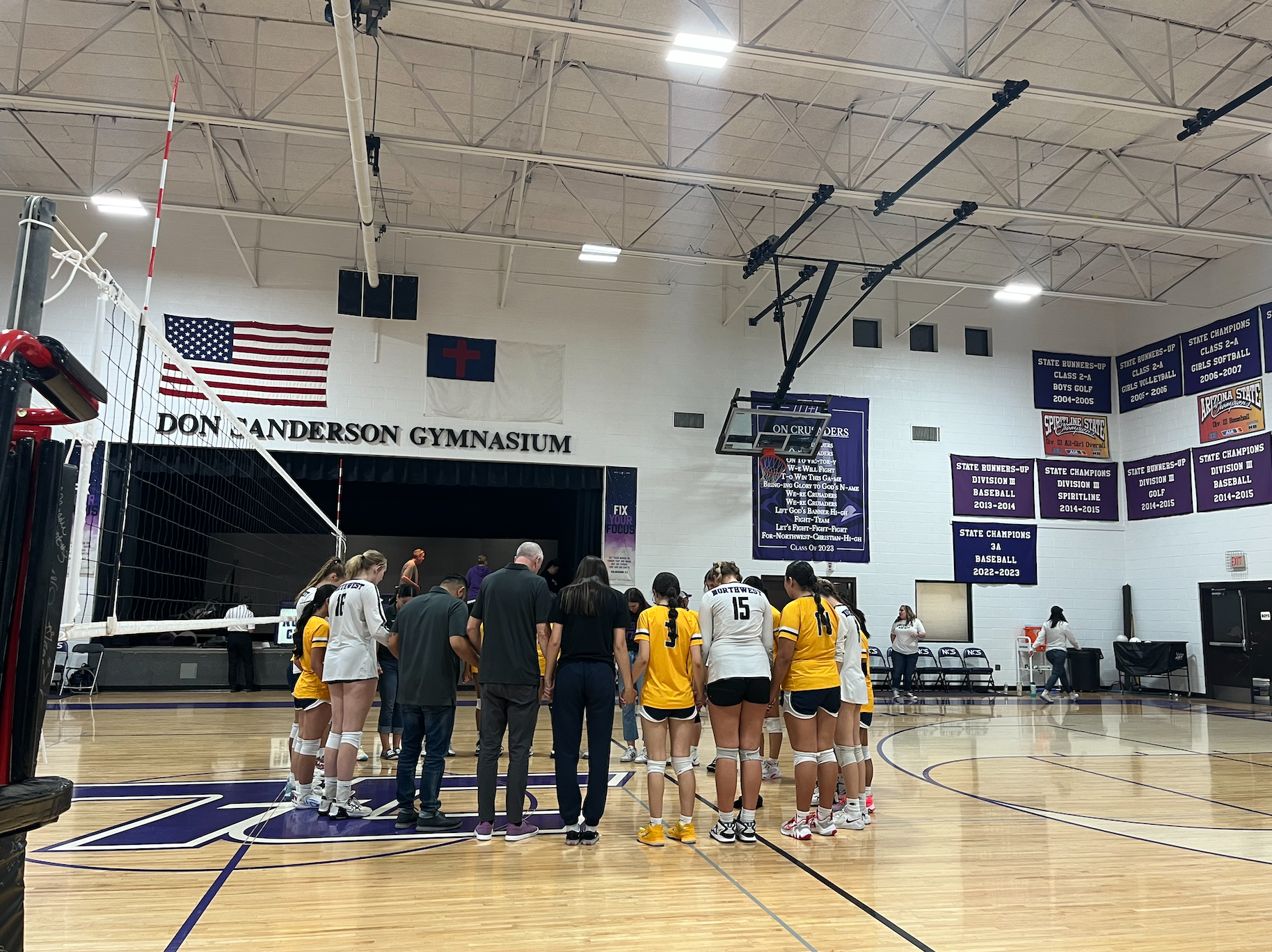 Mohana Holloway is an ASU Cronkite School of Journalism student assigned to cover Bourgade Catholic High School for AZPreps365.com
The Bourgade Catholic Golden Eagles were stunned in a three-set match, 25-11, 25-12, and 25-7 against undefeated Northwest Christian on Tuesday night at the Northwest Christian gymnasium.
Although it was not seen in the match results, the Golden Eagles (2-6) had strong teamwork and played well defensively.
"What we focused on ahead of the match was trying to compete," Bourgade Coach Jesse Santos said. "Northwest Christian is a great team. We ran different plays, and the girls had the energy for it, but it was tough tonight."
The first set began with a mix of points and errors as the Crusaders (6-0) built a 10-3 lead. Defensive play from Bourgade's libero Kylie Bonheimer allowed outside hitter Alice Gallegos to score two kills.
"The standout moment for me in this game was when Kylie picked up some really good digs," Santos said. "She's definitely practicing to be able to achieve that this week."
Bonheimer also assisted outside hitter Desteny Arenivar, setter Selene Brito and opposite hitter Kyra Williams with points.
The set ended 25-11 with a Northwest Christian scoring run, which included an ace and kill from setter Tatum Webster.
The second set began with a 5-0 Crusaders scoring run, including kills from opposite hitter Emily Ghost and middle blocker Madison Nedelijkovic. Northwest Christian committed a string of three errors but secured a 25-12 victory with a kill from freshman outside hitter Aubree Boyer.
The third set began with a string of scoring runs by the Crusaders, making the score 19-4. This prompted Bourgade to call two timeouts.
"I just wanted to make the girls understand that if I called their number, they had to show up and show out," Santos said.
After the second timeout, the Golden Eagles played aggressively with outside hitter Carolina Herrera knocking down a kill, and Bonheimer having several more digs.
"What helped me was talking with my team throughout the game," Bonheimer said. "Even though I was upset, I was able to shake it off and be a rock for the team. We still had to keep the communication going."
Team dialogue was the key for Bourgade to push through the last set, which was something that showed through their efforts on the court.
"I love how hard they work," Northwest Christian Coach Chuck Hunter said. "They stay together and they don't give up. It's fun to see their sportsmanship and defense."
The final set ended with a 3-0 Crusader scoring run, ending with a kill from outside hitter Gianna Penzkover. Northwest Christian won the set, 25-7.
"I think we learned we just need to push harder," Bonheimer said. "We tend to play slower during the end of the match, especially when it seems to not matter. But at the end of the day, all the matches count."
Not getting the result they achieved in Tuesday's match, the Golden Eagles are looking to focus on improving their stamina for their next game.
"A lot of what they need to work on is individual, but the girls will bring their effort and grit during practices," Santos said. "It's on me as a coach to bring everything else."
Bourgade Catholic will host the Camp Verde Cowboys (2-5) at 6 p.m. Thursday. Northwest Christian will host the Valley Christian Trojans (8-0) at 6 p.m. Wednesday.