Higley dominates Paradise Valley for 2nd straight sweep
September 20, 2023 by Hudson French, Arizona State University
---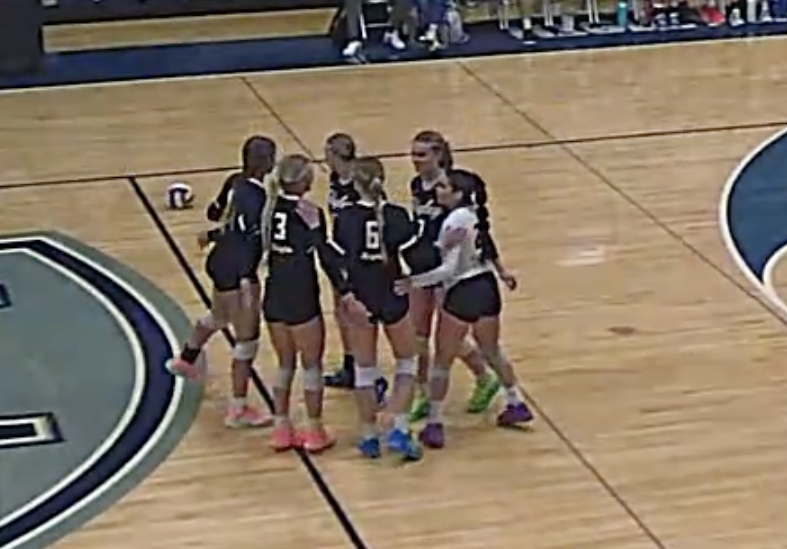 Hudson French is an ASU Cronkite School of Journalism student assigned to cover Higley High School for AZPreps365.com
For the second straight week, the Higley girls volleyball team handled the first two sets with ease and needed late heroics to come back in the third on Monday as the Knights downed Paradise Valley at home, 25-17, 25-19, 25-22.
Sophomore outside hitter Lucy Schmidt caught fire in the final two sets, landing 14 of her 15 kills. Higley coach Tyler Kraemer applauded Schmidt's performance.
"She's swinging as hard as she can," Kraemer said. "You can't replace that level of aggressiveness. When you're swinging that hard, it's going to score points and look good. That's going to get everybody up and the crowd excited. You can't replace that."
The Knights needed the home crowd as Paradise Valley jumped out to a 16-10 lead in the third set, their biggest lead of the night. Despite the deficit, Kraemer did not call a timeout at any point in the match.
"I want them to figure it out," Kraemer said. "There's not always going to be a coach over there to fix a problem. I want them to do it on their own without needing us."
The Knights answered with two separate runs that evened the score at 20-20. Outside hitters Laci Degner, Grace Wakeman and Schmidt all scored two kills during the run. Senior middle hitter Avery Garrett showed up defensively with two blocks during the set.
Schmidt broke the deadlock with two more kills before senior Tanner Robinson finished the match with her own kill. Schmidt noted that this performance was a step above last week's matches.
"Last week I didn't give it my all," Schmidt said. "This week I wanted to show the coaches that I want to be on the court. Doing my best is swinging away. Even if it goes out, I'm OK with that."
Even though Schmidt was the clear-cut star of Monday's match, she made sure to give credit to her teammate, senior setter Addy Norton.
"I honestly think Addy stood up the most," Schmidt said. "She played really well tonight. She was diving for balls all over the place and making sure the ball was perfect for me."
Norton finished with 11 assists and two service aces.
"In the first set, I obviously didn't play," Norton said. "In my mind, now that I'm going in, I need to give it my all and try my hardest to show my coach that I should be on the court. I need to go out there and give my team my all so I can be a team player."
Norton also noted that the team's chemistry brought them back in the third set. Each starting member is a veteran or upperclassmen, and the chemistry stems from playing competitive sand volleyball in the offseason.
Though they appreciate Monday's performance, Higley is now focused on its next opponent, Chaparral, who is unbeaten in conference play. Kraemer wants the team to step up to the challenge.
"Play with no fear. Play with no regrets," Kraemer said. "We want to play as hard as we can while mixing in smart plays, too. Just go out and ball out, we'll figure everything else out later."
Higley (3-1, 3-1) will play at Chaparral (3-0, 3-3) at 6 p.m. Tuesday.