A salute to athletic directors: Long hours, endless responsibilities make the games possible
September 21, 2023 by Ben Stapley, AZPreps365
---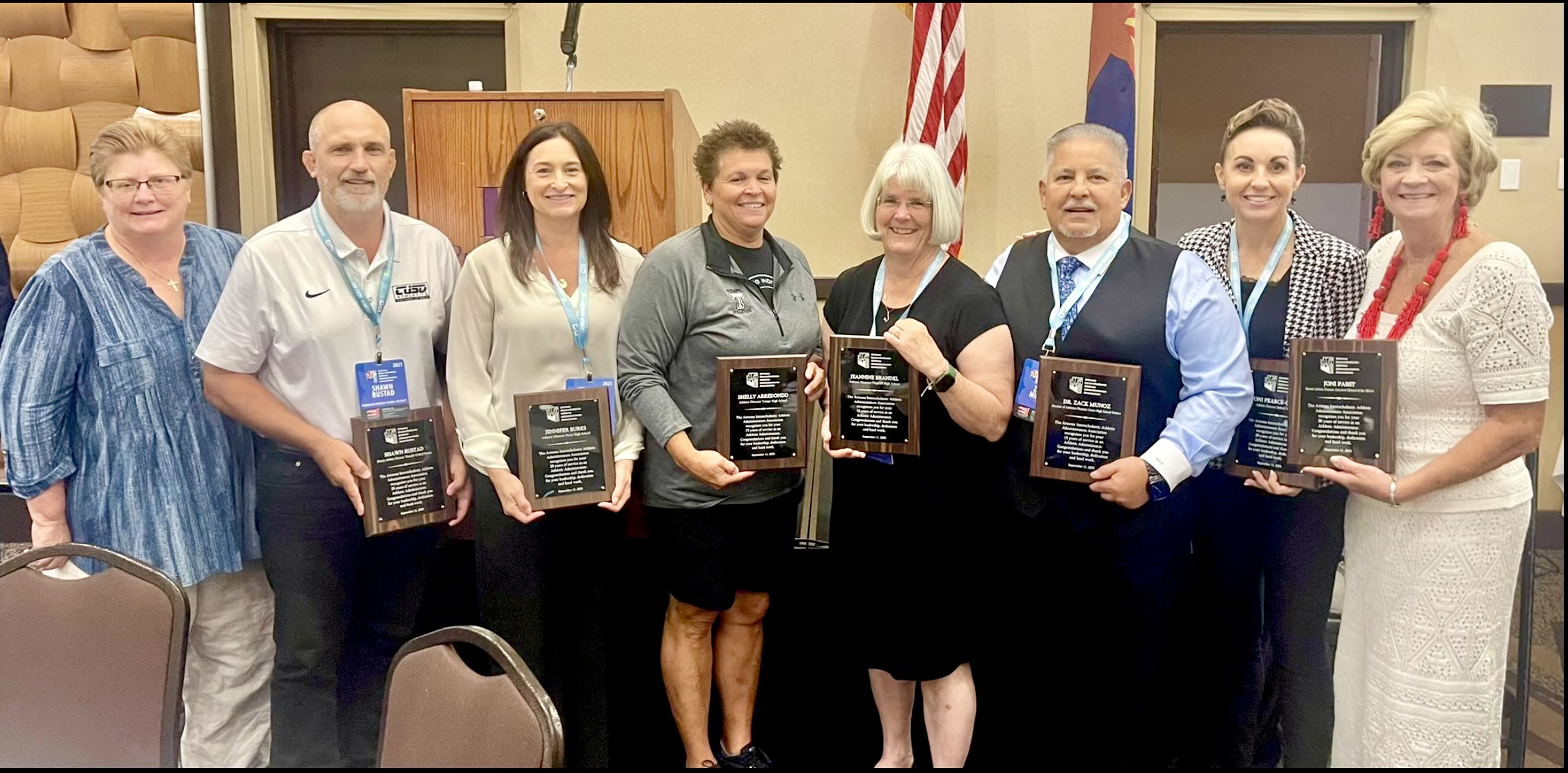 Sept. 6: It's nearing 10 p.m. at Jackrabbit Stadium, and Mesa High athletic director David Klecka is finally making his way to his car after another football game and another extensive, exhausting day.Like most weeks, it's been hectic, unpredictable yet enjoyable altogether. The reward on that night was a convincing victory over Valley Vista, and a mostly happy group of players and coaches.
The stressful aspect of the day and week includes the endless, constant and impossible pursuit of keeping everyone happy all the time. For a high school athletic director, 'everyone' can include coaches, parents, teachers, faculty department heads, the principal, district administrators, students, athletes, student-athletes, athletic boosters, and even district insurance carriers.
Like most of his colleagues around the state and country, Klecka has dealt with all of the above in 40 hours of work time. And it was only Wednesday.
That particular week of responsibilities would include a full Saturday hosting a volleyball tournament, and a conference designated for athletic directors held in Prescott.
"Eighty hours is a fairly common week in this role," Klecka admits.
"But anyone doing this job is really lucky and should feel honored. The long hours can go with the territory, but I love the kids and the way athletics can pull schools and communities together."
For Klecka, the conference was rewarding in a literal sense, as he was awarded the annual Zig Zwiatkowski award for his work during his two previous years as the AD at Desert Vista. Zwiatkowski served as the longtime athletic director at Moon Valley High School and helped found the Arizona Interscholastic Athletics Administrators Association. The award is one of the state's highest for service as athletic directors.
"An absolute honor," Klecka added.
"I'm excited to be where I am and do what I'm doing."
But the job description and responsibilities are far more extensive than the glamorous job title suggests.
"There's a lot to juggle," Klecka admits.
"With any education related career, it's definitely something you should inherently enjoy, or you can get burnt out."
Nearly all high school athletic directors also serve as vice principals, thereby assuming a wide range of academic responsibilities across all departments, clubs and other school-based activities. For Klecka, this includes overseeing all career technical education (CTE), reserve officers training corps (ROTC) and physical education.
Duties also extend beyond academics. This includes everything that goes through the nurse's office, parking and student safety.
In this day in age, student safety is far more than periodic fire drills. The safety and well-being of nearly four-thousand students is a massive responsibility.
The juggling act includes a great deal of risk management, discipline and dealing with the unpredictable behavior of thousands of teenagers on one campus.
Perry A.D Jennifer Burks is well versed with every nuance that comes with the life and times of high school AD, vice-principal and coach.
For over a decade, Burks has steered the athletic ship at Perry, with plenty of trophies highlighting her tenure. A former P.E. and track coach at Higley, Burks enjoys the fruits and involvement of athletic competition. She was a college All-American in track and field, her daughter Avery plays volleyball at Tulane, and son Cade ran track at Northern Arizona University.
"Seeing the kids succeed and improve and develop is the most rewarding aspect," says Burks, who also serves as the president of the Arizona Interscholastic Association's executive board.
She also jokes that the most stressful 10 minutes of her week come every Friday night before football games, except she's not joking. Not totally anyways.
"Coordinating the band's performance and exit with the football teams' entrance is always an adventure one way or another," Burks says with a slight hint of sarcasm.
"You'd be surprised at everything that can go wrong."
But it's only 10 minutes in a marathon week for Burks and ADs everywhere.
"The vice principal duties provide similar enjoyment with students and teachers, but we always have to be prepared," Burks says.
"When you're dealing with thousands of kids aged 14-18, you just never know what's gonna happen, and that's universal across every high school campus in operation," she said.
Daily tasks are commonly put on hold, almost compounding like high interest, as administrators must constantly deal with behavior issues, the natural result of teenage peer pressure, stress and general mischievousness.
"We've got to make sure to constantly follow all protocols, because sometimes there are situations or actions serious enough to that that our jobs may be scrutinized or put in jeopardy, even when we've done nothing wrong," Burks explained.
Red Mountain Family: Year 'Round
Jason Grantham is now in his fourth year serving as AD at Red Mountain, his alma mater, where he played football and baseball.
He's also been an assistant principal at the Mesa school since 2017, preceded by a six-year run as AD at Mesquite High. For most ADs and coaches, working at an alma mater provides an additional source of pride and fulfillment. Even more so watching their own kids participate and compete on the same campus.
Grantham was able to enjoy this with his oldest son Brayden, who now plays baseball at the University of San Diego, while his daughter Ashton is a senior and has done choir and theater during her time at Red Mountain.
Grantham's wife Carrie is a long time elementary teacher, including 10 years at Falcon Hill, which is next door to Red Mountiain's campus. It's been an ideal family implementation for Grantham, as the proximity helps make up for the demanding hours.
"Familiarity is a bonus because you're always going to root for your high school or college alma mater," Grantham says on a late Thursday afternoon, one in which he is excited for a rare evening off.
"But then seeing my kids on a near daily basis has really been a fortunate scenario. And then my wife also understood from the beginning what kind of responsibilities, so we knew what to expect."
This school year, Grantham oversees the entire junior class along with several academic departments. Like his colleagues Klecka, Burks and many others, security falls under his watch, which also includes parking, as campus security guards and the designated police officer are constantly patrolling parking, the campus and updating proper admins on the latest.
"There's a lot going on all day," Grantham admits.
"In my case, I don't mind anything that gets me out of my office because I have to get attendance and certain things done every day, which keeps me in there a lot."
One of those common out of office duties for vice-principals is evaluating teachers.
Each teacher is typically observed once per semester, and it's a stressful occasion even for the most successful and tenured classroom educator. Grantham was a special education teacher, and he knows this from experience, so making it as accommodating as possible is a goal for administrators.
This year he's responsible for 28 teachers, which requires three separate planned time slots per evaluation, which becomes time consuming but remains enjoyable for Grantham, like watching students and coaches succeed
"I enjoy watching people in their element, especially the students and the teachers," Grantham insists.
"I'm a firm believer that classroom teachers will always remain the most important experience for every student."
Grantham says his biggest challenge is time management, specifically dealing with the nature of most sports now dealing with year-round schedules.
"Trying to fit in everything for everyone is difficult," says Grantham.
"Somehow over time, we as a society have pushed this full time cycle on so many sports and our kids have followed suit. That's why we don't see as many multiple sport athletes during the sanctioned regular seasons."
Basketball and baseball are good examples. Outside the traditional fall, winter and spring seasons conducted by the AIA, baseball and basketball teams are involved in tournaments and other leagues 12 months a year. Club sports like soccer and volleyball also consume more time and energy out of the school season.
However, the coaches and players still have needs and demands, many of which fall on the shoulders of the A.D.'s, all while they deal with the current season of sports.
Winning Pressure
That same competitive nature that drives kids to year-round work and higher expectations also spills over into pressure and expectations, a lot of which are also absorbed by school athletic directors.
For better or worse, high school coaches are under intense scrutiny to win, especially in the higher profile sports like football, basketball and even volleyball.
The same societal pressure mentioned earlier by Grantham has also created almost excessive winning expectations from parents and student athletes. The ADs must absorb this pressure directly and indirectly.
Even with 12 successful years at Perry, Burks will attest to this pressure.
"We'll never let go of a coach over wins and losses, but there is pressure to win," says Burks, who's seen her fellow Chandler District sister schools blossom into athletic powerhouses in the last decade, specifically with football.
"There's a reason they call it the Premier Region," Burks says matter of factly, referring to the 6A region, which is easily the state's football gauntlet.
Besides Perry, the region currently consists of Basha, Chandler, Hamilton, and Casteel, an even newer school in the Queen Creek District which reached the 6A semifinals last season.
"With football, there is pressure because if you don't win, you lose kids," Burks says.
Even in a state of constant 'transfer culture,' as some call it, the worry and fear is not so much about losing current athletes, but rather potential athletes still in junior high. With open enrollment available to students entering their freshman school year, options areplentiful, available and nearby.
Nowhere is this truer than Perry, situated in south Gilbert and surrounded geographically by top-shelf football programs.
Defending 6A champion Basha is only three miles directly south on Val Vista Rd. Burks is also able to see the campus of Campo Verde High, another newer Gilbert school just 1.9 miles to the Northwest of Perry.
In fact, in a hypothetical, nine-mile radius around the Perry campus, one would fit Hamilton, Chandler, Highland, American Leadership Academy-Gilbert North, Higley and Casteel.
"That's a lot of great football," Burks adds.
That's also a lot of options for a lot of kids who live in proximity.
Head coach Joe Ortiz is now in his second season at Perry, which is off to a 4-0 start.
His track record with Cactus and Higley should give current and future athletes reason for hope. The competition will become fierce as the season progresses. But for now, Burks and all of the other ADs can only continue doing their best to please everyone and worrying about things in their control. In Burks case, it's figuring out that hectic transition from the band to the football entrance on Friday nights, among a million other things.
"I'll get it down someday," Burks says, finally…with a laugh.