Liberty girls volleyball sweeps Mountain Ridge
September 21, 2023 by Natalie Lopez, Arizona State University
---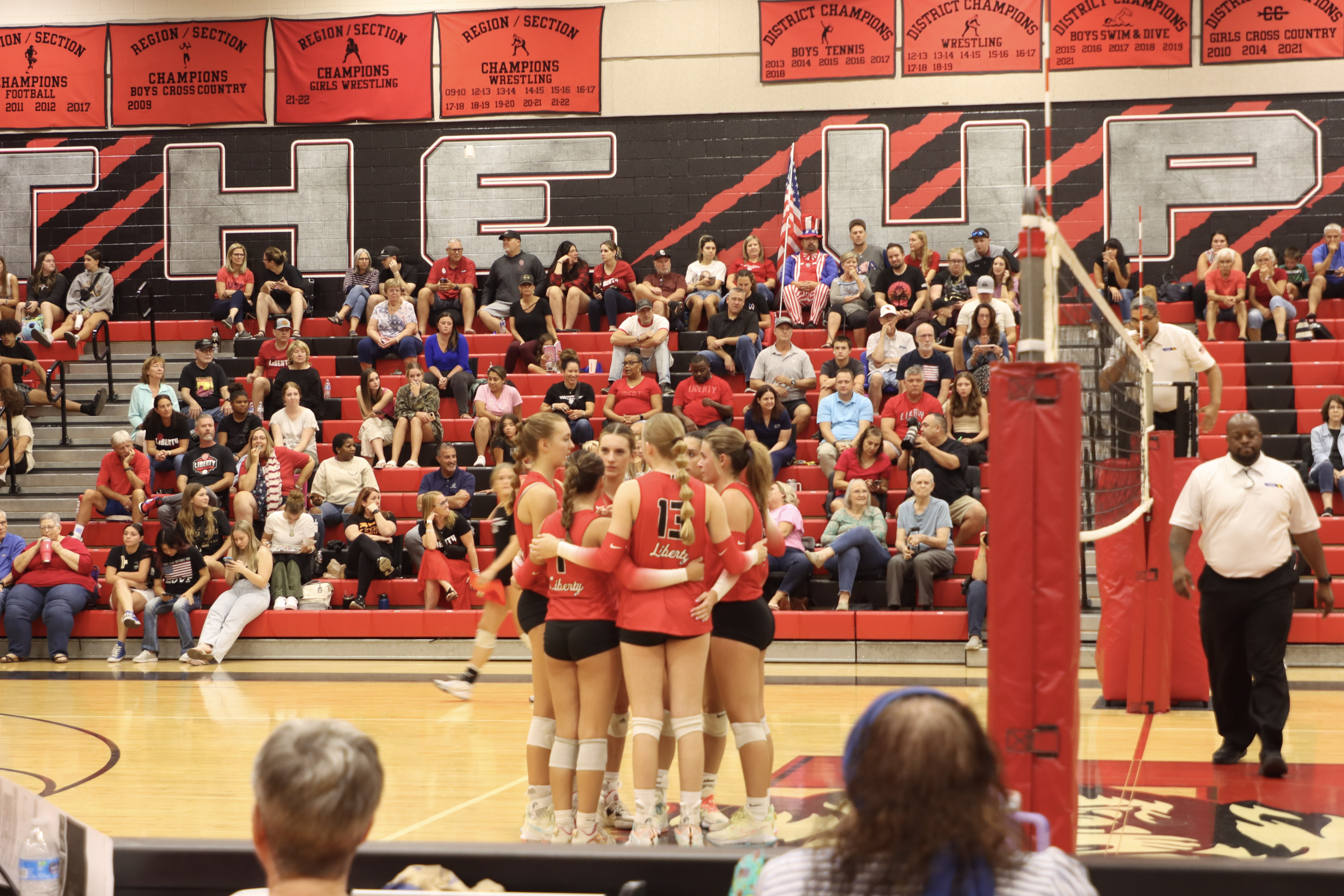 Natalie Lopez is an ASU Cronkite School of Journalism student assigned to cover Liberty High School for AZPreps365.com
The Liberty Lions took all three sets with a strong offensive showing against Mountain Ridge in Peoria on Wednesday night.
Liberty (6-1) was dominant on offense, winning the match with set scores of 25-18, 25-18 and 25-19. The Lions had a strong momentum going, only trailing to Mountain Ridge a few times during the match.
"We had a really tough game (Tuesday) night against Perry, which we won, and we just continue to get better every single game," Liberty coach Chris Brown said.
The first set started off close until Liberty had a 6-0 run, with junior Tristen Raymond getting several kills.
The Lions finished with 24 kills, 33 assists and 9 aces. Raymond had 13 kills and 17 assists.
"She wants to win, she's competitive, and (she does) whatever it takes to not only win but dominate a match," Brown said. "For her to set and swing, she did both and she was very successful in helping us get the win. She's a great teammate and great competitor."
During the second set, it was just like the first set with both teams going neck and neck. After Liberty had a 6-0 run again, Mountain Ridge coach Christina Jensen called a timeout to talk to her team. Jensen said the team shifted their momentum.
"What shifted was their confidence," Jensen said. "Honestly, these girls (this year) work well together and they want to win and have the drive to win everything that they do, so we're getting there. They just want to compete."
Shortly after the timeout, the Mountain Lions had several kills before Liberty went on a 7-0 run to win the second set, 25-18.
In the third set, the Lions went on an 8-0 run until Jensen called a time out for Mountain Ridge. The Mountain Lions tried to fight back but it was not enough. Raymond had several kills during that set to help Liberty win, 25-19.
"I was focused on just keeping a strong mindset and pushing through the game," Raymond said. "We all knew it wasn't going to be easy so we just kept a clean mindset (throughout the match)."
After the game, Brown announced that senior Alyssa Forelli reached a big milestone on Sept. 7 against Sunrise Mountain by reaching 1,000 assists over the course of her career. The Lions honored her with a big homemade poster and welcomed her family on the court to take pictures alongside her.
"We celebrate a great accomplishment from one of our players, we celebrate this win and tomorrow morning we're back to zero-zero," Brown said. "As far as going away from our home game, just getting better and getting progressive."
Liberty will travel to Anthem to play the Boulder Creek Jaguars (4-3) on Thursday at 6 p.m. Mountain Ridge will travel to Phoenix to play the Sandra Day O'Connor Eagles (8-1) Tuesday at 6 p.m.