Hamilton sweeps Chandler 3-0, pushes win streak to 8 games over rival
September 21, 2023 by Chase Clemens, Arizona State University
---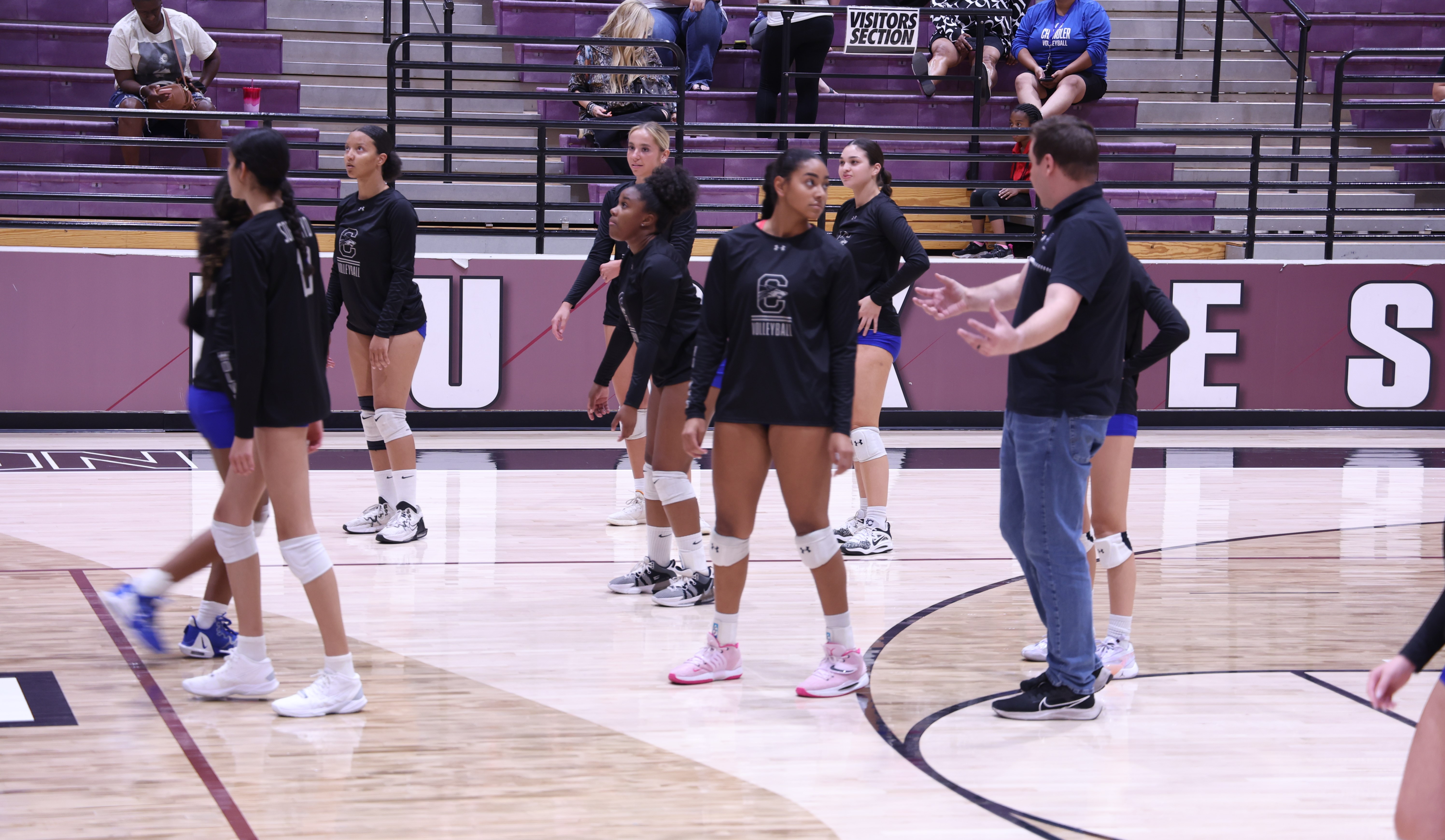 Chase Clemens is an ASU Cronkite School of Journalism student assigned to cover Chandler High School for AZPreps365.com
The world was a different place in 2019. COVID-19 had yet to exist. The U.S was governed by a different president. And Twitter was still called Twitter. One thing that hasn't changed – Hamilton beating its crosstown rival Chandler in volleyball.
The Huskies (6-3) defeated the Wolves (6-3) at Hamilton High School Thursday in straight sets, 25-14, 25-14, and 25-18. The victory pushed Hamilton into third place in the 6A Premier Conference standings, one position ahead of Chandler.
It was Hamilton's eighth consecutive win over Chandler dating back to Sept. 18, 2019.
"We see them every year, twice a year," Chandler Coach Nathan Saunders said. "But it still seems to surprise us every year. They (Hamilton) run a middle-follow offense, which is not standard for what the majority of teams in the volleyball world run."
The Huskies' system gave them more receiving options and Chandler struggled to detect where the set and attack was coming from.
"It creates a little bit of inconsistency from what these girls normally see," Saunders said. "When you're thinking more, it creates a little bit of hesitancy out there. You can't get in a comfortable spot if you don't know what the attacker is doing."
The Wolves kept pace with the Huskies through the beginning of the first set. Hamilton led 11-9 when 6-foot-1 senior middle blocker Karlly Dillard blocked two consecutive Chandler attacks to help Hamilton win the rally.
The Huskies bench erupted. With renewed energy from Dillard's defensive effort, Hamilton won the next five points to take a 17-9 lead en route to winning the set, 25-14.
Hamilton's size advantage in the attacking zone challenged Chandler the rest of the way. Sophomore opposite hitters Nia Curry and Maris Mauzey constantly deflected Wolves hits near the net.
"We used our height, especially on the right side," Curry said. "When we had our bigger girls like Karlly out there, we definitely got more blocks and touches."
The trio produced 25 of Hamilton's 37 kills. Dillard led all players with five blocks and 10 kills. Curry and Mauzey each had three blocks, and eight and seven kills, respectively.
For Chandler, the loss was disappointing. Players were excited to flip the script in the rivalry. They will have another opportunity to do so at home next month on Oct. 12.
Another positive for the Wolves was junior Macy Larkin's strong season debut. The transfer was ineligible to play the first eight games of the season. She led her team in scoring with seven kills and one assist.
"They ran a really fast offense and put balls away," Larkin said. "I think that we improved as we played. Hamilton's a good team."
Hamilton will play Basha at Basha High School at 6 p.m. Tuesday. Chandler hosts Xavier Prep on Tuesday at 6 p.m.