North Phoenix Prep cruises to 5th straight victory
September 21, 2023 by Derrick Smith, Arizona State University
---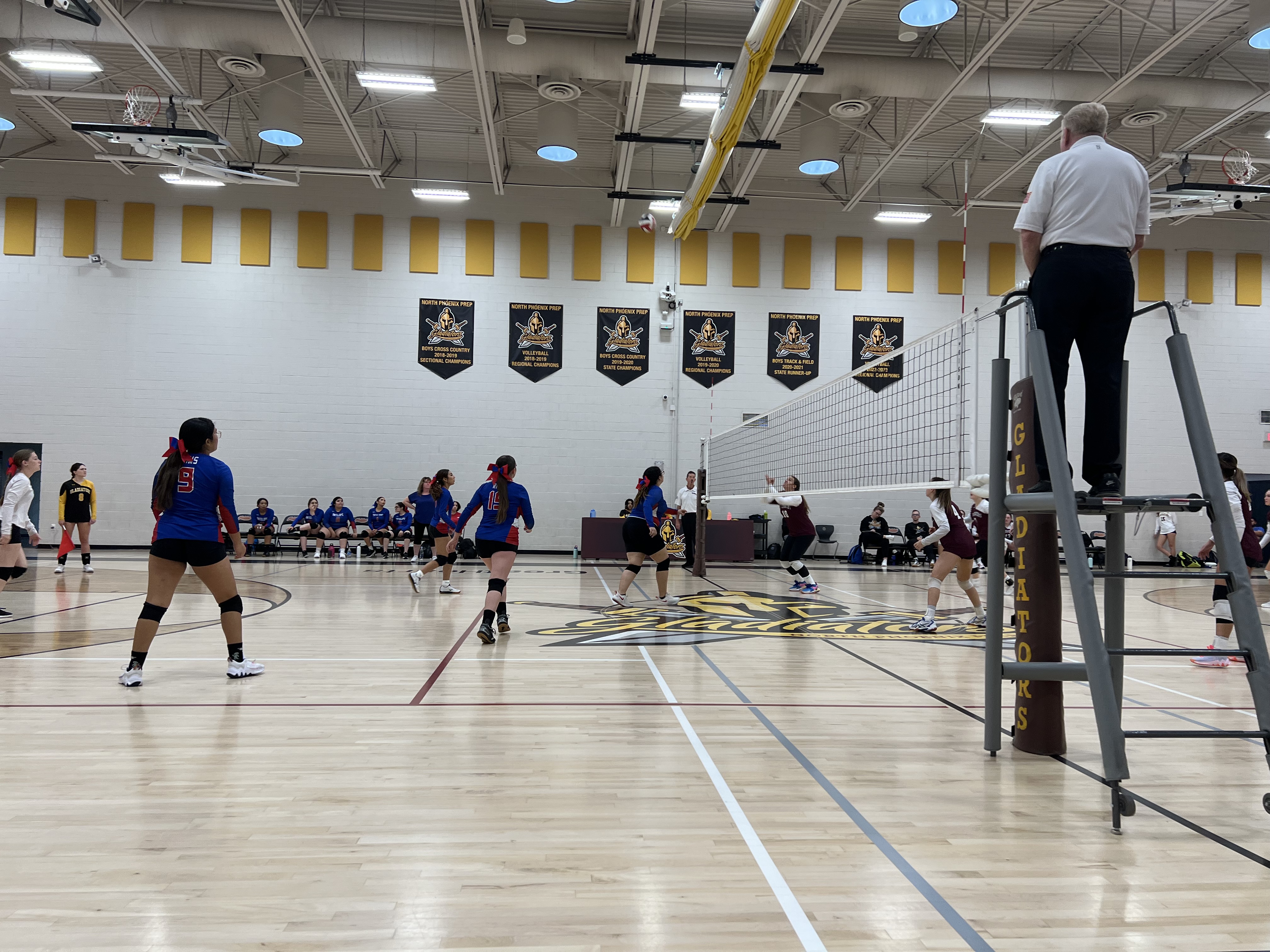 Derrick Smith is an ASU Cronkite School of Journalism student assigned to cover North Phoenix Prep for AZPreps365.com
North Phoenix Prep (6-2) came out strong on their home court Wednesday night, beating the Antelope Union Rams (6-2) in a three-set match, 25-18, 25-11, and 25-17.
The win was the Gladiators' fifth in a row and allows them to keep pace in the 1A Central Division, behind only first-place North Valley Christian Academy (6-1).
After a close first set, North Phoenix Prep took control of the match in the second set behind another solid performance from Sophie Ulrich. She led her team with 11 kills and three blocks.
"All I've been telling my girls is to prepare for these games, and they've been doing that," North Phoenix Prep Coach Summer Anderson said. "They've been applying the things that we're doing in practice, and it shows on the court."
Behind an excellent display of teamwork and communication, the Gladiators dominated the second set, turning all the momentum in their favor. With the score 18-11, North Phoenix Prep went on a 7-0 rally thanks to three aces by Ana Sofia Fernandez-Pecina and blocks from Bella Conner and Ulrich to lead the match 2-0.
Capitalizing on the momentum, the Gladiators took advantage of five service errors by the Rams in the third set and were helped to victory by four kills and an ace from Yana Konstantinov and two blocks from Ulrich, who scored the match-winning kill.
"We were able to run a lot of free-ball plays and try out plays that we haven't tried before, so it was a lot of fun," Ulrich said.
On the other side, there was not much fun to be had for the Rams. Before Wednesday's match, Antelope Union was rolling, winning six out of their last seven. Now with the loss, they fall to 6-2.
The lone bright spot for Antelope Union was the play of Marissa Jimenez, who racked up a total of six kills, two blocks and three aces.
"Our defense was off a little bit and our girls were passive and not communicating," Antelope Union Coach Rhona Taylor said. "My girls know what they need to work on, so we're going to go back to practice tomorrow and look to get better moving forward."
Despite the outcome of Wednesday's match, the Rams still find themselves in first place in the 1A West Division standings, and will look to flush this game away on Friday when they play in the Epic Tourneys Volleyball Invitational at Phoenix Country Day School.
Meanwhile, for the Gladiators, they believe their current winning streak proves they're good enough to challenge anyone in the 1A Central Division this season.
"If we keep pushing ourselves and supporting each other, I think we can become the best team in our division," Ulrich said.
North Phoenix Prep will also participate in the Epic Tourneys Volleyball Invitational at Phoenix Country Day School on Friday.