O'Connor captures 6A volleyball crown
November 11, 2023 by Ben Stapley, AZPreps365
---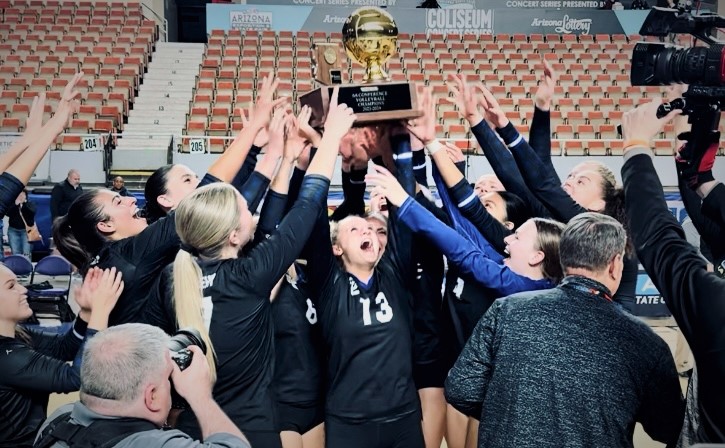 The O'Connor Eagles capped off one of Arizona's most dominant volleyball seasons in recent memory Friday night.
Led by Devyn Wiest and a strong supporting cast, top seeded O'Connor held off an upset minded Perry team in four sets, 25-19, 18-25, 25-17, 25-16 to capture the 6A state title at Arizona's Veterans Memorial Coliseum.
It was O'Connors first indoor volleyball championship.
The Eagles finished 34-1 on the season, with their only setback coming against Sunnyslope. O'Connor redeemed that loss later in the regular season with a 3-0 victory.
So powerful was O'Connor this year, the Eagles lost only six sets all season. Perry dealt O'Connor its sixth during the championship match.
"This is an awesome feeling because we really had to work together and stick together, Wiest said afterward.
"We always trust each other and trust is always a big thing to us, and we always just worked on getting better."
As it did all season to opponents, O'Connor overpowered and wore down Perry (23-11) with the 6-3 Wiest, Katie Lambeth and Iana Loera.
Wiest, a 6-3 junior committed to Utah, led all players with 17 kills. Lambeth and Loera added 11 kills each.

Wiest added the sole loss to Sunnyslope only helped her team in the big picture.
"It was a good reminder of how hard we always to play and work to keep getting better," Wiest said.
"There are so many good teams and players, we have to always try to improve."
O'Connor coach Amanda Burbridge, the former Arizona State All-American, emphasized constant improvement all season.
"I'm so proud of these girls," Burbridge said.
"They really stuck together all year."
Perry, which entered the tournament as the #7 seed, got another outstanding performance from Avery Stones, who turned in 16 kills and helped the Pumas even the match in the second set.
At 1-1, Perry was flirting with some history. The only previous #7 seed to win was Arizona Lutheran over #1 Glendale Prep in 2014 in 1A. No seed lower than #7 has ever won.
Kenna Cogill added 11 kills for the Pumas.