Pima extends winning streak in a semifinal win over San Tan Charter
November 19, 2023 by Ben Stapley, AZPreps365
---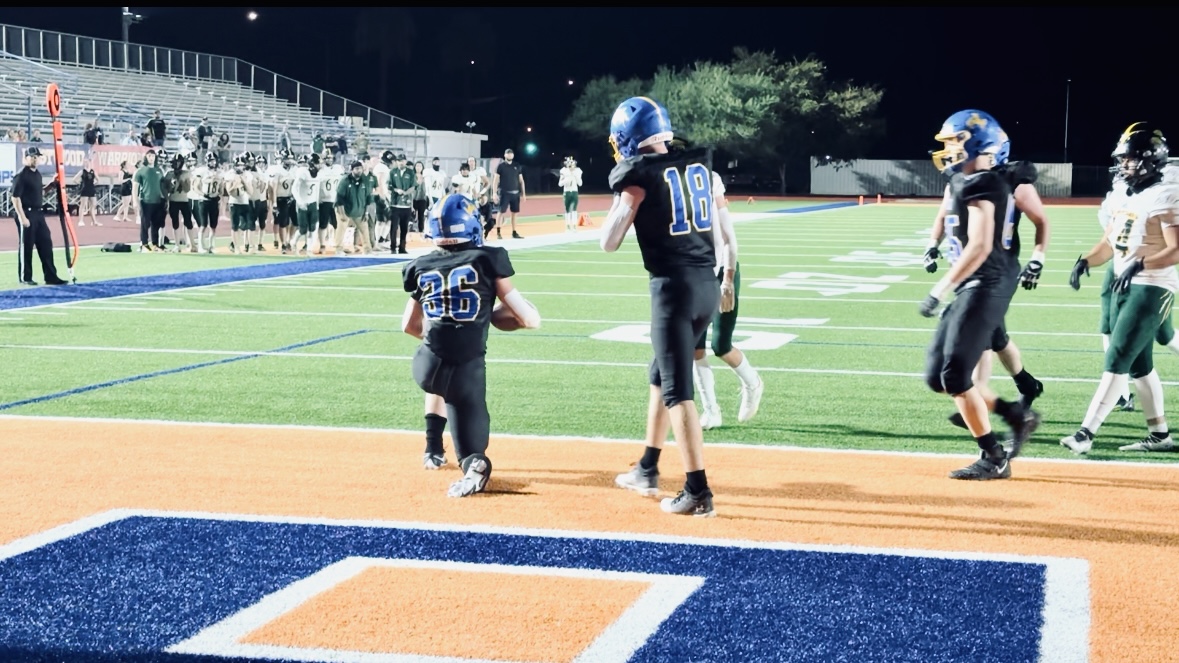 Saturday night's 2A semifinal contest between No. 1 seed Pima and No. 4 San Tan Charter was like watching a tennis match, track meet and a literal shootout. All combined.
In the end, it was Pima who was left standing after a wild and entertaining 52-49 victory over the Roadrunners Saturday night.
In doing so, the Roughriders extended their winning streak to 25 games, and will get a chance to defend last season's state championship next week against No. 3 seed Scottsdale Christian, which beat No. 2 Arizona Lutheran 23-16 in the other semifinal. Pima (13-0) knocked off Scottsdale Christian (10-3) earlier in the season 23-20.
"I tell you what, we weren't expecting such a game from San Tan Charter tonight," Pima coach Josh Wilkins said.
"We knew what their quarterback could do, but that was a complete football team and we had to fight for 48 minutes to beat them."
November Fireworks
Saturday night's semifinal was a spectacular offensive showcase. and included touchdowns and big plays of all types. After Pima's Sam Ray returned an interception for a quick score off Zayden Neill on San Tan Charter's first possession, Neill went to work. The senior put on an incredible performance for the Roadrunners, demonstrating why he's ninth on Arizona's all-time passing yardage list.
Neill threw for 327 yards and five touchdowns while running for two more. Daniel Dippre and Uriah Neloms each caught two touchdowns from Neill. Maison Coffman caught the other, which came near the end of the first half, when San Tan Charter took a 29-22 lead into the break.
"(San Tan Charter) was a tougher opponent than I thought they'd be," said Pima senior Tuddy Smart.
"We were down at halftime and we had a little talk in the locker room, and we decided we weren't going to lose."
Smart scored three touchdowns for the Roughriders, two during the second half. His 78-yard kickoff return gave Pima a 38-35 lead late in the fourth quarter. Teammate Hayden Blair scored on a 79-yard jaunt earlier in the quarter for Pima, which needed all the points it could get as long as Neill was on the field for the Coyotes.
Zayden Neill isn't done and neither is San Tan Charter. Uriah Neloms here hauls in another TD pass with some toe drag swag from 12 yards. It all comes down to the inside kick. 52-49 Pima still leads pic.twitter.com/NgoEkNencL

— Ben Stapley (@AZpreps365Ben) November 19, 2023
25 Straight
Pima scored seven touchdowns and converted on five two-point conversions. Six different players contributed, including freshman quarterback Cedrick Grimes who added a first half touchdown pass to Sam Ray.
"I take my hat off to Pima, they played a heck of a game and when it came down to it they just had a little too much," San Tan Charter coach Chase Cartwright said.
"We weren't expecting a defensive struggle, but they came at us in a lot of different ways and offset a few of our big scores. There's a reason they've won 25 games in a row."
The streak goes back to week two of last season, when Pima fell to Thatcher, which is now in 3A. The Roughriders haven't blown teams out like last season's championship run, but they're still 48 minutes from a repeat.
"Next week should be fun," coach Peter added of next week's matchup against Scottsdale Christian. "We turned the ball over too much the first time we played, so we'll have to clean that up.
Kickoff next week is set for 2pm at Mountain Pointe.