Assault on state, national record books continues for Baker
November 19, 2023 by Jose Garcia, AZPreps365
---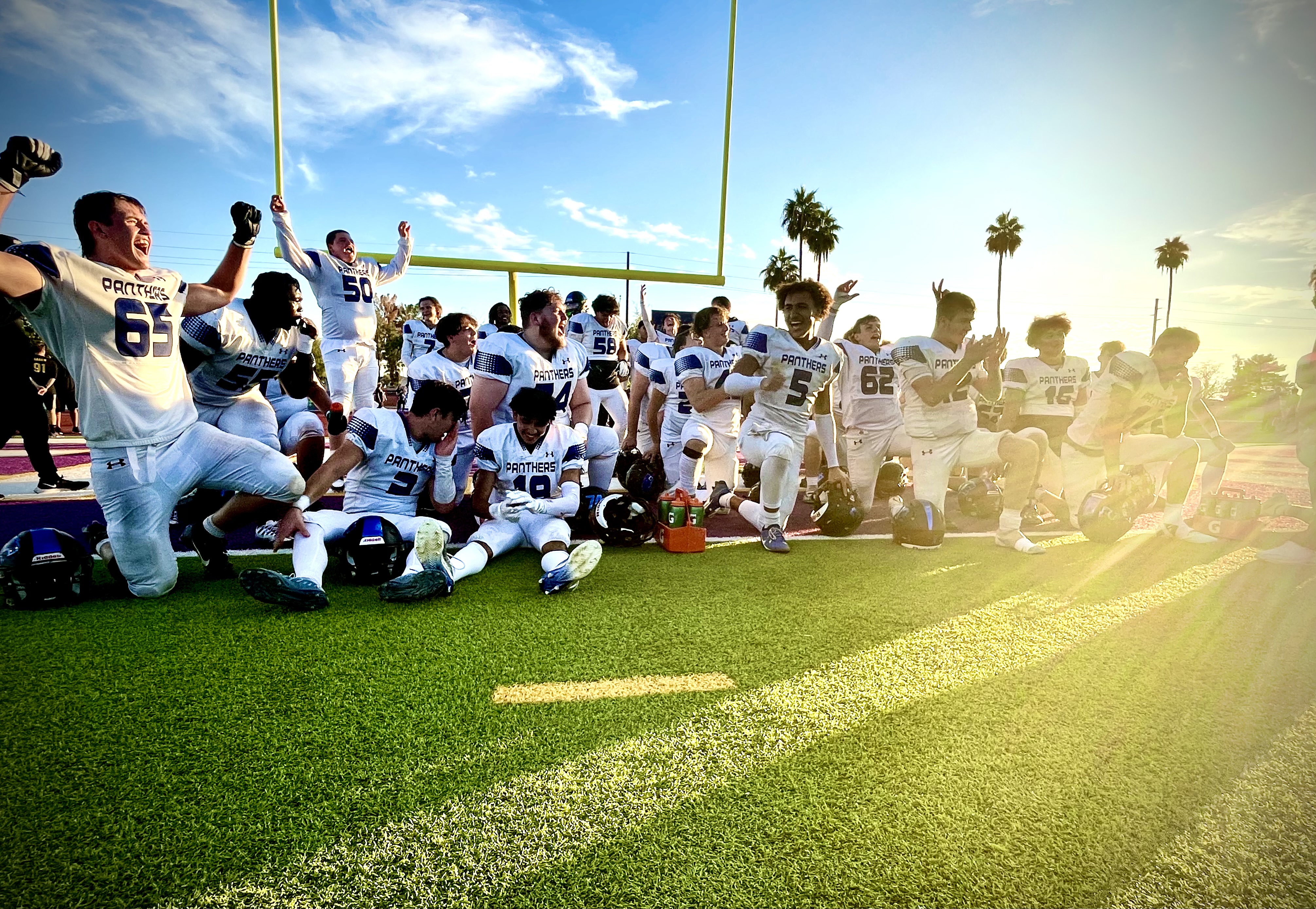 They didn't look exhausted after the game.
The elation likely masked just how tired they were.
The points-a-minute-program of Paradise Honors is headed to a football state championship for the first time. The Panthers scored 72 points in their 3A semifinal at Mesa High, and that wasn't even their season high.
Gage Baker tossed nine touchdowns, which by now, it seems, is a common occurrence for the senior. But his team needed a good chunk of those points Saturday against a Valley Christian team that also was in indoor football-like mode.
Paradise Honors' offense outlasted Valley Christian's, 72-56. That's not a misprint, and it wasn't a state football record for points in a game either.
"We just keep fighting," Paradise Honors coach Josh Goodloe said. "That's what we've learned about this group since (49-48 loss to American Leadership Academy West Foothills). No matter how far we get down, they just keep fighting for four quarters."
72-56. Tied for 8th highest combined score in state history. Paradise Honors never trailed. Advanced to first state title game after defeating Valley Christian. Gage Baker threw 9 TDs, again. Teams scored 90 combined points—in 2nd half. 2nd half highlights (not all of course 😉): pic.twitter.com/7u1pQimpxI

— Jose E. Garcia (@AZPreps365Jose) November 19, 2023
After a 'slow' start by both teams in the first half (38 combined points), the scorekeeper's fingers went into overdrive in the second half.
But right before halftime, something important happened. That's when Valley Christian snagged the momentum away from the Panthers.
A Coleman Burkhart 62-yard touchdown catch and Josh Morales 2-point conversion reception handed Paradise Honors a 24-7 advantage with 32.4 left in the second quarter. Burkhart and Morales each had three touchdown catches in the semis.
But in this game, 32.4 was more than enough time to respond, and that's what Valley Christian did when Asher Hanzal caught his team-leading 12th TD pass, a 28-yard score with 8.2 on the clock. Valley Christian opened the third quarter with a 65-yard scoring drive to cut Paradise Honors' lead to 24-21.
The final minute of the first half and start of the second set the tone for the rest of the game, with Valley Christian responding every time the Panthers seemed like they were about to pull away.
It may sound hard to believe, but the defenses did make a stand or two. But more on that later.
Paradise Honors led 38-21 in the third quarter, but with a 3A title game berth at stake, Valley Christian kept fighting behind the right arm and legs of senior quarterback Gunnar Link. Senior Will Bastian also kept Valley Christian in the game after returning two kickoffs for touchdowns.
His second one, an 86-yard score with 8:03 remaining in the game, left his team trailing 50-48. But that's as close as Valley Christian would get the rest of the way.
On the ensuing drive for 11-2 Paradise Honors, it converted a 4th and 6 from Valley Christian's 32-yard line after Baker connected with Morales in the flat for yet another touchdown. But the Panthers' defense then made a timely appearance when Cougar Holt pick-6'ed his way to the end zone after a 65-yard interception.
Holt also wound up recovering an onside kick when it was a one score game and caught Baker's final touchdown of the game. Paradise Honors' defensive linemen Sirron Cook, Bode Joncas and Jalen Cox also had a couple of sacks and caused a fumble in the second half.
Valley Christian (11-2) turned the ball over five times during its second loss to the Panthers this season. Link, in his final game of his high school career, threw five touchdowns and also rushed for one.
Hanzal, just a sophomore, caught two of those passes, and senior Vince Robles had two of Valley Christian's three interceptions in the game. But topping what Baker did Saturday, as well as this season so far, will be tough.
The list of accomplishments is long:
The senior set a new 3A state record Saturday after passing for 686 yards, the second highest total in state history.
His 44 completions (in 55 attempts, 80% completion percentage) Saturday set an all-class game state record. (9th best ever nationally.)
On Saturday, he became the first passer in state history to reach the 5,000 yards passing mark in a season.
He passed Spencer Rattler Saturday to become the state's second all-time career passing leader with 11,277 yards.
He is three touchdown passes away from breaking the state career record of 168. He has thrown nine touchdowns in a game three times in his career. This year, he tied a state record with 10 TD passes in a game (Tied for second highest ever in the nation.).
With his nation-leading 84 passing touchdowns (state season record) this year, on Saturday he also moved into second all-time nationally in that category. The national record for TD passes in a season is 91.
He also leads the nation this season with 5,553 passing yards. His season passing total so far is the 6th highest ever recorded nationally. If he throws for 368 yards in the 3A final (His career average is about 365 per game.), he would move into 2nd all-time nationally.
On Saturday, he moved into the second spot in the state with 334 completions in a season (Needs 17 to break it.) and third overall in the state with 720 career completions.
"Never, never have I experienced something like that before," said Baker about Saturday's game. "It's a blessing. We've had high scoring games before but nothing as competitive as this one against such a good team."