Sabino's experience holds off young, talented Mohave to reach final
November 19, 2023 by Jose Garcia, AZPreps365
---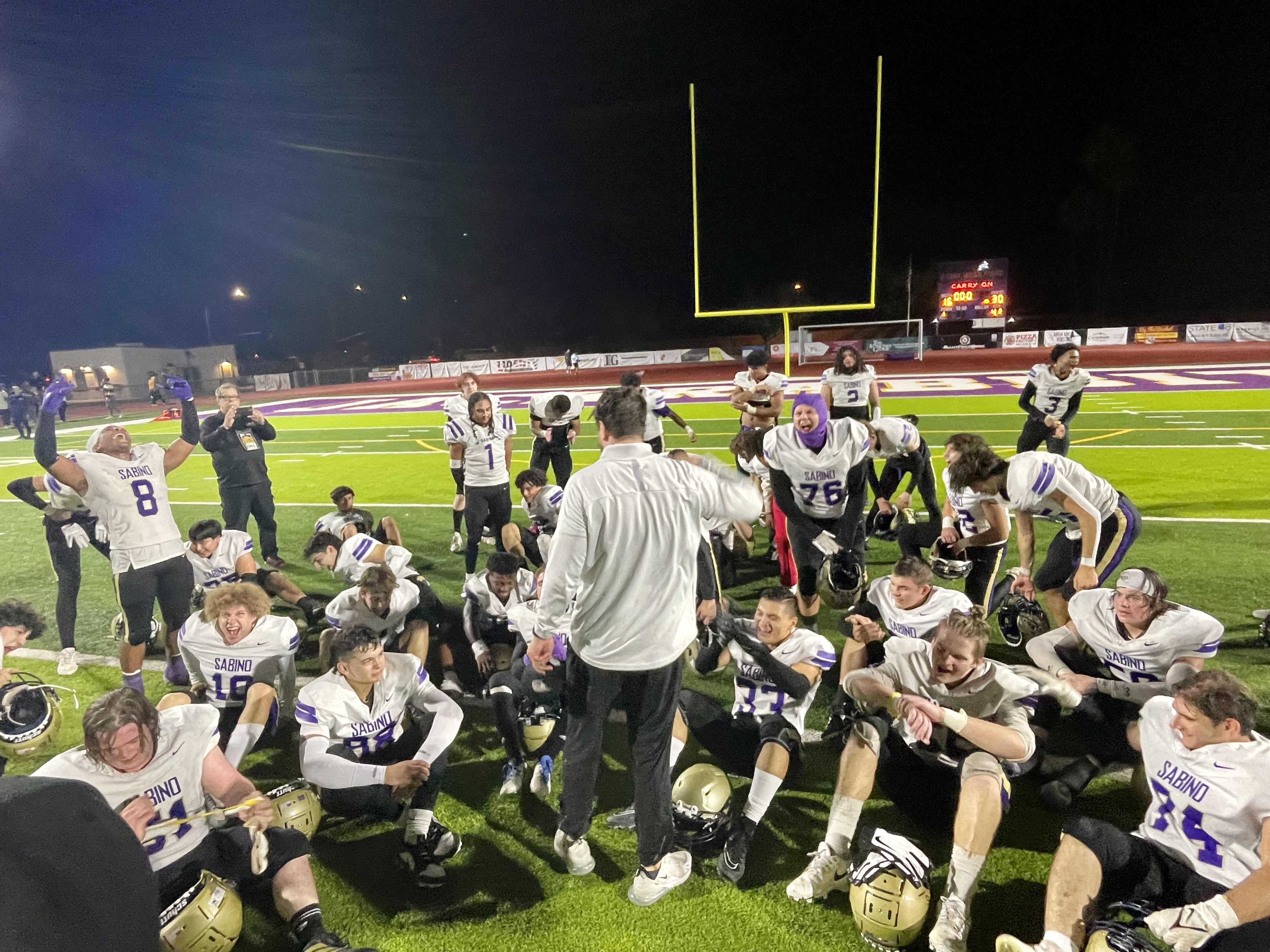 Sabino is a game away from completing its objective.
On Saturday, during the 3A semifinals at Mesa High, the program clinched its first state title appearance since 2016. It did so after defeating top-seeded Mohave 30-16, which was no easy task.
Mohave's fast and physical team wanted to avenge its only regular season loss, a five point defeat sealed by a Sabino goal line stand. For the most part, the first half of Round 2 between the teams was a stalemate.
Mohave intercepted Sabino twice in the first two quarters, but it also missed a 25-yard field goal and failed to score while at Sabino's 3-yard line just before the first half ended. Sabino went to the outside for its only first half score, a 39-yard pass play from Cameron Hackworth to Mason Cade.
That was followed by a Devon Waxwood 2-point pass reception. But a very motivated Mohave team orchestrated a nearly five minute, 71-yard scoring drive right after halftime.
It was capped by a 4-yard touchdown run by Jonathon Williams and Nathaniel Villarreal's two-point conversion after going in motion on a pass play to tie the game. But that's when Sabino's unsung heroes, offensive linemen Garrett Thompson, Grant Pautler, Victor Alcantar, Trey Malone and Sayid Talbert, stepped up to take command of the game.
"They dictated the tempo in the second half," Sabino coach Ryan McBrayer said. "They are the reason we are going to this final."
McBrayer's team answered Mohave's long drive with one of its own.
It lasted about eight minutes and took 15 plays and 78-yards to complete. Its go-to receiver, Shamar Berryhill, had the key play in the drive when he made a 17-yard reception on a 3rd and 10.
Five plays later, Hackworth scored on a 1-yard keeper and then pump faked before finding Berryhill's brother, Savaughn, for the 2-point conversion and 16-8 lead with 11:18 left.
After forcing a turnover on downs, Sabino went up 24-8 after another Hackworth keeper and two-point pass play to Berryhill near the pylon. But Mohave replied with a Isaac Urias 27-yard touchdown on a sweep and a 2-pont conversion from Joe Yoney to Villarreal.
Sabino, however, responded again, as Cade rounded out the scoring with a 30-yard touchdown run on the left side.
The ending that one of 3A's best players wanted, Williams, a West Point commit, didn't pan out. But he and his Mohave teammates have a lot to be proud of.
The 54-year-old program this season won a school record 11 games and reached the semis for the first time in 40 years. Only five seniors were on this year's roster, so expect Mohave to be a contender again next year.
"That is a senior led group (Sabino)," Mohave coach Rudy Olvera said. "We are a sophomore led group. But no excuses. That's a good football team. It was a phenomenal season. I couldn't have expected more from these guys. This is what we wanted to do. We wanted to win our region again. We wanted to go out and make a statement. We earned the No. 1 ranking and battled every time."
Sabino (10-3) will play for a gold ball for the 10th time, but it hasn't won a title since 1998.
The last time it reached the big game seven years ago, McBrayer, a Sabino alum, was the program's defensive coordinator.
"This has been a journey for our guys," McBrayer said. "Our senior class went through COVID. They didn't even have a freshman year. But they just built and relied on each other through all the adversity and stuff thrown their way. It's been amazing. This is a true brotherhood for our 24 seniors. And I know they are going to come out and compete their butts off to try to earn a state championship for Sabino High School."