Boys basketball summer recap – Trojans working toward a three-peat state title
November 20, 2023 by Jake Harrison, Valley Christian High School
---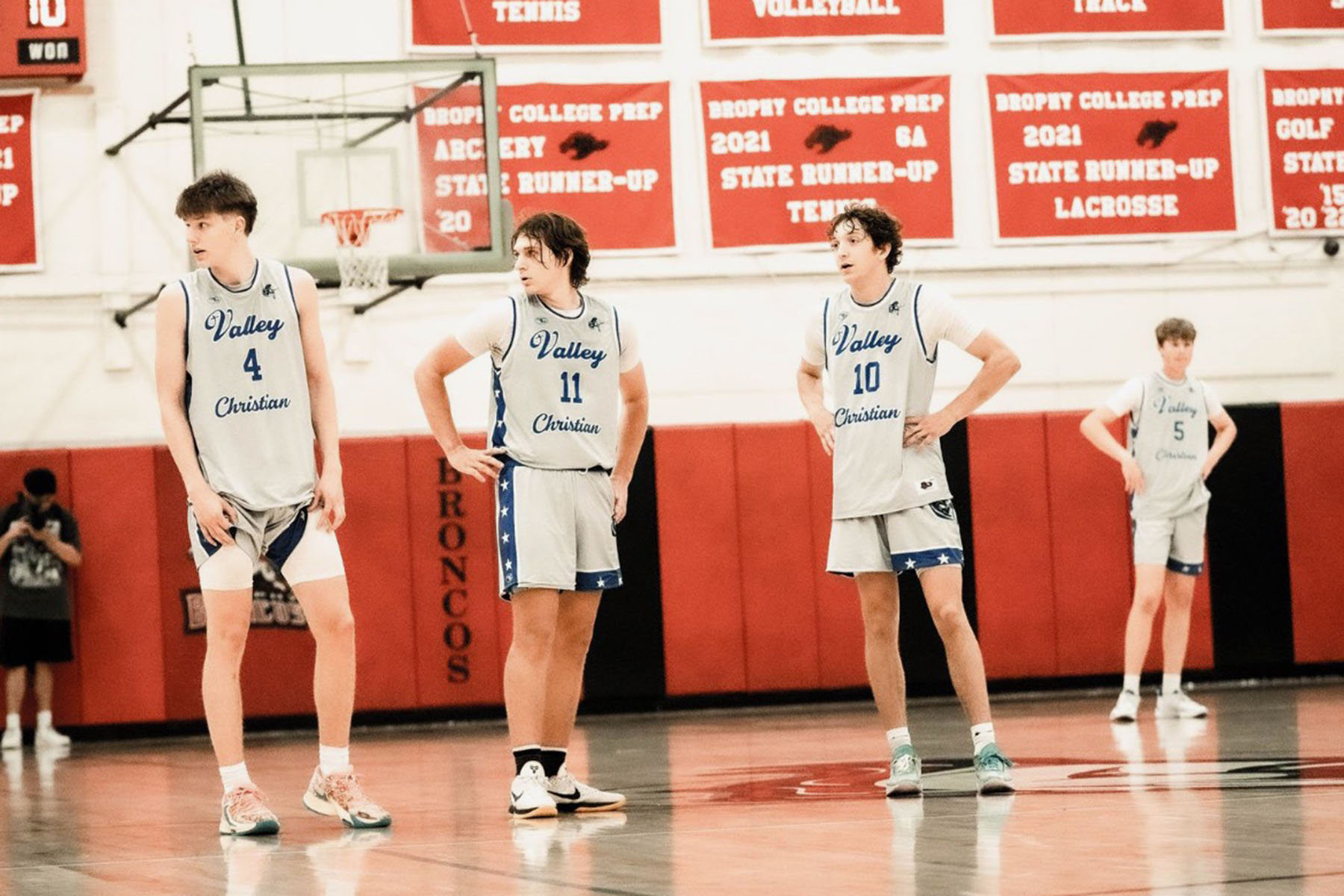 Our Reigning Back-to-Back State Champion boys basketball team got to work this summer!
They started off the summer with a bang, playing in the Primetime Invitational hosted by Brophy High School. This was a tournament between the top 12 basketball schools in Arizona. Our Trojans went 2-2, beating Millenium (5A) and Catalina Foothills (5A). They lost to Notre Dame prep (5A) and Perry High School (6A), both by single digit deficits.
Kyle Grier, a 6'4" junior reflected, "I enjoyed beating Millennium High School, who are known as one of the best basketball schools in the state. It was one of the best teams we've played, and we put together a great game. It was a lot of fun."
The boys also took the annual trip to Utah to compete in several high competition games. Senior Austin Wallace shared his perspective on the Utah Trip; "I had a lot of fun with my team competing against some of Utah's best. It was a different type of competition; the guys were much bigger and taller than what we are used to when playing around here." When asked about his favorite moment of the trip, Wallace stated, "it was going to Scheels with my teammate Jake Harrison."
The final tournament the Trojans competed in over the summer was the Section 7 basketball tournament. Section 7 is one of the biggest tournaments in the country for all high school teams and offers a great chance for high school players to be looked at by college coaches.
6'5" junior Grant Woods mentioned, "my favorite part about the Section 7 tournament was playing against great competition and playing in the Cardinals Stadium".
After a great summer, the Trojans continued to play together against top competition throughout the fall. Though it ended in a loss, the best game of the fall was when the Trojans took on the Highland Hawks, 6A State Champions from the 22-23 season. Even though they lost by just a couple points, this result shows that the VC boys can compete with the best in the state.
The basketball team is getting ready to kick off the season starting in less than a month, with tryouts in October and games starting in November for their 2023-2024 season. They have 8 returning varsity players, including all 5 starters from the previous state title season. The boys are aiming for nothing short of a 3-peat of state titles and earning a 9th ring for Coach Haagsma.