Xavier repeats as state sand volleyball champ
April 11, 2013 by Jose Garcia, AZPreps365
---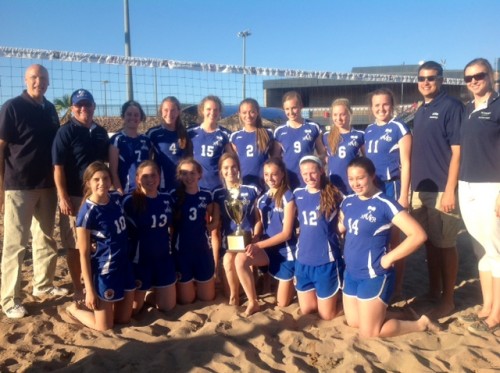 (State sand volleyball champ Xavier. Photo by Jose Garcia/aia365.com)
This is Gator land.
That's what a sign on a fence said, and, so far, the Xavier Gators do seem to own the sand volleyball courts at the Victory Lane Sports Complex in Glendale. That's because the Xavier girls swept the state championship matches in the pilot sport again.
Arizona introduced sand volleyball as a high school sport last season. This season, Xavier reintroduced itself to the state championship trophy after defeating state runner-up Fountain Hills 5-0 Wednesday.
Xavier (8-0) clinched the title when its No. 3 seeded doubles team of Kristen Cargay and Molly Scheel won its match 21-10, 21-8.
"You really saw the progression in the kids who played on last year's team," Xavier coach Matt Rogers said.
Xavier's team was comprised of players who play indoor as well as players who strictly focus on sand volleyball.
Fountain Hills (8-2) lost its only matches to Xavier this season.
"Overall, I was really happy with the way with played," Fountain Hills' first-year coach Brennan O'Connor said. "We won most of our matches either 5-0 or 4-1."
Eight teams participated this year in sand volleyball, four more than last year's total.
More sand volleyball programs are expected to participate next season, including five teams from Tucson.
Wednesday's Xavier-Fountain Hills championship results
Xavier's Kate Even and Keely Komer def. Reagan Chalmers and McKenna Schultz 21-5, 21-3.
Xavier's Mallory Miller and Callie Jones def. Madi Conner and Kelly Pederson 21-12, 21-6.
Xavier's Kristen Cargay and Molly Scheel def. Amanda Barbagallo and Marley Bryniarski 21-10, 21-8.
Xavier's Claudia Lemieux and Sara Mackey def. Sierra Jarriel and Morgan Difelice 21-11, 21-13.
Xavier's Natalie Braun and Claire Coppola def. Jalin Yoder and Gabby Mei 21-15, 21-14.
For the sand volleyball state bracket results go here.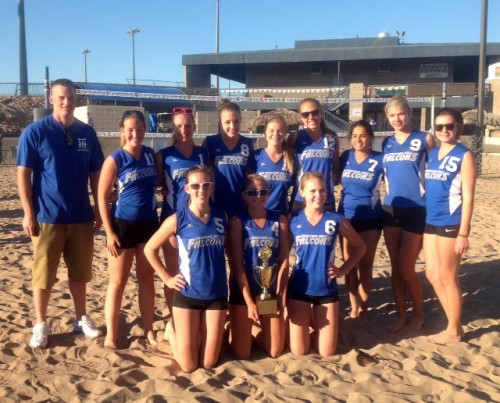 (State runner-up Fountain Hils. Photo by Jose Garcia/aia365.com)