Saguaro Looks for Rebound Against East (UT)
August 31, 2017 by Tyler Carlson, AZPreps365
---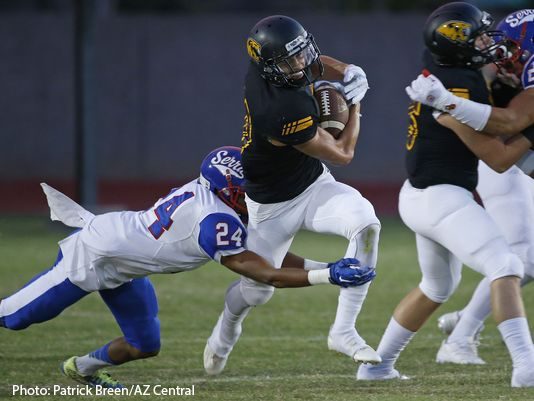 The Saguaro Sabercats face their second consecutive out-of-state opponent this week on their home turf, as the Leopards from East High (UT) roll into Scottsdale Friday night.
Saguaro (1-1), is coming off a blowout loss last Friday at the hands of Liberty High School (NV), 51-20. The Sabercats' offense, which racked up 438 yards in the week prior, struggled in the contest, managing 287 yards of total offense. The Sabercats were ultimately undone by an inability to protect the football, surrendering three turnovers, including two pick-sixes and a scoop and score, which proved too much to overcome.
The loss is unfamiliar territory for Saguaro, who are defending their 4A state title after a perfect 14-0 season last year. Including the team's move from Division ll in 2015, Saguaro has won four straight state titles, and appeared in the state championship game each of the last seven seasons.
"We definitely came home with our tails tucked a little bit", said Saguaro head coach, Jason Mohns. "But it definitely has forced us to really evaluate where we are and where we need to go from here."
Saguaro will look to rebound this week behind a stingy defense, which flew under the radar last week, quietly holding a strong Liberty offense to 320 yards, including just 198 through the air. The defensive attack is led by linebackers Logan Pettijohn and Cameron Smith, who combined for 22 tackles against Catalina Foothills in Zero Week.
The Sabercats also hope to get a rebound performance from quarterback Max Massingale. Massingale struggled last week, going 14-of-27 for 150 yards and two interceptions. However, the proven senior, who threw for over 2,000 yards last season with 30 touchdown passes while turning the ball over just four times, figures to turn things around.
"We've got everything we need and more in Max", said coach Mohns. "He's the heart and soul of our offense and probably this football team. He's the alfa dog. He's the leader of this football team. And we'll roll with him every Friday."
East (1-1), comes in recovering from their own blowout defeat last week, falling to Utah football powerhouse Bingham High School, 48-17. It was a tale of two halves for the Leopards, who found themselves trailing by only a touchdown at the half against one of the state's top programs. But it was all Bingham in the second half, who scored 24 unanswered points after halftime.
One bright spot in the game for the Leopards, however, came from the run game, which racked up 379 yards from scrimmage. The ground attack is led by senior running back Sione Molisi, who accounted for 228 yards rushing and one touchdown on just 19 carries against Bingham.
Additionally, despite surrendering 48 points last week, in large part to five turnovers, East has seen strong play on the defensive side of the ball, led by seniors Jaylen Vickers, Viliami Pulu Tausunga and Tennessee Pututau.
In last week's contest, Vickers, the No. 2-ranked cornerback in Utah, tallied two pick-sixes and 17 tackles. Meanwhile, linebacker Tausunga and defensive end Pututau have combined for 46 tackles, two sacks and an interception in two games.
"They (East) are a top 25 team in the country, I have no question in that" said coach Mohns. "So, we've got our work cut out for us. But we embrace the challenge. That's why we schedule these games."
Friday's contest will be the first ever matchup between the two programs. The game kicks at 7 p.m. and can be streamed live at https://www.nfhsnetwork.com/events/azpreps365/e3459403ca and listened to on the radio with the Fanatic (1580 AM and 99.3 FM).