Casteel Dominant in Homecoming Rout
September 23, 2017 by Tyler Carlson, AZPreps365
---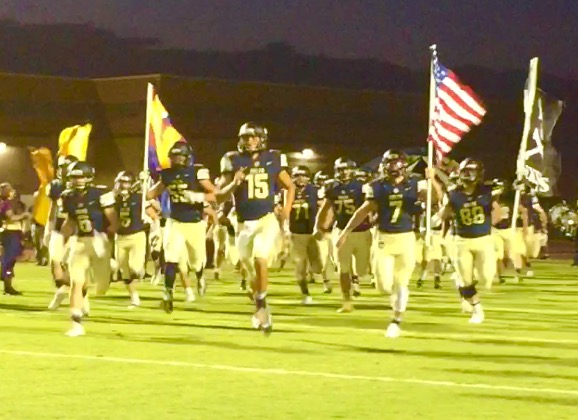 On paper, Friday Night's matchup between the Show Low Cougars and Casteel Colts figured to be a low-scoring, back-and-forth, highly contested battle between two evenly-matched programs. The results on the field however, proved to be anything but.
The Colts (5-0) routed the Cougars at Casteel High School by a final score of 70-7 on Friday, maintaining their perfect record this season and showcasing why they are among the top contenders in 3A.
Casteel, which came in averaging 56 points per game this season, once again displayed its offensive prowess, treating a packed-out homecoming crowd to 589 yards of total offense and 10 touchdowns on the evening.
The offensive attack was led by a pair of juniors in quarterback Gunner Cruz and running back Mack Johnson.
Cruz completed 12-of-18 pass attempts for 241 yards and four touchdowns in limited opportunities, being pulled from the action in the fourth quarter as the Colts poured it on.
Johnson, who came into Friday's contest forth in 3A in touchdowns scored with nine, added three more to his total against the Cougars as he rushed for 162 yards on 14 carries.
After failing to convert a first down on their first offensive possession, the Colts got a spark from Johnson, who opened up the scoring streaking 52 yards to the house early in the first quarter. Following a Cougar fumble on the ensuing kickoff, Cruz promptly got in on the action, sending a 40-yard bomb to tight end Jamie Lewis for another score.
From there, the Colts offensive explosion followed and the team eased its way to its second 5-0 start in as many years.
"We stalled early with our pass game," said Cruz admittedly after the game. "Johnson got our run game going and that ignited our whole team, and our coaching staff did a nice job getting us ready for the game so we were prepared for what they were going to do."
The defensive side of the ball for the Colts looked equally as impressive, allowing just 80 yards of total offense and seven points to a Cougars team who came into Friday averaging 48 points per game.
Along the way, the Colts sacked Cougars quarterback Colton Mcginnis three times and forced an interception, which cornerback Trey Brooks returned deep inside Show Low territory.
"We got 11 guys who run to the ball," said Casteel head coach Spencer Stowers. "It's a defense that loves one another, that wants to play for one another. They've been together for a couple of years now, so it's a lot of fun to watch."
The Colts were also able to keep Cougars leading rusher Westin Keime at bay. Kieme came into the ballgame having rushed for 523 yards with 11 touchdowns, second in 3A. But against the Colts attack, Kieme could not find the end zone while mustering just 44 yards on 17 carries.
"They wanted to get the ball to (Kieme) and try to control the clock," said Stowers. "Our defense did a great job getting off the field in key moments."
With the win, Casteel moves themselves into prime playoff position among just four remaining unbeatens in 3A. The Colts also maintain their slim first place lead in the Metro region over Yuma Catholic (4-1), who the Colts will see next weekend at Casteel High.
"Next week is a big week for us against Yuma Catholic," said Johnson. "We lost to them last year, but it's not revenor anything. We're just rolling past them. It's just the next game we have to play."
Stowers echoed his running back's sediment concerning the team's approach moving forward.
"We're 1 and 0 this week and next week we're looking to go 1 and 0 again," said Stowers. "We're just taking it one week at a time. The only one that's going to stop us is ourselves, so we just got to keep moving forward, preparing all week long like we have been, and great things will happen."